Coconut Almond Cookies: a Quick and Healthy Recipe
Even though we tend to think of homemade desserts as not very healthy or nutritious and think that they make us gain weight, there are actually some healthy and delicious options such as coconut and almond cookies.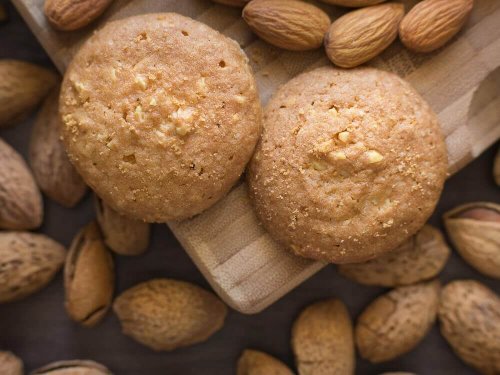 There seems to be an overwhelming reaction when it comes to baking. In other words, many people seem to believe that because sweets contain a lot of sugar, gluten, and wheat, they're bad. However, this isn't the case with these coconut and almond cookies.
Baking Doesn't Need to Be Unhealthy
In fact, part of the reason for this myth is simply ignorance. Wheat flour, for example, is seen as an ingredient that contributes to weight gain or an excess of carbohydrates.
However, we have to start debunking these myths! They are just preconceived notions that can be quite controversial, but it doesn't mean they contain any truth.
While it's true that many sweets or desserts are made from a base of the ingredients we mentioned above, the type of diet you have is also important. How you look, your weight, your physical condition and, of course, your overall health are all influenced by the calories, proteins, and nutrients your body receives each day.
As a result, it's time that you learn the truth and can make informed decisions regarding your cooking and recipes. You'll be able to feel comfortable and guilt-free about trying coconut and almond cookies.
Healthy Recipe for Coconut and Almond Cookies
The Benefits of Coconuts
There are several reasons to eat coconut that are important for you to know.
First of all, this fruit is actually a seed that's widely used thanks to its high water content, carbohydrates, and vitamins B and C, which are essential for skin health.
Additionally, coconut also:
Helps reduce blood pressure.
Reduces triglycerides.
Improves heart health.
Is great for your body's internal hygiene.
Helps cleanse your kidneys.
Contributes to relief from vomiting, gas, and urinary problems.
The Benefits of Almonds
Almonds, on the other hand, are a nut that's very well known all over the world. They're ideal for fighting constipation, are rich in energy and even recommended for fighting anemia and certain allergies.
Another property that sticks out is that almonds help to care for and protect your bones. Almonds also contain antioxidants.
Additionally, they contain:
High amounts of minerals (phosphorus, manganese, and magnesium).
Vitamins B and E.
High levels of fiber.
An oil that can be extracted from the seed which is perfect for improving skin health.
Both of these ingredients have been combined and used in distinctive ways in baking almost everywhere in the world. Together, these ingredients are ideal for the healthy dessert which we're we're about to show you!
How to Make Coconut and Almond Cookies
Fortunately, these cookies won't take a lot of time. Plus, since you can make them at home, the results will be phenomenal. This is an easy recipe for a dessert that's truly healthy and very nutritious, thanks to these fantastic ingredients.
Take advantage of their wonderful properties to nourish your body and satisfy your cravings all at the same time.
Ingredients
1 cup of almonds (150 g)
1 cup of grated coconut (120 g)
6 or 8 dates, pitted
½ cup of water (125 ml)
1 tablespoon of vanilla extract (15 ml)
2 pinches of brown sugar
Instructions to make Almond Cookies
Start by cutting the coconut in half. This could take some time since the shell is quite hard and rough. Additionally, you need to be very careful with whatever you're using to cut the coconut. We recommend that you seek help if necessary.
Once you've managed to complete the previous step, scoop out the pulp and set it aside to grate later.
Next, crush the almonds. Be patient and continue until you have a powdery texture. This will be the base for your cookies.
Now, with the coconut pulp extracted and ready to go, start grating it and mix it together with the crushed almond powder.
Both ingredients should go in a medium-sized bowl along with the water and vanilla extract.
Also, add the dates (previously crushed) to the bowl and start to form the dough for the cookies.
In order to do this well, you'll need to mix everything very well together with water using your hands. Knead the dough until it's smooth and mixed completely.
Finally, in a baking pan, form balls with the dough and press them gently to form a cookie shape. You can garnish them with some small pieces of almond then let them bake for about 7 minutes.
Then, you can carefully remove the cookies from the oven and let them cool for a few minutes. You can pair these cookies with a glass of milk or whatever other beverage you prefer.
It might interest you...