Clindamycin: Uses and Advice
Clindamycin is a broad spectrum antibiotic from the lincosamide group. It has a mainly bacteriostatic activity. It works against gram-positive aerobic bacterium and against many anaerobic bacterium.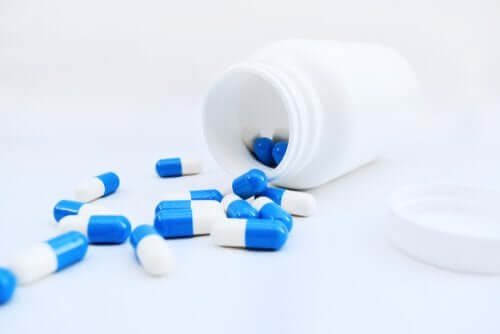 Clindamycin is a semi-synthetic antibiotic that belongs to a group called lincosamides. It's a pharmaceutical drug with bacteriostatic activity.
Professionals use it to treat certain types of bacteria-induced infections, such as those of the lungs, skin, blood, female reproductive organs, and internal organs.
How does clindamycin work?
This broad-spectrum antibiotic from the lincosamide group has a mainly bacteriostatic activity. It acts against aerobic gram-positive bacterium and many anaerobic kinds too.
Clindamycin binds to the 50S subunit of the bacteria's ribosome. By doing this, it inhibits the first stages of the bacteria cell's protein synthesis.
Although its activity is mainly bacteriostatic, in high concentrations it can have a bactericide effect. This will depend on the sensitivity and strain of the bacteria.
Taken orally, patients absorb practically 90% of the doses. When patients take it with food, it delays the absorption rate, although we don't know by how much.
Therapeutic indications of clindamycin
Specialists use this drug for treating infections caused by sensitive microorganisms. Among those we can find:
Staphylococcus aureus-induced acquired pneumonia
Pulmonary abscess
Acute pharyngotonsillitis caused by group A streptococcus (S. pyogenes)
Dental infections
Skin and soft tissue infections
Osteomyelitis
Bacterial vaginosis (BV)
Pelvic inflammatory illness
Pneumocystis jiroveci-induced pneumonia
Cerebral toxoplasmosis in HIV patients
Acute sinusitis in children older than 1 and younger than 18
Given that some of these infections are often also produced by negative-gram bacilli, specialists use clindamycin in addition to other antibiotics. It can also be used in acne treatment.
Nevertheless, you can use it to treat infections with strains susceptible to clindamycin or erythromycin. Some strains may be susceptible to one of the antibiotics and resist another.
Side effects
The main side effect of clindamycin is Clostridium difficile-induced diarrhea. Up to 10% of patients undergoing treatment report suffering from this kind of diarrhea, regardless of the way they take the antibiotic. This includes applying it topically.
It can also cause hypersensitivity. When taken orally without water, it can cause esophagitis.
However, patients may develop other adverse side effects whilst taking clindamycin. Among those we can find issues in the following areas:
Hematologic: These can lead to cases of severe leukopenia, leukocytosis, anemia, and thrombocytopenia.
Cardiovascular system: In some patients. clindamycin can cause severe arrhythmias like ventricular fibrillation, QT interval lengthening, and polymorphic ventricular arrhythmia.
Central nervous system: It's possible that issues here then lead to isolated neuromuscular blockages.
Gastrointestinal: Treatment using clindamycin can produce diarrhea, nausea, vomiting, and abdominal pain. It can also induce pseudomembranous colitis caused by Clostridium difficile infections. This side effect is reversible if the treatment is suspended. It's important to establish support when administrating vancomycin or metronidazole.
Liver: This antibiotic can raise aspartate aminotransferase and alanine aminotransferase levels, and the concentrations of bilirubin due to direct liver damage.
Kidney and the genitals: Specialists associate clindamycin with cases of vaginal moniliasis and vulvovaginitis.
Skin: there are cases where specialists have observed rashes, which can be slight to moderate in intensity.
When the treatment is topical, it can cause facial itching, contact dermatitis, facial edema, and maculopapular rash.
Other adverse effects that may develop in those taking clindamycin include Stevens-Johnson syndrome, and hypersensitivity in HIV positive or lymphadenitis patients. However, these reactions are uncommon.
Advice against taking clindamycin
Professionals advise against patients with previous allergic reactions to this drug and lincomycin using clindamycin. When it comes to breastfeeding, you should know that the body will expel this drug through breast milk. For this reason, and due to the possible serious effects, professionals advise against its use in such cases.
During pregnancy, you should also avoid taking it, unless it's strictly necessary; there isn't sufficient data or research about these cases.
Is clindamycin safe?
Many clinical trials and extensive pharmacovigilance guarantee that clindamycin is an effective drug for treating maxillofacial oral infections, among others.
It might interest you...