How to Clear Acne with Essential Oils
It may seem strange to use oils to help get rid of acne, but these essential oils actually help control oil glands, clean your skin, and reduce irritation. Try them!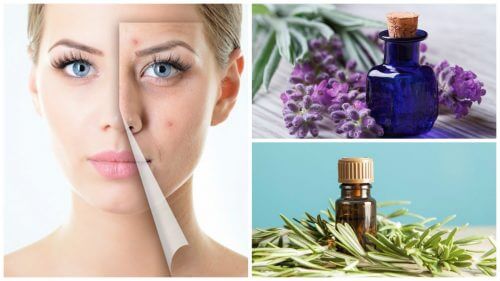 Acne is one of the most common beauty problems. It affects both men and women all over the world, especially during adolescence. Acne is characterized by the formation of small blackheads that are composed of oil, dead skin cells, and other particles. As strange as it may seem, we're going to be show you how you can clear acne with essential oils.
Acne often shows up on your face. It is usually the result of hormonal imbalances. Imbalances that cause changes in the activity of your oil glands, connected to your pores.
It mainly appears on your face, but can also appear on your arms, back, and other parts of your body. While it's not a serious health problem, it's necessary to treat it in order to prevent scarring.
Luckily, there are many different kinds of products out there that are designed to take care of acne if applied regularly. One option is try and clear acne with essential oils , as these have the ability to deep clean your skin and fight acne.
In this article, we'd like to share 6 of the best oils to use when you notice those bothersome pimples popping up.
1. How to clear acne with essential oils: oregano
Oregano essential oil is an anti-inflammatory and antibacterial oil and, thus, a great option for treating acne. It helps regulate oil production while removing dead skin cells and contaminants that build up in your pores.
How do I use it?
Firstly, mix equal parts of oregano oil with olive oil and apply it to your pimples.
Then let your skin absorb it without rinsing and use twice a day.
2. Tea tree essential oil
Tea tree essential oil is one of the most well-known oils for treating acne and other skin conditions. Its antifungal, antibacterial, and anti-inflammatory properties make it an effective solution for this issue.
In fact, if you use it regularly, you'll help make any acne scars and marks less noticeable, too.
How do I use it?
Firstly, moisten a cotton ball with two drops of tea tree essential oil and smooth onto the affected areas.
If you have sensitive skin, dilute with coconut or jojoba oil.
Optionally, put 10 drops of tea tree essential oil in a jar with warm water and then use as an astringent.
3. Lavender essential oil
Known in aromatherapy for its soothing power, lavender essential oil is the ideal product for fighting pimples and acne. Its antibacterial properties prevent infection and at the same time diminish the appearance of marks or scars.
It has an astringent effect that helps deep clean your pores, helping balance the activity of your oil glands.
How do I use it?
Firstly, mix a small amount of lavender essential oil with an equal amount of grapeseed oil and smooth onto your skin until absorbed.
Repeat every night before bed.
4. Marigold essential oil
Marigold essential oil is a standout natural cosmetic due to its soothing, anti-inflammatory, and regenerative properties. It helps eliminate pimples, reduce inflammation, and stimulate the healing of cells to prevent blemishes.
How do I use it?
Moisten a cotton ball with marigold oil and then apply it to the affected areas.
Repeat twice a day, every day.
5. Rosehip essential oil
Known for being good for your skin, rosehip oil is one of the best options for people with sensitive skin. It fights acne, removes particles from your pores, and also encourages the healing of scars.
How do I use it?
Apply a small amount of rosehip oil to the affected areas and then gently massage until completely absorbed.
Use every day.
We recommend reading: Home Scar and Wrinkle Treatment, Just Two Ingredients!
6. Rosemary essential oil
Oil extracted from rosemary has regenerative, antibiotic, and anti-inflammatory properties that speeds up recovery from acne. Applying it regularly manages skin pH and reduces the redness and swelling that acne tends to cause.
How do I use it?
Moisten a cotton ball with rosemary essential oil and then gently smooth onto the pimples.
Use every night before bed.
Are you having trouble getting rid of your acne? Try any of the above essential oils as an alternative treatment and get healthier skin faster. Use just one at a time, since combining more than one can cause adverse reactions.
It might interest you...