How to Choose the Perfect Look for a Wedding
The perfect look for a wedding will depend on your role in it. However, if you're a guest, a dress will always be the right choice.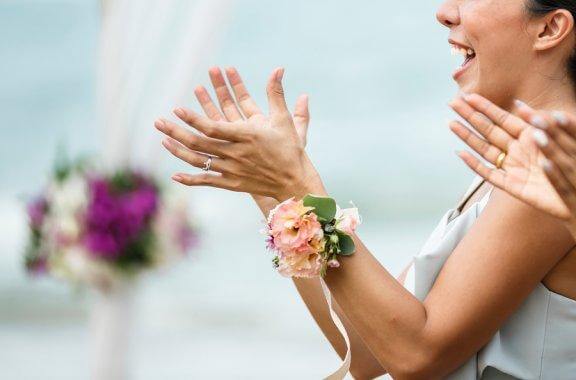 If you're a guest and don't know what to wear, find some tips on how to choose the perfect look for a wedding in this article!
General Guidelines for the Perfect Look for a Wedding
Choosing the perfect look for a wedding isn't easy because there are some important factors to consider. For example, you can't choose the same outfit if the wedding is in spring than if it's in the fall.
First, we'll start with some general tips for a perfect look and then make some remarks on the time of year.
Wear a Dress
Most women wear dresses to weddings, although some choose other garments.
Perhaps you hate dresses and skirts and only feel comfortable in pants. However, a wedding is a special occasion were people usually try to look their best and wear their best clothes. Thus, dresses are essential garments for female guests. Even if you like pantsuits, we insist that it's best to go for a tailored skirt suit.
You can wear short dresses for daytime weddings. However, you should wear long dresses for nighttime weddings.
It's Not a Costume
Yes, a wedding is a special day where you dress your best. However, that doesn't mean that you have to feel uncomfortable. The goal is to enjoy the day. Therefore, choose an elegant dress you feel comfortable in.
We recommend avoiding garments that show too much cleavage or overly short skirts because they might make you feel uncomfortable. Similarly, avoid overly tight dresses that won't allow you to enjoy the celebration.
Printed or Solid Colors?
Solid color dresses blend seamlessly with accessories. Solid color dresses are elegant and are part of a perfect look for a wedding. Even fuchsia is an interesting option.
However, don't even think about wearing white. Leave that to the bride!
Moreover, keep in mind that there are certain restrictions regarding other colors. For example, black is always controversial. Although it's the king of elegance, it's also the color of mourning, which is why it may seem inappropriate for a wedding.
In addition, the happy couple may have some colors "reserved" for the bridesmaids or maid of honor, so you should talk to them to find out which colors you shouldn't wear to the wedding.
However, printed dresses aren't totally forbidden. Therefore, you can decide on a classic floral pattern or choose another fashionable print.
Accessories
Accessories are essential and make a difference, especially if you've decided on a solid color dress. In fact, they complement and enhance your dress.
Here are some tips:
Regarding shoes, remember that it's nice to wear high heels to weddings. However, you should also remember that weddings are celebrations, so don't choose really high heels because you'll just be uncomfortable in them.
Opt for a mini bag. Put everything you need inside a mini bag that matches your dress.
When it comes to jewelry, less is more.
If the wedding will take place in a church, opt for a shawl or pashmina to cover your shoulders.
Choose Whatever Dress Fabric You Want
Indeed, there are no restrictions: satin, silk, velvet, even lace. You can choose whatever fabric you want.
For a Fall or Winter Wedding
Gloves and an elegant coat can be your allies in cold weather weddings.
The only problem with cold weather weddings is that you have to incorporate other garments to your perfect look. The goal is to be warm but elegant at the same time. For this reason, follow these two tips:
Go for gloves. Long and velvety gloves can make a big difference and make you look elegant.
Choose a chic and glamorous coat, but don't overdo it.
This is the perfect time of the year for velvet.
Of course, check the weather forecast and keep this in mind.
Our last tip is to make sure to just be yourself and have fun.
It might interest you...