Chicken Wings in BBQ Sauce Recipe
In this article, we'll show you how you can prepare an exquisite BBQ chicken wing recipe. You'll lick your fingers!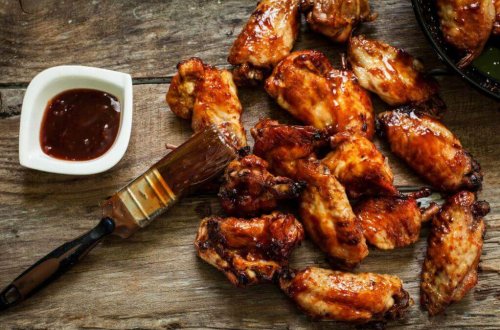 Chicken wings in BBQ sauce are one of the most enjoyable meals to eat. In fact, they're a good option to delight our palate in any special occasion with family or friends.
It's a very popular meal, that enjoys great popularity, as its flavor is delicious and can be included in other dishes. There are even those who prefer them as a starter in their special meals.
Usually, when it comes to chicken wings in BBQ sauce, the simplest thing is to go to a restaurant and order them. But how about preparing them at home? This way, you'll give them a personal and distinctive touch.
Apart from that, they're easier to prepare than think. Follow these simple steps to prepare chicken wings in BBQ sauce and you'll see that in less than an hour you'll surprise your guests.
Ingredients to prepare delicious chicken wings in BBQ sauce
According to Wikipedia references, BBQ wings are originally from the United States. In that country, they're known as Buffalo wings, and the traditional recipe consists of two ingredients: a spicy sauce (based on vinegar and cayenne) and margarine or butter.
They're known all over the world because they taste simply delicious. In this case, we give them a very special touch, as we prepare our own BBQ sauce from ingredients such as spices and tomato sauce.
Note: the final dish is high in calories, so it's important to moderate how much you eat.
Ingredients
5 cloves of garlic.
1 kg of chicken wings.
1 white onion (60 g).
Salt and pepper (to taste).
1/4 cup of water (60 mL).
Olive oil (to taste).
60 mL of honey.
2 tablespoons of mustard (20 g).
1 tablespoon of butter (10 g).
1/4 cup of tomato sauce (125 g).
2 tablespoons of brown sugar (10 g).
Preparation
Chop the onion and

garlic cloves

very finely.

In a pan, place the butter and a little olive oil, if you wish so. Pour the chopped onion and garlic and sauté over medium heat.

Once the onion and garlic are browned, add all the other ingredients, except the wings, salt and pepper. Stir constantly.

Enhance the flavor adding salt and pepper until satisfied.

Cook this preparation for 20 minutes until the sauce reduces and thickens.

Prepare a baking tray and place the chicken wings in it. Add a little salt and pepper on both sides.

Using a brush, add the BBQ sauce on each wing. Make sure you don't use all the sauce as you'll occupy it later.

Place on a preheated oven at 180ºC and bake for approximately 20 minutes.

Then, add BBQ sauce on one side and turn the wings to add more sauce, and bake for about 10 more minutes.

Turn them over and add another layer of BBQ sauce.

Place in the oven again for about 5 more minutes and… you're done!
An alternative method
Sometimes we don't have an oven available or we just want to skip the baking. The truth is that chicken wings can be prepared without using an oven and the flavor is very similar. We give you the simple steps just in case you don't have an oven available.
Heat the butter in olive oil over low heat.

Place the chicken wings and add salt and pepper to taste. Leave them a few minutes until they begin to brown.

We recommend preparing the BBQ sauce in another pan. Once all the ingredients are mixed, pour the sauce in the pan with the chicken wings.

Let it simmer until the sauce thickens and sticks to our delicious wings.
And that's it. In fact it seems easier, right? Well, some will agree that baking gives them a different taste. This alternative is more appropriate if you're in a hurry and your guests are about to arrive at any moment. In any case, this will also depend on the taste of each person.
Some suggestions to enjoy chicken wings in BBQ sauce
Chicken wings in BBQ sauce are a classic American food at restaurants and are almost always served with French fries. Of course, there may be some variations.
For example, you can also enjoy them with potato wedges or chips. What's more, if you want a healthier option, accompany them with mashed potatoes or a garnish of white rice.
If you'd like an even healthier option, you can also enjoy your wings accompanied by a salad or some steamed vegetables. Now, enjoy your delicious wings at any time of the year and, why not, at any time.
It might interest you...