Chicken Ramen Noodles
Japanese cuisine is known by its intense flavor and for being natural, carefully elaborated and therefore healthy. Chicken ramen noodles are one of its greatest - and yummiest - examples.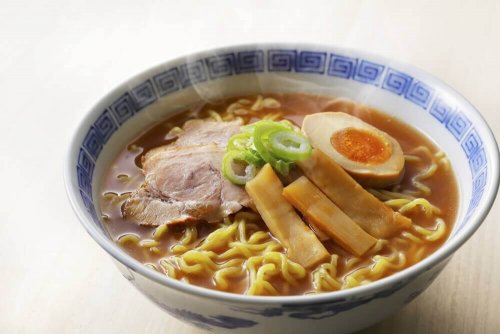 If you want an exquisite dish full of aroma, chicken ramen noodles are an ideal choice. Not only is this soup nutritious and easy to prepare, but it's also packed with simple, wholesome ingredients.
Chicken ramen soup is a traditional recipe that's now a staple of the varied Asian cuisine in the rest of the world. Its basic ingredients are chicken broth and ramen noodles. For many centuries, the spices, vegetables, legumes, proteins, and carbohydrates used in its preparation are the resulting touch of each region within Japan.
Currently, there are many different – and equally delicious – recipes for this soup. When you get into it, making chicken ramen soup will become a simple, fun process.
Shoyu Chicken Ramen Noodles
Ingredients
4 cups of chicken broth
3 tbsp of soy sauce
2 chicken breast fillets
14 oz of fresh ramen noodles (approximately)
½ cabbage
2 boiled eggs
Salt to taste
Chives or chopped parsley
Sesame seeds
Preparation
First, boil the chicken broth and soy sauce in a large pot.
Second, lower to medium heat and add the chicken breast fillets. Cook them for five minutes and set aside.
Then, shred the chicken and put it back to the pot, with the broth.
After, add the ramen noodles and cook them for five minutes.
Proceed to add salt, to your taste.
In a separate saucepan, cook two eggs for 10 minutes. Then, split them in half, and set aside.
Cut the cabbage leaves into thin strips and incorporate them into the broth – about 30 seconds before the noodles finish cooking.
Serve as individual casseroles, placing half an egg on each portion.
Finally, garnish with finely chopped chives or parsley and sesame seeds.
Chicken Ramen Soup
Ingredients
2 chicken breasts
3 tbsp ground garlic
2 tsp ginger
2 eggs
Salt
Black pepper to taste
3 tbsp low sodium soy sauce
1 tbsp vegetable sesame oil
1 tbsp unsalted butter
An oz of shiitake mushrooms
1 tsp sea salt
3.5 oz dry noodles or fresh ramen noodles
4 c. of chicken broth
Preparation
First, preheat the oven to 375 ºF.
After, season the chicken with salt and pepper, and place it in a hot pan with butter. Cook over medium heat for five minutes, or until golden brown on both sides.
When done, put it in the oven for 15 minutes, and then set aside.
Then, in a separate casserole, cook the ginger and garlic in oil for five minutes. After, add the soy sauce.
Add the chicken broth after one minute. Cover the pot until it boils and then remove the lid; keep it on low heat for five more minutes.
Add the shiitake mushrooms and let them cook for 10 minutes, over low heat.
Boil the eggs for eight minutes and plunge them in ice water right after. Then peel them, half them and set them aside.
Cook the noodles or noodles in a pan for three minutes. Then, serve them in bowls, into which you'll add the chicken, previously cut into strips, and the broth.
Finally, add the finely chopped chives, eggs, and salt to taste.
Enjoy!
Chicken Ramen Noodle Soup with Vegetables
Ingredients
1/3 lb chicken breast, cubed
7 oz ramen noodles (approximately)
1 carrot
4 c. of water
1 red pepper
1 onion
1 tbsp of teriyaki sauce
1 tbsp ketchup tomato sauce
Salt
1 tbsp oil
Preparation
First, heat the oil in a pan and brown the cubed chicken for 5 minutes.
Then, add salt to taste, and set aside.
After, cut the onion, pepper, and carrot into julienne strips and incorporate them to the same pan where you cooked the chicken. Sauté them for about 10 minutes so they're al dente. Then, take them out of the pan and set them aside.
After, add the cabbage strips into the pan, and saute for 1 minute.
Add the chicken and vegetables, and also add the contents of the condiment envelope – found inside the ramen package.
Additionally, add the teriyaki sauce, tomato sauce and water, and stir well.
Finally, when it boils, add the ramen noodles and lower to simmer. Then, let it cook for four more minutes.
Serve it hot.
It might interest you...