Chicken Au Gratin with Mushrooms Recipe
The nutritional properties of its ingredients make this chicken au gratin recipe with mushrooms an excellent dish that contributes to a balanced diet.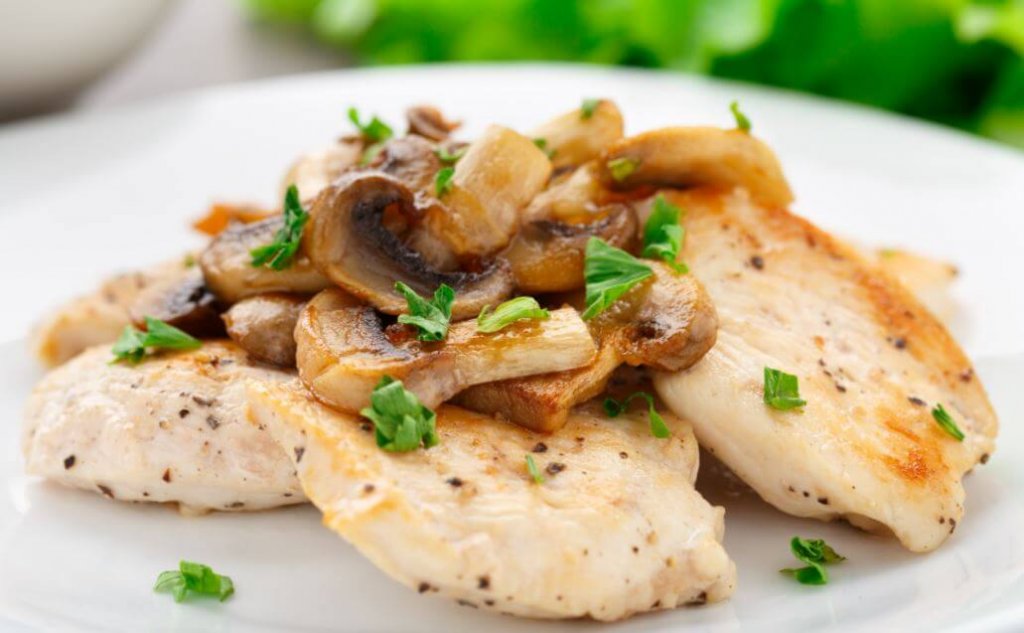 Would you like to learn how to make delicious chicken au gratin with mushrooms? If you're looking for a different option to surprise your family for lunch or dinner, this is a great choice. The chicken and mushrooms contain nutrients that promote wellness. In addition, it's very easy to make.
How to make chicken au gratin with mushrooms
Consuming white meat, such as chicken, is recommended to maintain a healthy and balanced diet. In this regard, recent studies, such as this one published in Food & Nutrition Research, highlight its relevance to human nutrition, as it's a source of protein, fat, vitamins, and minerals.
Meanwhile, mushrooms are a good complement to this food, not only due to their delicious taste but also due to the fact that it's low in calories and rich in nutrients. According to data from the journal Nutrition Today, they contain potassium, dietary fiber, vitamin D, and calcium.
Keep in mind that the nutritional quality of these foods may vary depending on their preparation. For this reason, it's important to opt for healthy preparations. Below, we share an alternative that you can enjoy on a special occasion. Take note!
Ingredients
1/2 onion (1 oz.)
2 garlic cloves (1/5 oz)
1 cup of milk (8 liquid oz.)
4 chicken breasts (21 oz.)
6 to 10 mushrooms (5 oz.)
1/2 cup of chopped walnuts (2 1/2 oz.)
1/2 cup of cooking cream (4 liquid oz.)
2 tablespoons of mushroom soup powder (1/3 oz.)
Black pepper
How to prepare chicken au gratin with mushrooms
Washing the mushrooms
First of all, using fresh mushrooms will result in a tastier dish with a special touch. However, there's a disadvantage: you'll have to clean the mushrooms thoroughly before cooking them.
Generally speaking, mushroom 'dough' is quite delicate. For that reason, you shouldn't put them directly under the faucet. That could make them lose their characteristic texture. Instead, it's best to cut the stems off and place them in a bowl filled with water.
Take the mushrooms out of the bowl. And, later, leave them to dry for a few minutes.
Once they're somewhat dry, scrub them with a moist toothbrush. Brush each one gently until all of the dirt is gone and then put them in the water again.
Next, strain them once again to remove all the water and cut them up. Squeeze a bit of lemon juice on top to keep the slices from turning dark. Now, they're ready to cook!
It takes time to thoroughly wash mushrooms, but not as much time as you would expect. It's worth doing it because the flavor will be much better than if you used canned mushrooms.
How to prepare the mushrooms and the sauce
To continue, mix the mushroom sauce powder with the milk and stir until well-mixed. Stir until you get a smooth mixture. Also, you can use a saucepan and heat the cooking cream over very low heat.
Once it begins to steam, add the milk, and stir until it's heated through, without allowing it to boil. At this point, remove it from the heat and set it aside. Then, cut the onion into small chunks and mince the garlic.
Sauteé the onion and garlic in olive oil for a few minutes, just until the onion starts to turn golden.
Then, add the black pepper (to taste) and keep sauteéing the mixture for another 3 minutes.
Next, reduce the heat to low and add the sliced mushrooms. Let them cook for about 10 minutes.
Then, pour in the cream and milk mixture and continue stirring on low heat.
Finally, add the chicken breasts and cover. Let everything cook for approximately 2 minutes.
The chicken breasts will absorb the flavor of the mushrooms, sauce, and onion but won't cook all the way.
Now put everything in a casserole dish and sprinkle the chopped walnuts on top.
Bake for 15 to 20 minutes at 350ºF. You can control how well you want the chicken to be cooked according to the color; you'll notice the top part turning golden and the layer of nuts becoming gratinated.
With canned mushrooms
As a time-saving alternative, you can use canned mushrooms instead of fresh ones. This way you won't have to clean them each one by one; they'll be ready to go. It's enough to open the can and cut the mushrooms into strips if they're not already cut!
Then, add them to the pan at the same point in the recipe as the fresh mushrooms. Although this option will make this dish easier to make, the flavor won't be the same.
No matter what option you chose to make this recipe, enjoy your chicken au gratin with mushrooms alongside a side dish of rice or creamy vegetable soup (carrot, potato, sweet potato, etc). They go great together!
It might interest you...