Chestnut Recipes: Four Dishes You'll Love
Chestnuts are versatile and packed with nutrients that'll have a positive impact on your body. Today, we'd like to share four tasty recipes that'll fit perfectly into your regular diet.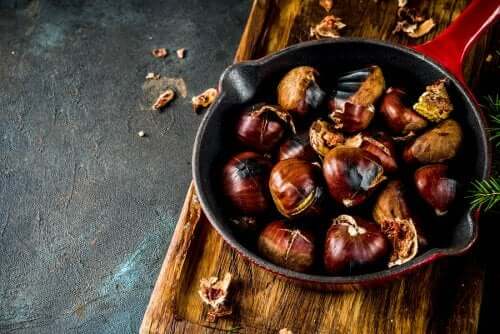 Chestnuts are a highly flexible ingredient that is easy to add to all sorts of recipes. Due to their texture and particular flavor, they're ideal for making both sweet and savory dishes. Besides, they're packed with many of the nutrients that your body needs. Would you like to learn some chestnut recipes today?
Fall is the best time to harvest chestnuts, but you can find them at your local market or grocery store most of the year. These nuts are not only a great source of vitamin E, but they're also packed with antioxidants, potassium, unsaturated fat, and many other key dietary nutrients.
Four Chestnut Recipes You Might Like to Try
Chestnuts are ideal for vegetarians or anyone who would like to adopt a healthier diet. This nut is perfect for baking cakes, flavored kinds of butter, desserts, and many other dishes.
Here are four recipes.
1. Chestnut Recipes: Grilled or Roasted
The traditional preparation of chestnuts is to either roast or toast them. In fact, you can add them cooked this way to all sorts of dishes such as pasta, rice, smoothies, and sauces. It's also simple and can serve as the base for many other dishes.
Ingredients
Chestnuts (any amount)
Salt (optional)
Preparation
Before roasting or grilling the chestnuts, make a horizontal slit in them so they cook faster.
Then, either preheat the oven to 350°F and grill them there for 25 minutes or do so on the stove in a hot wok or a frying pan.
Then, wrap them in a piece of clean cloth and gently shake them to remove the skin.
Finally, if you wish, sprinkle them with salt to your taste.
2. Chestnut Jam Recipe
Are you looking for a good complement for your breakfasts and snacks?
If so, then keep these chestnut recipes in mind. For example, make a delicious jam with it. It's great on bread, crackers, and pancakes, among others. Plus, you can also add it to savory dishes.
Ingredients
10 chestnuts
3 c. of brown sugar
1 c. of water
1 vanilla bean (You can use vanilla extract instead. However, just make sure it's the real thing and not a cheap imitation).
Preparation
First, make a horizontal slit in the chestnuts and boil them for 10 minutes. Then, peel them and crush them.
Next, dissolve the sugar in the water and heat over medium heat for about 15 or 20 minutes. Stir constantly so it doesn't caramelize.
Then, add the chestnut puree and the vanilla to the syrup.
Cook it over low heat for 20 minutes.
Add more water if you think the mixture's too thick.
3. Chestnut Apple Cake Recipe
This chestnut-apple cake requires a little more time than the two previous recipes. However, it's worth your time and work.
Why?
It's a delicious dish you can enjoy either as a simple snack or on a very special occasion. You'll truly love it!
Ingredients
1/2 c. raisins
4 apples
1 c. of chestnut flour
4 tbsp of honey
1 c. of chopped almonds
1 c. of milk
One egg
1 tsp of poppy seeds
4 tbsp of extra virgin olive oil
Nutmeg
A pinch of salt
Preparation
To begin, soak the raisins for 30 minutes. Then, drain them well.
Next, peel and chop the apples.
Toast the flour for 10 minutes on a thick-bottomed pan at low heat and then transfer it to a deep bowl.
Next, incorporate the rest of the ingredients: raisins, honey, almonds, milk, egg, poppy seeds, olive oil, nutmeg, and salt.
Finally, transfer the mixture to a greased cake mold and cook it in a preheated oven at 350ºF. It should be ready in about 40 minutes.
4. Crepes with Chestnut Cream and Yogurt
This may be the one among all chestnut recipes that your children will love. After all, you can't go wrong with these delicious crepes topped with chestnut cream and yogurt. Their calorie content is a bit high, but you can save it for occasional snacks and breakfasts.
Ingredients
Crepes
1 c. of chestnuts
1/2 c. of sugar
1/2 apple peeled and chopped
Water (as much as you need)
1/2 tsp ground cinnamon
Creamy yogurt
Preparation
First, make a horizontal slit on the chestnuts and steam them with a little bit of water for a couple of minutes. Then, remove the skin and chop them.
Next, place the chestnuts in a microwave-friendly container and add the sugar, apple, water, and cinnamon to it.
Microwave them for two minutes at maximum power.
Then, mix it all to a smooth cream. (You can store it in the refrigerator for up to two weeks.)
As your last step, fill each one of the crepes with the mixture and then fold and decorate them with creamy yogurt to your taste.
Chestnuts contain proteins, healthy fats, and antioxidants that are great for your organism. However, the caloric content of chestnuts varies depending on their preparation. So, try to eat moderate portions so as not to exceed your caloric intake.
It might interest you...