Charming Ideas to Use Old Pieces of Fabric
The possibilities to reuse old pieces of fabric will depend on their size, although you can always adapt them and combine them to meet your needs for the designs you want.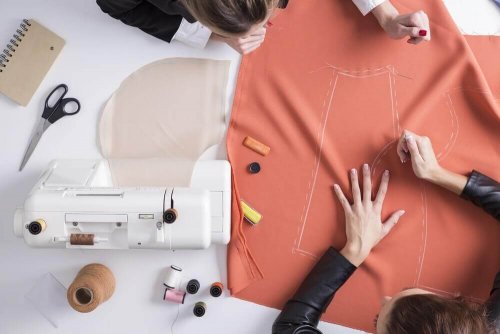 You probably have old pieces of fabric at home. They may be scraps from past sewing projects, old clothes, rags, towels, and even curtains. However, did you know that there are countless ways to recycle them?
Anything can be used if there's enough skill and imagination to turn those old pieces of fabric into something charming. There's no limit to what you can do. The ways in which old pieces of fabric can transform your home are not only endless, but they'll also add your own personal touch.
Throwing away old clothes is a painful and costly exercise, especially when it comes to high-quality fabrics. If you're looking for ways to keep them in your life, then keep reading!
Things to Do with Your Old Pieces of Fabric
Patchwork is the best-known technique for reusing old pieces of fabric. This is nothing more than the combination of various different pieces that together create a larger item like a quilt, for example.
Materials and Tools Needed for Most Crafts
In order to carry out most of the following crafts, you'll need the same essential materials when it comes to cutting, pasting, painting, assembling, etc. Therefore, you must have:
A glue gun and sticks
Tail adhesive
Scissors
A utility knife and blades
Thread and needle
A sewing machine
You won't use all of these materials in the same item, but you'll have an idea of what you need when you begin to work on them.
Collage
You can line a frame or a sturdy sheet with fabric scraps and make a collage with your own design. It's a simple yet creative way to use every piece of cloth, regardless of how small it might be.
You can make collages by sticking them directly on the sheet, or you can also stitch them by hand, with a sewing machine, or with a little bit of both.
Wallets and Coin Purses
You can make amazing little purses with a few scraps of used fabric. Combine colors and textures – there's no limit to what you can do here!
Lamps
Cover the lampshades of your house with old pieces of fabric. Look for different colors and select lighter fabrics so that the light passes through and softens your environment.
Book Covers
In the same way that you cover a book by wrapping paper or newspaper so that your covers don't get ruined, you can also cover them with old fabric scraps.
Asilicone gun is great to glue the pieces together.
Cushions with Old Pieces of Fabric
Another way in which you can use clothes that you no longer use is to turn them into wonderfully unique cushions. You can use old shirts to make pillowcases, for example.
Bags and Totes
If you're into trendsetting, there's nothing better than wearing what you design. Make your own bags from old pieces of fabric, and customize it any way you want by mixing colors and combinations or by using the same kind of fabric all together.
Bags are one of the simplest crafts (if you have access to a sewing machine, that is).
Cover Your Old Pouffe
If you have an old pouffe that's wearing out, don't throw it away. Either do a creative patch or take advantage of your big old pieces fabric and re-cover it entirely.
It's a great way to extend the enjoyment of your furniture!
Aprons
If you're sick of having your clothes stained every time you cook and don't want to expose them anymore, then wear old clothes instead so that it doesn't happen again. Furthermore, you can use a long shirt or a dress as the base for your apron.
The Sky is the Limit
Rummage in your closet and locate the fabric scraps you can reuse from your old clothes. These are only a few ideas to get you started. With this in mind, always remember that there are no limits to imagination and creativity. A
s we noted before, doing so may even become your new hobby and, in addition, provide you with the outlet you need reuse and recycle, and even to save money in gifts for your friends and family.
It might interest you...