Cervical Insufficiency: Symptoms and Complications
Cervical insufficiency is a difficult condition to diagnose, especially for new mothers. It's best to have regular prenatal checkups and report any symptoms to your doctor.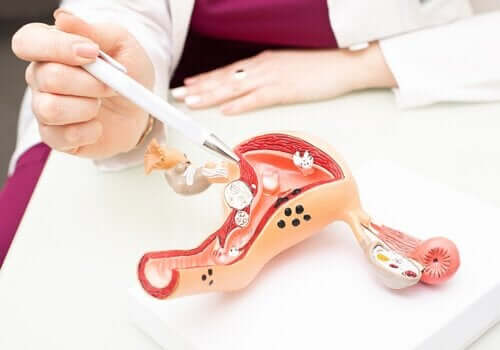 Cervical insufficiency is also known as incompetent cervix. It occurs when the cervix dilates too early during pregnancy, usually without any other symptoms. This leads to premature delivery or miscarriage.
Normally, the cervix dilates only when labor begins, in response to contractions. However, if there's cervical insufficiency, this dilatation occurs during the second trimester of pregnancy, without pain or contractions.
This abnormality is only detectable when a woman is pregnant. Otherwise, her uterus looks normal. If a woman has had cervical insufficiency in a previous pregnancy, the same situation will likely occur in other pregnancies.
Common symptoms of cervical insufficiency
Only some women have light bleeding during weeks 14 to 20 of gestation. Such bleeding may last a few days or several weeks.
Also, some women have discomfort during the second trimester of pregnancy, such as the following:
Changes in vaginal discharge
A feeling of pressure in the pelvis
A pain in the back that feels strange
Mild abdominal cramping
What causes it?
Science hasn't been able to establish the specific cause of cervical insufficiency. However, experts have been able to identify some of the factors that increase the risk of cervical insufficiency. The most important are the following:
Multiple pregnancies. Cervical insufficiency occurs more frequently in women who are carrying several babies simultaneously.
Having had a cervical tear in a previous delivery.
History of LEEP. This is an excisional electrosurgical procedure performed to prevent uterine cancer.
Congenital connective tissue disorder. This includes several abnormalities of the uterus that are present at birth, such as Ehlers-Danlos syndrome.
Congenital defects of the uterus. These are present at birth and mean that the uterus has an abnormality.
Injury or trauma to the cervix.
Exposure to diethylstilbestrol. This is a hormonal drug. If a woman's mother took this drug when she was pregnant, it increases the risk of cervical insufficiency.
Women who've had miscarriages, particularly if they occur before the fourth month, have an increased risk of cervical insufficiency.
Diagnosis of cervical insufficiency
The diagnosis of cervical insufficiency is difficult, especially when it is the first pregnancy. So, if the health care provider suspects this abnormality, he or she may order some tests and procedures to confirm it.
The usual diagnostic tests are as follows:
Transvaginal ultrasound. This test measures the length of the cervix and establishes whether membranes are protruding through the cervix. If the cervix measures less than 25 millimeters, this confirms cervical insufficiency.
Pelvic examination. This is a visual and manual inspection to establish whether or not the amniotic sac and fetal membranes are in place.
Laboratory analysis. Doctors perform tests when there is suspicion of infection. To determine this, they take a sample of amniotic fluid and analyze it under the microscope.
Cervical insufficiency: Available treatments
Once there's confirmation of a diagnosis of cervical insufficiency, treatments are available to avoid serious consequences. The goal of all of them is to delay labor as long as possible. Some of these are as follows.
Progesterone supplementation
A study conducted by several medical centers and universities in the Netherlands indicated that progesterone supplementation would reduce the risk of premature delivery and miscarriage when a woman has a short cervix. Women can take progesterone in the form of an injection or vaginal suppository.
Cervical cerclage
Cervical cerclage is a surgical procedure in which the cervix is closed with strong sutures. This cerclage is removed between 36 and 38 weeks when it's safe to give birth. At 37 weeks, the pregnancy is considered to be full term. Sometimes doctors remove the suture at the time of delivery.
Arabin's Pessary
This is a procedure in which doctors wrap and close the cervix with a specially designed ring. In this case, no surgery is necessary. This technique is believed to be very effective when the mother has a "V" shaped cervix. However, research is still lacking.
Bed rest
Bed rest, or pelvic rest, has proven to be an effective method of delaying labor. Such bed rest can be partial or total. In some cases, the mother may only be able to get up to eat and go to the bathroom. Although this may be very uncomfortable, it's a simple and proven method.
Risk factors and complications
The most obvious risk factor in these cases is cervical trauma. If there's any type of injury or surgery has been performed in the area, the possibility of cervical insufficiency increases.
As we've already noted, other risk factors are congenital problems, connective tissue diseases, and exposure to the drug diethylstilbestrol. However, many of the women who present with this condition have no known risk factors.
Experts have established that African-American women have a slightly higher risk of presenting with this problem. As for complications, the most obvious and serious are premature birth or the possibility of miscarriage.
Periodic prenatal screening is essential
There's no way of knowing if a woman has cervical insufficiency unless she's pregnant. This creates a major difficulty for early diagnosis and treatment of this problem.
It's best to maintain continuous and efficient prenatal care. Any symptoms, even if they don't appear to be serious, should be reported to the physician.
It's also important to talk to your doctor about any questions you may have. This way, the risk of complications is reduced.
It might interest you...