Celery and Green Apple Juice to Detox the Kidneys
Celery and green apple juice has properties that cleanse and improve the function of your kidneys. It's also anti-inflammatory!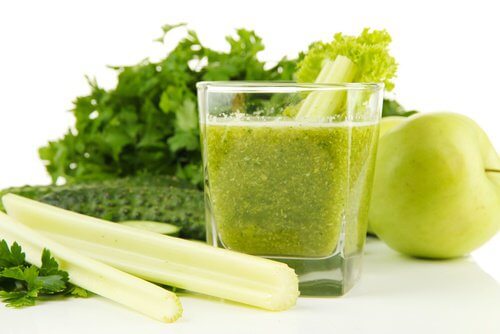 With this delicious celery and green apple juice you'll get an invigorating, cleansing beverage to improve the health of your kidneys.
We're sure that you already have good lifestyle habits like drinking plenty of water and limiting your consumption of salt and sugar to care for your kidney health.
But today we want to recommend that you add this vitamin-packed juice that will enhance the basic functions of your kidneys.
It costs you nothing, and yet it can do so much for you.
Are you ready to pay attention?
Celery and green apple juice for your kidney health
Something to keep in mind is the fact that when it comes to the health of your kidneys, it's not enough to just drink water and make sure your diet is low in sodium.
You also need certain vitamins and, above all, a good supply of antioxidants that will improve their function and the proper filtering of your blood. That's why it's a good idea to eat lots of fresh fruits and vegetables—organic, if possible.
Breakfast is an important time of the day to take care of the health of your liver and kidneys. Start your day with a smoothie or a juice that's full of nutrients, vitamins, and antioxidants can help cleanse your system and improve performance.
We'll explain now why your morning beverage should include these two ingredients: apple and celery.
Discover also 10 liver cleansing foods
Celery, a potent anti-inflammatory ingredient
One of the most powerful anti-inflammatory vegetables is celery. Thanks to its enzymes and minerals, it's an ideal food for patients with problems with uric acid or urinary infections.
Celery, aside from having a high water content, is rich in vitamins A, B, C, and E, as well as essential minerals like iron, potassium, zinc, phosphorus, sulfur, copper, aluminum, and manganese.
If you drink celery and green apple juice on a regular basis, you'll also reduce high blood pressure and cholesterol levels, two enemies of kidney health.
Here's an interesting fact: celery seeds contain essential oils (limonene and selinene) and the root contains asparagine.
These compounds have powerful toning and diuretic properties, ideal for removing impurities and that fluid retention that appears when you have a problem with your kidneys.
Celery is highly recommended when treating gallstones and kidney stones, as it helps eliminate the accumulation of mineral deposits.

Green apple juice: nutritious and cleansing
This juice recipe calls for a green apple with the peel on. Apple peels contain pectin, a type of nutrient that helps treat inflammation and cares for kidney health.
Apples are also rich in soluble fiber, which helps you naturally balance your blood sugar levels, also reducing cholesterol levels.
Another interesting fact about apples is their detoxifying power, something that's achieved by their content of cysteine.
Just like celery, green apples help reduce blood pressure. That's why it's important that you buy fruits and vegetables that are organic so you can benefit from all their natural properties.
How to make your celery and green apple juice
Ingredients
1 stalk of celery
1 green apple
1 cup of vegetable milk (rice, oat, or almond) (200 ml)
See also Detox diet with apple cider vinegar

Preparation
The first thing you need to do is wash the green apple and celery. Then you slice the apple into quarters and remove the seeds.
You should also chop the celery into pieces.
Now you add it to the blender. To improve blending, start by adding the apple and celery. Once you've obtained a homogeneous mixture, pour in the vegetable milk of your choice.
Continue blending and then pour this into your favorite glass. If you like you can sweeten this celery and green apple juice with a little honey. Never add white sugar, however.
To care for your kidney health, it's best to drink this green apple juice three to four times a week with breakfast.
Will you start today?