Capecitabine for Breast Cancer: Uses and Side Effects
The introduction of capecitabine was a breakthrough in the treatment of metastatic breast cancer and colorectal cancer. Let's discover its indications and how it works.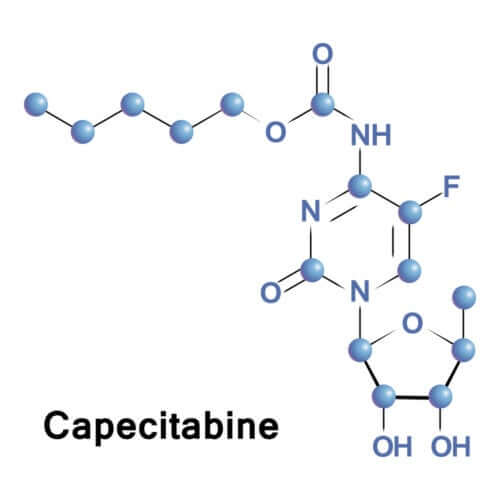 Capecitabine is a chemotherapy drug often used for breast cancer and marketed under the brand name Xeloda. This anticancer drug -antineoplastic or cytotoxic- is classified within the therapeutic group of alkylating agents. Doctors mainly use it to treat metastatic breast, colon, or rectal cancer.
Breast and colorectal cancers remain incurable diseases today, although they are manageable. They have a median survival of 18-24 months and 12-18 months respectively. Treatments aim to improve quality of life and prolong survival.
The introduction of capecitabine was a breakthrough in the treatment of this type of cancer because of the following reasons:
It allows a more comfortable chemotherapy treatment because it's administered orally and not intravenously as is given along with traditional chemotherapy. This provides greater acceptance and compliance by patients, avoiding complications and associated economic costs.
It causes a selective activation in the tumor that potentially allows a localized treatment with the consequent improvement of antitumor activity and reduction of systemic toxicity.
In metastatic breast and colorectal cancer, it's been tested in monotherapy or combination with other chemotherapy drugs. Both forms of treatment have given good results both in terms of efficacy and tolerance.
A general overview of breast cancer
Breast cancer is the most common malignancy and the second leading cause of cancer-related death in women in Western Europe and North America.
Although its incidence is increasing, mortality rates have been decreasing since 1990. This is probably due to early diagnosis by mammography screening and the increased use of intravenous adjuvant therapy.
Despite such early detection programs, between 5-8% of breast neoplasms are metastatic at diagnosis. Metastatic breast cancer is a disease with highly variable clinical manifestations and is currently one of the great challenges in clinical practice research in oncology.
An overview of colorectal cancer
Colorectal cancer is also a very common neoplasm in developed countries. It's the third leading cause of mortality in both sexes. The development of adjuvant chemotherapy, which is chemotherapy for after tumor surgery, has led to a modest improvement in patient survival.
However, according to studies, approximately 30% of diagnosed patients will develop metastatic disease. In addition, the liver is the organ most affected by metastases.
Breast Cancer and Capecitabine: What does capecitabine do in the body?
Capecitabine has a structure that allows it to be rapidly absorbed in the intestine after administration. This fact considerably reduces the risk of triggering toxic digestive effects. Capecitabine is transformed in the body into another compound – fluoridin monophosphate – which has cytotoxic activity, i.e. it causes cell death.
Once absorbed, capecitabine would act on the most aggressive cancer cells. As a result, it has a greater effect on patients with tumors with a poorer prognosis.
Main adverse reactions to capecitabine
The most frequent adverse reactions related to capecitabine in monotherapy or combination therapies with other chemotherapy drugs are:
Gastrointestinal problems: diarrhea, nausea, vomiting abdominal pain, and stomatitis
Fatigue
Hand-foot syndrome or palmoplantar erythrodysesthesia: this is the most common adverse reaction this drug produces. It presents with redness, swelling, and pain in the palms of the hands and/or soles of the feet. Sometimes blisters appear and sometimes they also appear in other areas of the body such as the knees or elbows.
Breast Cancer and Capecitabine: Conclusion
The development of capecitabine has been a breakthrough in the treatment of both metastatic breast and colorectal cancer. For example, it allows oral administration, which is more convenient for the patient, and the adverse effects are less serious.
Although we've made great strides in the treatment of various cancers, research into possible treatments for these diseases must continue with impetus. In summary, the global goal is to reduce mortality from these diseases as much we can with science and medicine.
It might interest you...