Exercises to Strengthen Your Calf Muscles
Regardless of the exercises you choose to build your calf muscles, it's essential that you do plenty of stretching to avoid cramps and injuries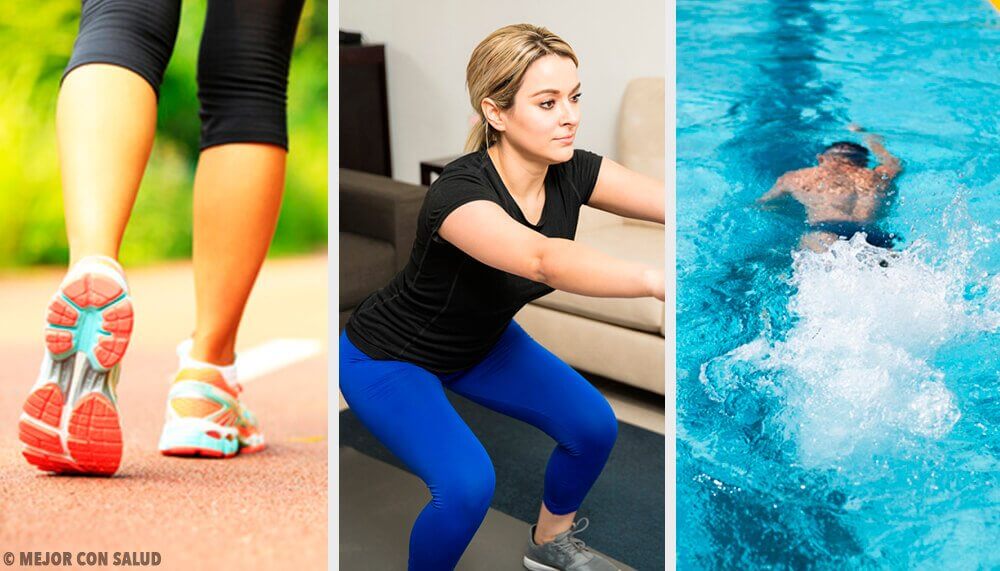 Do you want to work your legs and improve how your calves look? If so, you should know that there are some exercises that can help you tone and build your calf muscles. They can also help to tone your legs so they look even better!
For both women and men, toned legs with well0defined muscles create a streamlined figure. However. it's not all about the physical benefits, working on your legs can also help achieve good posture.
Although you may not normally notice, remember that the way you walk can influence the health of your whole body. That's why it's important to look after your posture in multiple ways, but especially through exercise.
Exercises to build calf muscles
Studies suggest that building your calf muscles through exercise can help to improve your balance. This is very important, especially in elderly adults.
Additionally, a study published in the Journal of Vascular Surgery concluded that exercises that raise your calf muscles can improve your performance when walking and improve the mitochondrial volume density in gastrocnemius muscle.
Among other things, like many other exercises, working your calves contributes to improving your circulation, preventing pain, and reducing your risk of illness. However, it's important to complement this with a good diet and healthy habits.
To add to that, you should continue practicing to reap the benefits. So, if you want to build your calf muscles, start by practicing the exercises we give below:
1. Climbing stairs
Without a doubt, one of the best exercises to build calf muscles is to go up and down the stairs. This is an easy, affordable, and risk-free activity that you can practice almost anywhere.
This should be the first exercise you adopt because you can do it every day with a little discipline to help combat laziness.
We suggest that you stop using elevators and start toning your calves on the stairs instead.
Remember that you use different muscle groups going up and down the stairs, so make sure to combine the two.
2. Walk around town or go hiking
Hiking, which consists of following trails through the countryside or a mountain, is one of the best sports you can choose to strengthen your legs. In addition to physical activity, it provides an inner sense of calm while you're in nature.
However, if it's not possible for you to get out of the city and get in contact with nature, you should walk for at least half every day. This will motivate you to visit new places and give yourself a little reward along the way.
3. Cycling to strengthen your calf muscles
You can do this in the city, in nature, or on a stationary bike. Generally, as certain studies demonstrate, practicing a sport like cycling can help will improve your aerobic ability and develop your less through pedaling.
However, remember that it's important to wear the appropriate clothes and apparatus to do this sport. Likewise, whenever possible, having a good bicycle is also key.
4. Swimming
Everyone knows that swimming helps tone the muscles of your entire body. For that reason, swimming can complement your exercise routine when it comes to building your calf muscles. Also, according to a study published in the Journal of Exercise Rehabilitation, it also improves your coordination and physical strength.
Swimming is one of the most complete sports that exist as all your muscles will work together at the same time. Also, it helps with coordination, and the ability and the performance of the lungs and heart.
5. Ankle weights
There are many different kinds of weights that can be placed around your ankles using Velcro or a strap. You can do all sorts of activities with these on, and the added weight will work your calf muscles even harder.
Remember to start with low weight to prevent injuries or cramps. And, don't forget to stretch before and after! This will help develop your muscles to their maximum potential.
6. Squats with jumps to strengthen your calf muscles
According to a publication in the International Journal of Sports Physical Therapy, squats can stimulate the activity of your calf muscles, as well as the hamstrings, hip, and abdominal muscles.
To do this, flex your knees and lower your hips to the floor as close as possible, then jump vertically.
When you land, go into the squat position again and repeat.
You can start with 4 sets of 12 repetitions. You'll notice the difference in no time!
7. Jumping rope
Jumping rope is a complete exercise. It can help us to gain muscle tone and strong legs with just a few days of practice. It also improves your balance and, above all, your physical resistance.
Some of the most intense sports, such as boxing, use jump rope workouts for training because it's very effective.
8. Elliptical
The elliptical machine is designed to cover a large range of movements. As such, you'll be able to work your calf muscles at the same time as your arms! Similarly, with this exercise, you reduce any risk of injury, providing you do it correctly.
As you can see, there are many kinds of exercises that you can do to strengthen your calf muscles and legs. Bearing all our tips in mind, you should work out regularly so that you'll be able to see results. Of course, ensuring that you maintain healthy life habits too.
It might interest you...