Breast Milk Donation: Everything You Need to Know
According to the World Health Organization (WHO), breast milk saves 800,000 lives a year. Donating it is a generous act with many benefits. Learn more in this article!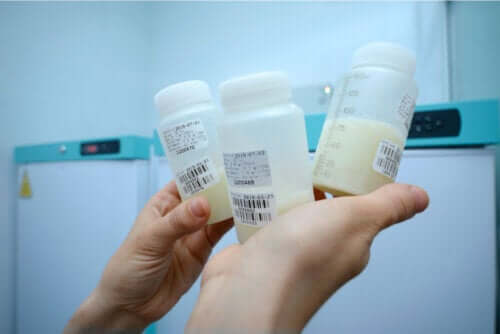 Breastfeeding isn't always a possible process for all women. However, nowadays there are many viable alternatives to feed your baby, such as breast milk donation banks.
Breast milk contains all the nutrients needed by babies up to 6 months of age, so doctors recommend it as the only food during this period of time.
Research has proven that breast milk prevents infections and allergies and covers all the nutritional requirements to promote the development and growth of newborns.
If you want to know more information about breast milk donation, read this article. All the information is supported by experts and studies.
Why is donating breast milk important?
Breast milk donation is important because it saves lives. As we mentioned before, there are different situations in which women aren't able to cover this need that babies have.
Currently, May 19th is recognized as World Breast Milk Donation Day. This designation arises to raise awareness of the importance of doing so, since every day it helps save the lives of premature babies and improve the goal of children cared for worldwide.
According to the Pan American Health Organization and the World Health Organization (PAHO and WHO), consuming it is considered vital for the growth and development of babies.
The good news is that there are more than 500 milk banks in 37 countries worldwide. Donating breast milk is a generous action. The process is simple and the trend continues to build more banks to extend this practice.
What are milk banks and how do they work?
The Spanish Association of Human Milk Banks (AEBLH) defines these types of organizations as specialized centers responsible for the promotion of breastfeeding, where human milk donated by selected mothers is received, processed, analyzed, stored, and distributed.
After a hiatus in the creation and use of human milk banks in the 1980s, they're once again on the rise. These save the lives of many newborns. Believe it or not, these cases are quite common.
How do human milk banks work?
This is the usual procedure:
Selection: The bank selects breast milk donors and they must go through an interview with the people in charge within the organization. It's important to communicate and highlight whether they suffer from any transmittable disease if they consume certain medications or have unhealthy habits.
Collection equipment: In many cases, selected donors are given collection equipment, containers, and identification labels, as well as training on how to collect the milk.
Processing: In this same step, storage also takes place. This is a sterile environment in which microbiological tests are performed to ensure that there aren't any dangerous germs. They're kept in a freezer until the indicated time for delivery.
Dispensing: It's important to mention that the only way breast milk can be dispensed is under medical prescription.
What should I consider before donating breast milk?
One of the most frequently asked questions before you start donating breast milk is whether your own baby will run out of milk. You must understand that this won't happen.
You can rest assured that your little one will continue to receive the amount they require for optimal development. In fact, the good news is that giving milk will increase your production and you'll be able to meet the typical demand of the first 6 months.
Blood tests
In addition to the interview with a specific milk bank staff, you can't donate if you suffer from diseases or infections that are transmitted through this route, such as HIV, syphilis, hepatitis C, or hepatitis B. That's why, eventually, doctors will run a blood test to rule out any of these health issues.
Altruistic work
Another interesting fact is that there's no financial reward for being a breast milk donor. It's generous, only for those mothers who want to help other babies and even women who cannot offer the food to their little ones.
However, the greatest satisfaction is being able to help children in need. Any healthy mother with a good lifestyle can do it!
Good habits
Make sure you comply with the fact of having a healthy lifestyle, eating correctly, not suffering from diseases that could be transmitted, and have all the desire to collaborate because there are undoubtedly many babies who need breast milk to survive.
If you have any other questions, please contact the customer service staff of the human milk bank closest to you.
It's not painful
Unless your nipples are sore, the process of pumping breast milk isn't painful. For example, there are electric breast pumps that you can adjust the speed until you reach a speed you are comfortable with.
In various maternity blogs, women say that a good option is to use a special oil or lubricant for the area, so that you don't end up with sensitive skin.
What is the procedure to become a donor?
Becoming a breast milk donor is a relatively simple process. The interview with the bank managers can even be by telephone.
The professionals will ask you about your medical history and other questions to find out whether or not you use drugs. Generally, a general practitioner should endorse tests and a positive report.
If you already know about a breast milk bank near you, you can contact them by phone and make an appointment for an interview. Next comes the pumping process; the bank itself sends you the containers and all the necessary supplies so that you can do it at home. These products come with detailed instructions.
The steps
After giving the milk you'll have to empty it into containers marked with labels that include your unique donor number. These will be in the freezer for 2 months, however, the time may vary depending on what the bank thinks is best.
Subsequently, transportation is an issue that either the bank or the mother can handle. In case they're thawing, you must empty some ice inside the container to keep them intact and make sure they arrive safely at the headquarters.
As you can see, becoming a donor is a simple process that you can carry out from home. Don't worry, as there are plenty of places you can get information from!
If you have even the slightest doubt, you can contact the milk bank staff, who'll always be willing to help you during this process. The best thing part of all this? You'll be helping to save the lives of many babies!
Who will receive the milk from these banks?
The milk from the banks is received by low birth weight babies, especially those weighing less than 1500 grams. But infants at risk of digestive and infectious diseases also need it. In most of these cases, the aim is to reduce the chances of neonatal death.
You should know that to receive milk from these organizations, the baby must have a medical prescription. This can be either due to major causes or because the mother is unable to feed the baby. In some cases, this milk is also to feed babies who have undergone digestive system surgeries.
Breast milk donation changes the world
Breast milk is also medicine. Despite the lack of financial remuneration, many mothers feel the satisfaction of helping to save lives. In fact, in some cases, pumping means pain relief for women who have a large production of food.
Remember that your baby will never run out of milk; you'll continue to cover the demand. At the same time, you'll help other little ones to have a better quality of life inside or outside a hospital.
If you have any questions, ask the staff at your nearest milk bank for advice.
It might interest you...