Ten Breakfast Recipes to Help You Get in Shape
With these delicious recipes for breakfast, you'll be able to maintain a healthy lifestyle and look great. We present the best choices for getting into shape, and they're also delicious.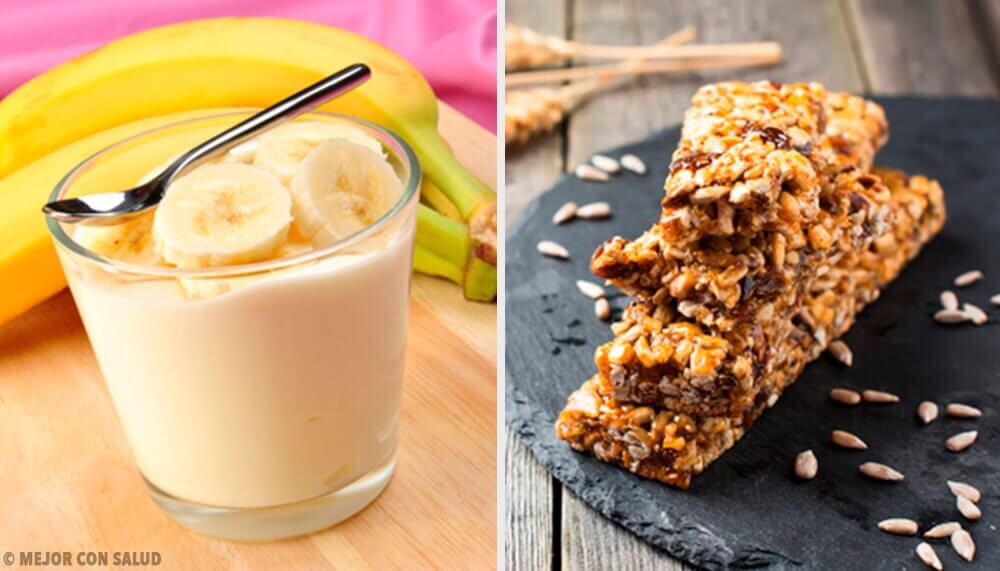 We all know that looking great will come easily if you keep healthy, which is far more important than any aesthetic motivation; however, with these delicious breakfast recipes, you'll be able to maintain a healthy lifestyle whilst also getting ready to look great in that gorgeous beach outfit you've bought for your holidays.
Before we begin, remember that it's always good to add other morning routines to these healthy and delicious breakfasts in order to slim down. If your main goal is to look better, we also suggest that you exercise. It doesn't matter if you're not particularly athletic or don't have a lot of spare time, there are also flexible options, such as a pleasant daily walk.
Below, we present the best recipes for getting into shape, and furthermore, they're delicious.
1. Omelette with goat's cheese and herbs
Ingredients:
3 beaten eggs
1 tablespoon (15 g) of herbs
1 tablespoon (15 g) of unsalted butter
50 grams of goat's cheese
Preparation
Mix together all the ingredients except the butter and the goat's cheese.
Heat the butter in a pan and, when it's melted, add the mixture to the pan.
Wait until it has formed an omelette, and then put the goat's cheese on top and fold the omelette in half.
Cook for one more minute until the cheese has melted.
2. Waffle with egg and greens
Ingredients:
2 beaten eggs
100 grams of broccoli chopped into small chunks
1 small tomato cut into cubes
Salt and pepper to taste
1 tablespoon (15 g) of melted unsalted butter
Preparation
Mix all the ingredients and pour the mixture into a waffle maker.
Wait a few minutes until the waffle is cooked.
3. Vegan yoghurt and banana
Ingredients:
1 banana
1/2 glass (125 ml) of almond milk
20 grams of chia seeds
20 grams of cashew nuts
A pinch of cinnamon
Stevia to taste (optional)
Preparation
Soak the chia seeds for twenty minutes in four tablespoons of almond milk.
Soak the cashew nuts in water.
Pour both into a food processor.
Process until the mixture has the desired consistency.
4. Avocado smoothie
Ingredients
1 green teabag
100 ml of hot water
1/2 an avocado
125 ml of greek yoghurt
10 grams of stevia
300 ml of almond milk
Preparation
Steep the green teabag in the hot water for three minutes.
Peel and chop the avocado.
Put all the ingredients in a blender.
Blend until all the ingredients are well mixed.
Serve.
5. Pancakes with banana
Ingredients
Three ripe mashed bananas
100 grams of butter
1 tablespoon of honey
Preparation
Make the pancake mix with the mashed bananas.
Once made, fry the pancakes in butter, one by one, for around two minutes.
Sirve with honey.
6. Homemade cereal bars
Ingredients
Spray on cooking oil
250 ml of smooth peanut butter
80 ml of honey
2 cups (400 grams) of rice cereal
1/2 cup (50 grams) of oats
25 grams of raisins and berries
Preparation
Mix and heat the honey and peanut butter until it forms a smooth paste.
Add the rest of the ingredients apart from the oil.
Take a sheet of baking paper and line a baking tray. Grease it with the oil.
Put the mixture into the baking tray and spread over the whole surface using both hands.
Put it in the refrigerator for one hour.
Remove, cut it into pieces, and enjoy!
7. Papaya and pineapple smoothie
Ingredients:
1 cup (225 grams) of pineapple chunks
1/2 cup (120 grams) of papaya chunks
1/2 cup (125 ml) of ice cubes
60 ml of honey
Preparation
Pour all the ingredients in a blender and blend until they're well mixed.
Serve straight away.
8. Spinach, goat's cheese, and bacon salad
Ingredients:
225 grams of fried bacon, chopped into pieces
300 grams of spinach (washed)
60 grams of goat's cheese
1 cup (200 grams) of walnuts
Salt and pepper to taste
Preparation
Put all the ingredients in a bowl.
Mix.
Season with salt and pepper to taste.
9. Panela cheese grilled with oregano
Ingredients
250 grams of panela cheese
1 small tomato, sliced
Oregano to taste
Preparation
Cover the cheese in oregano and tomato slices and grill over a medium heat.
Grill for about five minutes per side.
Remove from the heat and serve.
10. Sliced banana with yoghurt
Ingredients:
250 grams of yoghurt
1 banana, sliced
Preparation
Lay out the banana slices on a plate.
Pour the yoghurt over the banana.
Enjoy!
It might interest you...