Benefits of Coconut that You Didn't Know
Coconut is very versatile. You can even buy grated coconut for desserts. In this article, we'll talk about the benefits of coconut as a food.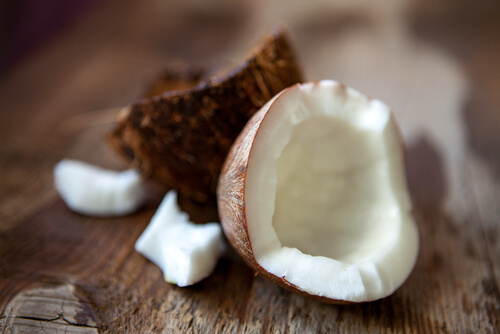 Coconut is very versatile. For example, you can even buy grated coconut for desserts. You can also use it to make crafts. What's more, it's an ingredient in many home remedies for hair or skin problems. Besides, as a food, coconut provides a lot of health benefits. That's what we'll talk about here.
Properties of Coconuts
Coconut is a drupe. Nonetheless, it's large in size. Besides, it has liquid inside. We call this "coconut water." Additionally, the white part of the coconut is what we know as "meat" or "flesh." "Pulp" is another name for this part.
To clarify, coconut water isn't the same as coconut milk. This is basically the result of pressing grated coconut meat to extract the liquid.
In tropical countries, there are plenty of coconut trees. There, people drink fresh coconut water. In other words, they drink the water from the fruit right after cutting it from the tree. On the other hand, there are also places that sell this water in bottles.
Coconut is a food that:
Helps fight bacteria.
Could help prevent and treat Alzheimer's disease.
Expels internal parasites.
May improve blood sugar control.
Protects your liver.
Boosts your immune system.
Reduces stress.
Helps gain weight, when it comes to its meat.
Has beneficial effects on bone health.
Could be good for your heart.
Lowers blood pressure, when it comes to its water.
Prevents fluid retention.
When ripe, coconut contains many vitamins and minerals. All these are essential nutrients for human beings.
Minerals in coconut include:
calcium
magnesium
phosphorus
iron
sodium
selenium
zinc
fluoride
manganese
Due to the benefits of coconut, many people include it in their diet.
Coconut: The Fruit for Athletes
Anyone who plays sports daily should drink coconut water. This is because it offers a lot of properties:
Hydrating. It's rich in water and minerals that prevent dehydration. For this reason, it's a good ally for training and competitions. Moreover, it instantly quenches thirst. No wonder, then, that it's the favorite drink in very hot places.
Mineralizing. It helps regulate muscle tone. It also improves heart functions.
Antioxidant. Some of the minerals in coconut (selenium and zinc) have antioxidant functions. That's also why it's a frequent ingredient in beauty treatments and creams, as well as in sunscreen.
Energetic. Coconut water is great after a hectic day or a lot of exercise. Its energetic properties also make it an ideal drink in very hot places. You can add it to smoothies or fruit juices (orange, grapefruit, banana, etc.).
Coconut Oil: What to Know
Another way to consume coconut is as an essential oil. It's the highest source of fatty acids after breast milk. In other words, it boosts your immune system. This means it helps your body fight diseases, bacteria, infections and viruses.
There aren't many scientific studies of coconut oil. However, it might be better for you to use the natural version instead of the modified one. In this way, you could get its possible benefits:
Reducing your cholesterol levels.
Speeding up your metabolism. This would in turn help you lose weight. What's more, a quicker metabolism can prevent thyroid disorders.
Protecting your heart cells.
Alleviating the symptoms of menopause and premenstrual syndrome (PMS).
More Properties of Coconut Water
Additional benefits of coconut water include:
This healthy drink contains vitamin C, natural sugars and many minerals.
It can prevent infections.
You could improve your heart health by drinking it.
It's almost equivalent to breast milk if you compare its detox power. This also cleanses the kidney from any harmful substances.
Coconut water helps your kidney flush out excess water.
It helps digestion, vomiting and gas.
Drinking coconut water can help maintain your liver functions.
It relieves tension in the pancreas and the enzyme systems.
It's used to treat bladder diseases.
It helps control diabetes.
This delicious drink keeps your skin hydrated, smooth and soft.
It's low in fat and sugar. Therefore, it has few calories.
Benefits of Coconut for Pregnancy
Coconut meat, milk and water are great for pregnant women. They're also very good for their babies. Since these parts of coconut have many nutrients and properties, they help pregnancy go a lot better.
Coconut water is a natural isotonic drink. It can replace liquids. It can also prevent ankle swelling from fluid retention. This is very frequent in pregnant women. Therefore, drinking coconut water is a great idea for staying hydrated during pregnancy.
Moreover, it doesn't have cholesterol and is fat-free. Accordingly, it won't make pregnant women gain any more weight than what doctors recommend for the nine months.
As we have said, coconut strengthens our immune system. Therefore, it prevents us from getting sick. This is especially convenient for pregnant women. As everyone knows, they can't take almost any medication.
In addition to being beneficial for mothers, it strengthens fetuses' defenses.
Another of the benefits of coconut for pregnant women is that it both prevents and treats heartburn and vomiting. These are common in the first months of gestation. It helps constipation as well. This is a frequent problem during pregnancy.
Images courtesy of Chandrika Nair, Celine Nadeau, Jeffery Wong, John Revo Puno, Montse PB.
It might interest you...