Be Happier Every Day with this Japanese Wisdom
Wisdom tells us that it's important in life to wait for the right time, to let go of things that don't work for us, and not to forget that happiness is in the little things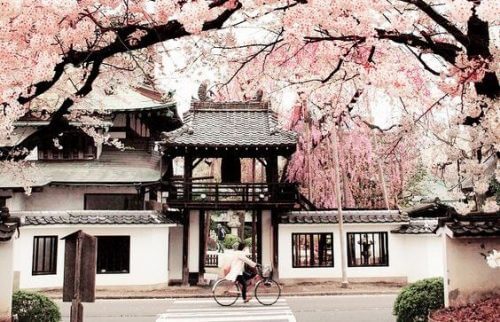 Japanese wisdom is attractive to a lot of Westerners.
Perhaps it's because Japanese culture, philosophy, and the roots of its spirituality are so pure and authentic. In addition, they're very related to knowing how to live in harmony with nature and our fellow men.
At the same time, we admire Japanese culture because they also understand how to overcome difficulties, how to experience a sense of happiness based on the simple things in life and on the harmony between mind and nature.
The Japanese also emphasize a sense of coexistence where there is great respect for older generations. The humility of spirit promotes reciprocity, healthier living, purer living, and great family harmony.
We're confident that these teachings can be of great help to you and inspire you in your life.
Read on to find out more and adopt some of this wise advice.
Do everything that you can and leave the rest to fate.
"Do everything you can and leave the rest to fate" may seem like rather enigmatic advice, but it actually serves a great purpose and holds an interesting truth.
We don't have absolute control over everything that happens to us or what might happen to us.
However, we do have an obligation to look after our own lives wherever our own purposes, desires, and goals take us. Although part of the journey to our destiny will forever belong to the unexpected, a good part of it also belongs to us.
We can be masters of a good part of our future and it is our duty to shape it according to our desires.
One kind word can provide warmth in winter.
Talking in a friendly way costs nothing, but it's worth a lot.
However, we don't always do it. We don't always have the time or put enough thought into the welfare of the people around us.
So let's do it. Let's use positive language that gives people wings, reaffirms, comforts, and raises our self-esteem.
If a problem has a solution, stop worrying about it.
If a problem has a solution, it's not worth worrying about. And if it doesn'y, it's worth worrying about even less.
Acceptance is, without a doubt, one of the most traditional pillars of Japanese wisdom. Through acceptance, mental clarity is accompanied through appropriate emotions.
If something has no solution, the only thing that's worth doing is to turn the page and focus our thoughts and energies on something else.
Don't stop things from leaving; don't fear what's coming.
Sometimes, we obsess about changing things around, not being receptive to those around us, or trying hold on to things that aren't working (relationships, projects…).
It's a fact of life that there things that will have to go. A friendship or a love may no longer makes sense, and it's necessary to let go of those things that aren't enriching us as a person.
On other occasions, we have to be able to sense that things are changing and there is something new coming andwe need to adapt to it.
Look for answers to your questions before it's too late.
The Japanese are always very wise when it comes to taking the initiative.
This is due to a very clear fact: Everything has its moment, and it's ideal to know when the best time is to do or say something.
What does this mean? Basically, we shouldn't pass up opportunities, but at the same time we shouldn't rush things and act prematurely.
Remember there are times to ask questions and times to seek answers. There are moments when we should stand still and watch, and other moments where action is needed.
Fortune will always come to a house with laughter.
Fortune is more than just luck. It's the ability to be receptive to the opportunities, new plans, great ideas, and gifts, given to us by fate, or earned through effort and dedication.
You have to be positive. It's important to face life with harmony. This comes from your positive relationships, family support, great friends, and a happiness in your heart, where your mind knows and understands that anything is possible.
We hope these simple principles have made you think. This is the purpose of Japanese wisdom. It doesn't seek to change us, but to make us think about our own reality in order to fashion it in our own way through goodness and humility.
Aren't you inspired to put it into practice?
It might interest you...