Banana Crepes Recipe: Learn How to Make Them!
It's important to have healthy alternatives for breakfast every morning. Not only does it help you stay excited about eating, but it also ensure you have the nourishment your body needs. Continue reading to find out how to make a delicious banana crepes recipe!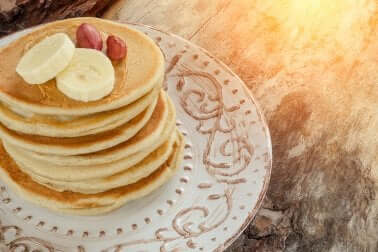 Today we'd like to give you a great breakfast recipe to start your day satisfied and full of energy. You can easily make this delicious banana crepes recipe at home.
Breakfast is the most important meal of the day. It's through this meal that our body gets many of the nutrients it needs for its proper functioning throughout the whole day. In this article, we'll take a look at a delicious recipe to start your day: banana crepes.
The nutritional value of banana crepes
For starters, these crepes provide us with nutrients such as carbohydrates.
However, don't believe the myths about the nature of carbohydrates as there are many different sources. This is also the case with other ingredients such as milk and eggs. In many instances, these are presented as harmful, negative and not recommended for human consumption. This is not entirely correct though. Certain types of carbohydrates can indeed be unhealthy, especially when consumed in excessive amounts.
Nevertheless, this is not the case with these delicious banana crepes. They'll provide:
Healthy fats
Sugars
Carbohydrates
Vitamins
Minerals such as potassium
Likewise, this delicious banana crepes recipe is easy to follow so children can easily learn to make them at home. Perhaps they'll even make them for you sometime!
Let's take a look at the recipe.
Recipe for banana crepes
Ingredients
2 eggs
1 c. of milk
1 c. wheat flour
3 tbsp butter
1 pinch of salt
Preparation
First, get a medium, deep, unbreakable bowl.
Then, add all of the dry ingredients to it and mix them.
Add the milk slowly as you stir and then add the eggs, one by one.
Then, mix the ingredients to form a smooth mixture; it should be free of lumps.
Also, heat 2 tablespoons of butter in a nonstick skillet.
Then, pour part of the mixture into the pan and wait for it to cook — about 2 minutes on each side.
Finally, repeat the process until you finish using the rest of the mixture.
Are you ready for the filling and the sauce?
Banana crepes filling
You can improve these delicious banana crepes with a simple filling based on condensed milk and cornstarch. Here's how to pamper your stomach in just a few simple steps.
Ingredients
2 c. of milk
1 can of condensed milk
2 eggs
2 tbsp cornstarch
1 tbsp vanilla extract
4 ripe bananas
Preparation
First, mix the following ingredients: condensed milk, milk, eggs, and cornstarch.
Then, turn on the stove and set it to low flame.
After, proceed to heat the mixture while you stir slowly.
Now, wait for it to boil — turn off the heat as soon as it does.
Continue stirring for 5 minutes at a constant smooth pace until it thickens.
Finally, add the vanilla and the sliced ​​bananas.
Chocolate topping
Ingredients
Preparation
First place a saucepan over very low heat.
Next, add the cream together with the dark chocolate and begin to mix it slowly. (Add some milk until if you prefer a thinner sauce ).
Then, add the sugar and turn it off as soon as you attain the desired consistency
Finally, let it cool down a bit before pouring it on your banana crepes
So, are you ready to try this sweet and appetizing recipe? Remember, you can eat it without feeling guilty as long as you continue to maintain a healthy diet and get regular exercise.
It might interest you...