Baby Acne: Causes and Treatments
Baby acne tends to clear up on its own after several months and usually doesn't need any medical treatment. Learn more about its causes.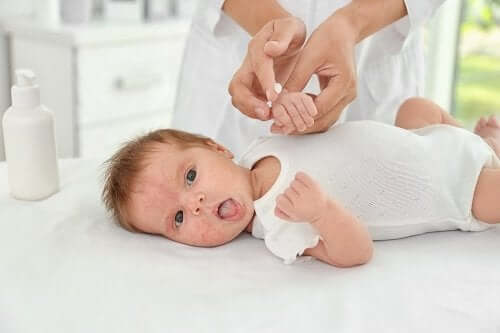 Baby acne is acne that occurs on the skin of a newborn baby. It can occur elsewhere on the face, but usually appears on the cheeks, nose, and forehead. It's important to understand that this condition is both common and temporary.
There aren't many measures you can take to prevent baby acne and, in most cases, it resolves itself. However, if it occurs between the ages of six months and two years, then intervention becomes necessary in order to prevent its appearance in adolescence.
Often, the diagnosis of this skin condition is easy to make at a glance. Therefore, it's not usually necessary to resort to specific analyses. Would you like to know more about this condition? Keep reading…
What can cause baby acne?
Baby acne usually appears shortly after birth. In most cases, it disappears without treatment.

This condition isn't an allergic reaction, nor is it the result of anything that happened during birth. Baby acne isn't a rash caused by poor digestion either. These are signs of acne that appear in 2-5 % of newborns.

Sebum production favors the alteration of the epidermis. In the months following birth, sebum production is very high, just as during adolescence.

Today there's no proof that a mother's diet influences the development of acne in the baby. Only in some cases, after eliminating and reintroducing milk and its proteins into the mother's diet, is it possible to demonstrate a true allergy to milk.

What we know is that male sex hormones in boys, and, to a lesser extent, in girls, play an important role in their appearance. If the baby produces a lot of these hormones, or if the mother transmits them in high quantities, then they stimulate the secretion of the sebum responsible for the appearance of acne.

In addition, for this alteration in the newborn's skin to manifest itself, the baby needs to be genetically predisposed to suffering from this disorder. In children with sebaceous follicles that are narrower than normal, it's harder for the sebum to come out of the final part of the follicles. This is especially true when there's an increased sebum production.
Baby acne: Symptoms
Baby acne is usually characterized by the appearance of small red or white bumps on the cheeks, nose, or forehead. It usually appears in the first two to four weeks after birth. Some babies also have small white bumps on their nose, chin, or cheeks.
Treatment
The treatment of acne in babies may involve the use of retinoid creams, applying them for several months. It's also advisable to improve the environment of the child's room.
Since baby acne usually clears up on its own after several months, it usually doesn't need any medical treatment. However, if the problem persists longer, treatment is usually recommended.
Before starting any treatment, a good recommendation is to air the child's room out often. An environment that's too hot and humid could encourage the growth and spread of bacteria.
As we've said, if between 6 and 12 months it hasn't disappeared, your pediatrician will likely administer treatment. In addition, it's usually a sign that acne will reappear in adolescence. Creams with retinoids are usually used and applied for several months. These creams owe their effectiveness to their ability to:
Release sebum acne
Decrease inflammation
Control the growth of Propionibacterium acnes, a bacterium that feeds on sebum and is found in skin affected by acne.
As a final piece of advice, if the acne pimples have a little yellow spot in the center, it is usually advisable to apply an ointment containing erythromycin. The reason for this is that there may be a bacterial infection and erythromycin is an antibiotic that improves the situation. Of course, you should only do so when prescribed by your child's pediatrician.
It might interest you...