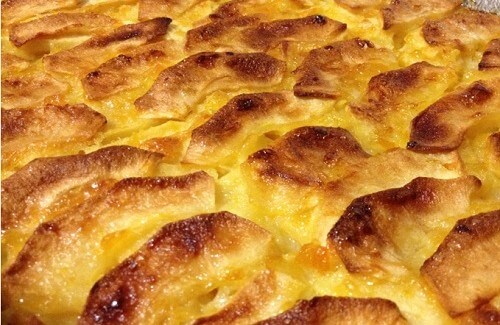 Apple pie is a dessert made with simple, healthy ingredients.  It is a delicious recipe due to the fact that it mixes traditional homemade pastry with thin slices of apple, which add an excellent flavor.
The recipe for apple pie is one of the most popular and most tasty among pies and pastries, in addition to being one of the lowest in calories (62 kcal) when compared to other baked goods.
Note to lovers of sweet: If we cut down on sweets, it's much healthier and a better idea to make our own homemade recipes than buy products with high calorie content.
Apple Pie Recipe (8 servings)
Ingredients
4 eggs
1/2 cup sugar
1/2 cup milk
1 cup flour
17 1/2 to 18 Tablespoons butter
1 package of yeast (2 1/4 teaspoons)
4 1/2 pounds Golden Delicious apples
1 jar peach jam (not too small, as it has to cover the entire surface of the pie)
Instructions
The first step in making this apple pie recipe will be to gather and prepare all the necessary ingredients and equipment.  That way, we will only have to go about adding the ingredients together, and will finish in a quicker, simpler manner.
Set aside two apples of the total amount prepared.  These will be to decorate the upper part of the pie, as we can see in the picture.
Peel the rest of the apples, core, and cut in half.  Slice thinly to form crescent-shape apple pieces.
Grease the pie plate and dust with flour.
Beat the four eggs in a bowl.  Add butter, softened, and the sugar.  Mix well.
Add the cups of milk, flour, and the package of yeast.  Whisk together.  If a whisk does not get rid of the lumps, an electric beat may be used.
Once the batter is smooth and consistent, add the majority of the apples and stir into the mixture so that all the apples are well-covered.
Pour the contents of the bowl into the pie plate, shaking the sides gently so they are spread evenly into the dish.
Place the remaining two apples on top of the pie mixture and with a brush, spread the peach jam over the top of the whole pie.
Preheat the oven to 400ºF for 10 minutes.  Lower temperature to 356ºF and put in the pie to bake for 30 minutes.
Turn off the oven and let pie sit in the heat for 10 minutes.