Weight Loss Smoothie with Apple, Lemon, and Grapefruit
This smoothie should be a complement to a healthy and balanced diet. Its ingredients help you reduce fat more easily and fight fluid retention.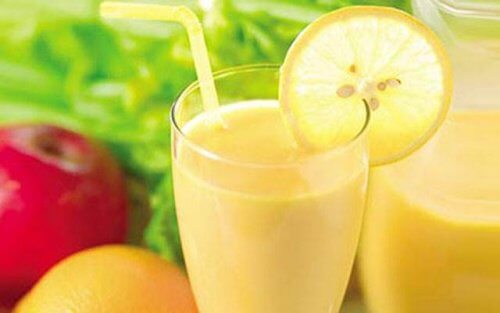 This delicious weight loss smoothie with apple, lemon, and grapefruit can be incredibly useful to help you slim down. It's a simple addition to your diet that will make you feel more satisfied and fight fluid retention.
This natural drink will target all that excess fat that tends to accumulate in areas like the abdomen. If you drink it on a regular basis during breakfast or after the main meal of the day, you'll begin to see results in two weeks.
Remember that you also need to follow a balanced and diverse diet, avoid leading a sedentary lifestyle, and exercise whenever you can.
Apple, lemon, and grapefruit: A slimming combination
Although there's no miracle diet for weight loss, proper nutrition is what will get you the results you want. Healthy weight loss is possible as long as you watch what you eat.
So… why not start incorporating delicious fruits like apples, lemons, and grapefruit? We'll explain why these are such great options if you want to lose weight.
Green apple: The weight loss fruit
There are many different types of apples, but we decided to choose green apples for this smoothie (organic, if possible). We want to use the peel as well, which is why you should try to buy a natural and pesticide-free product.
Green apples help boost your metabolism.
The peel contains pectin that controls lipid levels in the body. It helps fight obesity because pectin helps destroy the oldest fat nodules.
They balance your blood sugar levels.
Green apples have a lot of vitamins and minerals which help improve cardiovascular health.
This is a very satisfying fruit that's rich in fiber. That means it fights both fluid retention and constipation.
Lemons, The key to a balanced pH
We've talked a lot about the importance of reducing acidity in your diet and eliminating toxins that cause inflammation and disease – all to optimize the function of many of your organs.

Drinking a glass of lemon juice a day can facilitate the removal of fat. The way this is done is through "enforced disappearance", meaning that fat becomes less resistant to being converted into energy or eliminated.

Lemon juice helps reduce bad cholesterol levels and facilitates good circulation. It also improves digestion, allowing you to absorb nutrients better and preventing toxins from reaching the bloodstream through your intestines.

The citric acid in lemons also cares for your liver. Also, the antioxidants and vitamin C it contains strengthen your immune system. This helps you enter your weight loss plan with a strong liver and immune system to fight any additional fat accumulation.
Grapefruit: Great for reducing fluid retention and inflammation
Something you should keep in mind is that this apple, lemon, and grapefruit smoothie shouldn't be the most important change you make in your diet to help you lose weight. It's intended to be a complement that helps you start the day off right.
These ingredients don't contain any protein or iron, so it's important that you make sure you're getting all the nutrients you need from other foods throughout the day.
If you add grapefruit to the mix, you make a powerful diuretic that will help eliminate waste from the body that would otherwise cause inflammation and fluid retention.
The grapefruit reinforces the green apple and lemon juice, so make sure you try to buy organic grapefruits. They're the ones that will be able to provide the best quality antioxidants and vitamins.
Apple, lemon, and grapefruit smoothie
Ingredients
1 green apple
The juice from 1 lemon
The juice from 1 grapefruit
1 cup of water (200 ml)
Preparation
This smoothie will be ready in just five minutes. First, you need to thoroughly wash the green apple and chop it up.
Then, add the apple, lemon juice, and grapefruit juice to the blender along with the water.
Blend until you get a homogeneous mixture.
You can add a tablespoon of honey or some stevia if you find you need to sweeten it due to its acidic flavor.
Drink this every morning with your breakfast and don't forget to maintain a balanced diet that's high in protein and low in saturated fats.
It might interest you...