An Easy Corn Dog Recipe
Frankfurt sausages are the best for making corn dogs, and, as a plus, they come in many different sizes.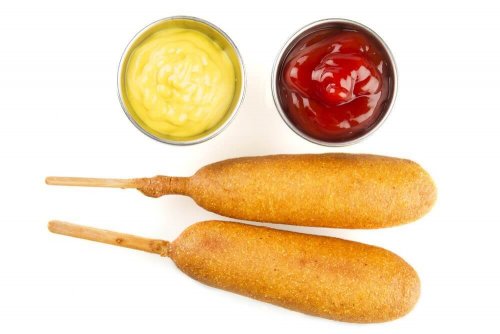 Do you often get cravings for corn dogs? If so, you're in luck! Corn dogs are delicious and very easy to make. With this simple recipe, you can make your own corn dogs and satisfy all your corn dog cravings!
It may be hard to prepare a recipe from the internet without first understanding the food a little better. The most basic information to know about a corn dog is that it is a Frankfurt sausage that's breaded with egg, milk, and wheat flour.
While the recipe originated in the United States, its simplicity and tastiness quickly made it popular in other countries. With its unique yet simple flavor, the corn dog easily satisfies anyone's hunger.
With that said, it's important to mention that corn dogs are a high-calorie food, and they're also high in carbohydrates and trans fat. However, like with most things, corn dogs in moderation are fine.
A commonly believed myth is that eating any fats, desserts, or fried foods is "bad" for the body. However, this myth lacks nutritional or scientific evidence. In reality, it's all about moderation.
With that said, let's see the recipe!
Corn Dog Recipe
Classic Corn Dog Recipe
This is the best known version of the corn dog. You'll notice that the recipe is not difficult, and once you've mastered it, you can easily make adjustments or get creative with it.
This recipe is so fast and simple that in less than 10 minutes you'll see the raw ingredients transform into a delectable corn dog! It's also not a bad idea to serve it with homemade ketchup or mayonnaise and a cold drink.
Ingredients
10 Frankfurt sausages (500 g)
10 wooden skewers
2 cups of wheat flour (240 g)
1 egg
1/2 cup of milk (125 ml)
4 tablespoons of vegetable oil (60 ml)
A pinch of salt
1 tablespoon of baking powder (15 g)
Preparation
First, start by impaling the sausages with the wooden skewers. Once done, set them aside.
Next, prepare the ingredients needed for frying. Put the flour, egg, baking powder and milk into a bowl.
Then, beat the ingredients well until it has a somewhat thick consistency. Remember that there should not be any lumps or clumps.
Next, pour this mixture into a cup, and soak each sausage in the mixture.
Lastly, remove the excess mixture from the sausages and fry them until they're golden brown.
Corn Dogs with Cheese
This is a small variation on the classic recipe and always a huge hit! You only add one more ingredient to the recipe, but it adds so much more flavor depth that the corn dog becomes even more irresistible.
Ingredients
10 Frankfurt sausages (500 g)
1 tablespoon of baking powder (15 g)
10 slices of cheese
1 egg
1 cup of milk (250 ml)
4 tablespoons of vegetable oil (60 ml)
1 cup of wheat flour (120 g)
1 cup of corn flour (120 g)
10 wooden skewers
Preparation
First, impale each sausage with a skewer.
Next, roll each sausage in a slice of cheese. To make the cheese stick to the sausage, try gently tapping it with your fingertips. When finished, set the sausages aside.
Then, prepare the ingredients for frying: egg, wheat flour, corn flour, baking powder, and milk.
Place all of the ingredients into a medium-sized bowl and beat them until the consistency is smooth and somewhat thick.
Finally, dip each sausage in the mixture and fry until golden brown.
It might interest you...