Aloe Vera for Slow Digestion
It's important to identify the cause of your slow digestion so you can pick the right treatment. Aloe vera can be a huge help.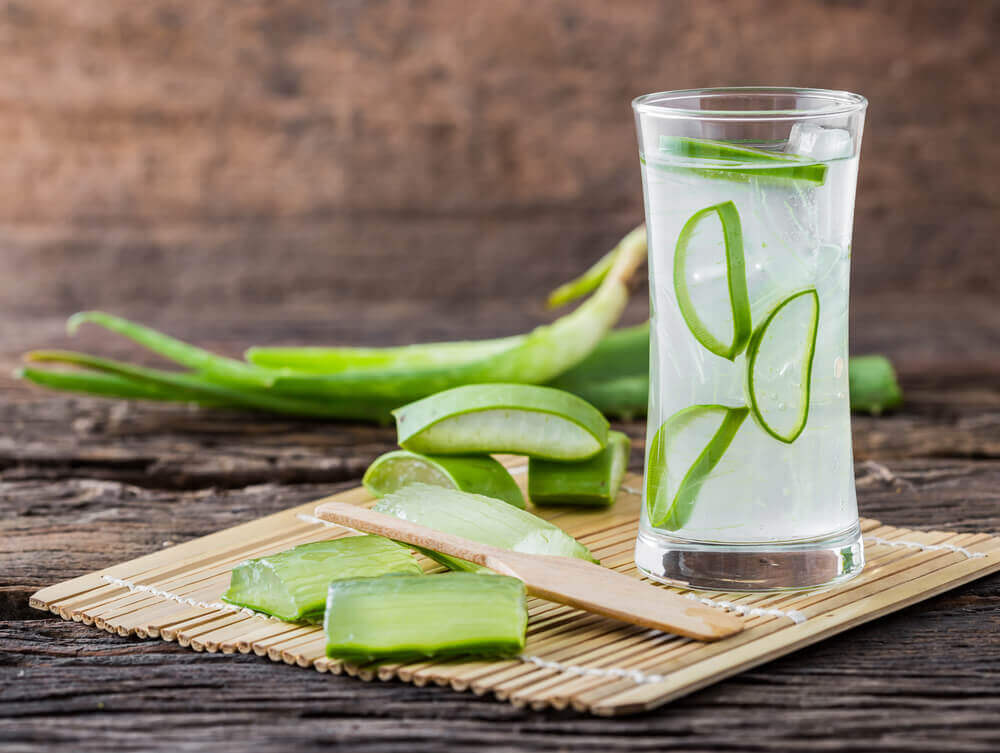 Aloe vera is a very beneficial plant when it comes to fighting slow digestion and other disorders that affect your stomach and intestines. In particular, this plant stands out for its ability to balance your entire gastrointestinal system function.
In today's article, find out about four treatments you can make with aloe vera and other natural ingredients to speed up your digestion. Pineapple, papaya, mint, ginger, lemon, oats, and cinnamon can all help improve your quality of life.
Why Do You Have Slow Digestion?
Some people have slow digestion because their metabolism is also very slow. However, others could have a digestive disorder, especially if they suffer from other problems like heartburn, gas, bloating, constipation, and more. If this is your case, you should have the appropriate tests run to determine if you're allergic to any foods.
Remember that your diet can also be the cause of slow digestion, however. Find out if you're eating any of the following foods that could affect your digestion on a regular basis:
Foods with a high unhealthy fat content: sausages, fried foods, margarine, commercial condiments, etc.
Milk and dairy products (cheese, ice cream, heavy cream)
Products made with refined flour
Sugary drinks and sodas
Alcoholic beverages
Aloe Vera
The aloe vera plant can be miraculous for your health. Its many benefits make it a superfood and an excellent way to treat various superficial conditions. It should be something you always have around the house, whether it's the actual plant or in gel form.
The gel from this plant is very good for your entire gastrointestinal system. It's anti-inflammatory and regenerative, facilitating good digestion thanks to the enzyme content and alkaline nature.
Treatments for slow digestion
1-Aloe and fresh mint
One very refreshing treatment to speed up your metabolism and digestion is a combination of aloe gel and fresh mint leaves. Mint is very beneficial because it improves digestion and liver function while preventing gas. It also reduces intestinal mucus and fights bad breath.
Ingredients
3 tablespoons of aloe vera gel (45 g)
10 fresh leaves of mint or spearmint
2 cups of water (400 ml)
Stevia to taste
Preparation and how to take it
Mix all ingredients together and sweeten with stevia.
Drink this treatment throughout the day in three doses, one with each meal.
You can consume it either before or after you eat.
2-Aloe, pineapple, and papaya
Pineapple and papaya are two tropical fruits that stand out thanks to their high enzyme content. Their nutrients have anti-inflammatory properties and facilitate digestion, especially through protein. This means they're excellent fruits for people who suffer from slow digestion after they eat meat.

Ingredients
1 cup of water (200 ml)
2 tablespoons of aloe vera gel (30 g)
1 cup of fresh pineapple (150 g)
1 cup of fresh papaya (150 g)
Stevia or honey (to taste)
Preparation and how to take it
Blend all ingredients together until you get a smooth beverage.
You can consume this half an hour before you eat, especially if the main course contains meat.
3-Aloe, ginger, and lemon
Ginger and lemon are two perfect ingredients for speeding up your metabolism and digestion when you experience inflammation or high acidity levels. They also neutralize acids in the stomach without altering your pH.
Ingredients
2 tablespoons of aloe vera gel (30 g)
The juice from 1 lemon
1 tablespoon of fresh ginger (15 g)
2 cups of water (400 ml)
Stevia or honey (to taste)
Preparation and how to take it
Blend the aloe, lemon juice, ginger, and water.
Strain off the liquid and sweeten to taste.
Consume this before, during, or after main meals.
4-Aloe, oats, and cinnamon
This beverage will soothe your digestive tract while stimulating digestion itself. It also has a delicious flavor and can even be consumed as a substitute for milk.
Ingredients
1 tablespoon of aloe vera gel (15 g)
2 tablespoons of oat flakes (20 g)
1 teaspoon of ceylon cinnamon (4 g)
1 cup of water (200 ml)
Honey (to taste)
Preparation and how to take it
Blend all ingredients for one minute and then strain.
Consume this at any time, either cold or warm.
In summary, when you consume any of the above treatments and keep a balanced diet, it's the best way to fix your slow digestion.