All About the Function of Proteins in the Body
Proteins play important roles in the body. They have the ability to generate tissues, as well as many others. Keep reading to learn more!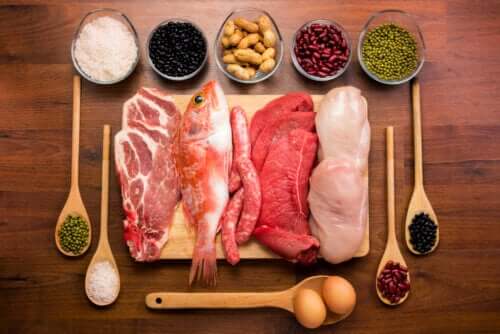 Do you know about the function of proteins in the body? These molecules, just like other nutrients, are necessary for various vital processes, which is why all individuals must incorporate them in their diet.
Likewise, proteins are made up of structural units called amino acids. Some of them can't be synthesized by humans and, for that reason, they're considered essential. There's no other way to obtain them than through diet.
All about the function of proteins in the body
In general, proteins are molecules that have 4 basic elements: carbon, hydrogen, oxygen and nitrogen. In addition to those, they may also have sulfur, iron, copper, or other minerals.
Proteins play a fundamental role in living beings since they're macronutrients necessary for optimal functioning. Their functions are versatile and diverse, the main one being helping the formation of tissues and muscle mass. However, it goes beyond that one characteristic.
Up next, we'll be talking about the multiple actions that they carry out.
The different sources of protein
The foods that provide protein are of animal and vegetable origin, however, they all differ in quality. Animal sources have a high biological value because they contain all the amino acids that are essential for the body. On the other hand, vegetable sources are deficient in some of them.
According to scientific studies, when consuming proteins of plant origin, except for soybeans, you should try to combine foods to achieve optimal quality. Otherwise, you'll always be missing some key components.
You can find good proteins in:
Different pieces of scientific research recommend consuming 0.8 grams of protein per kilogram of weight. This requirement varies according to the daily needs of each individual. For example, pregnant women, children, adolescents, and elders should consume an additional amount.
This is different in the case of athletes since the level of physical activity they carry out has a lot to do with it. In fact, according to a study published in the Journal of the International Society of Sports Nutrition, they should consume at least 2 grams of protein every day.
What you need to know about the function of proteins in the body
This nutrient is essential for many vital functions. For that reason, all individuals must pay attention to its consumption. Now, as previously mentioned, good-quality protein can be obtained through foods of animal origin. Therefore, those who follow a vegetarian diet should consult a nutritionist.
As you can see, it's important to learn about the function of proteins in the body. After all, these molecules aren't just for making tissues. They're indispensable due to their ability to influence multiple processes in the body. Our health depends on them, therefore, it's vital to incorporate them into our diet.
It might interest you...
https://mejorconsalud.as.com/como-actuan-cual-funcion-proteinas/