A Delicious Recipe with Green Beans and Ham
In today's article, we're going to share a delicious recipe with green beans and ham. This recipe is full of nutrients, so be sure to try it out!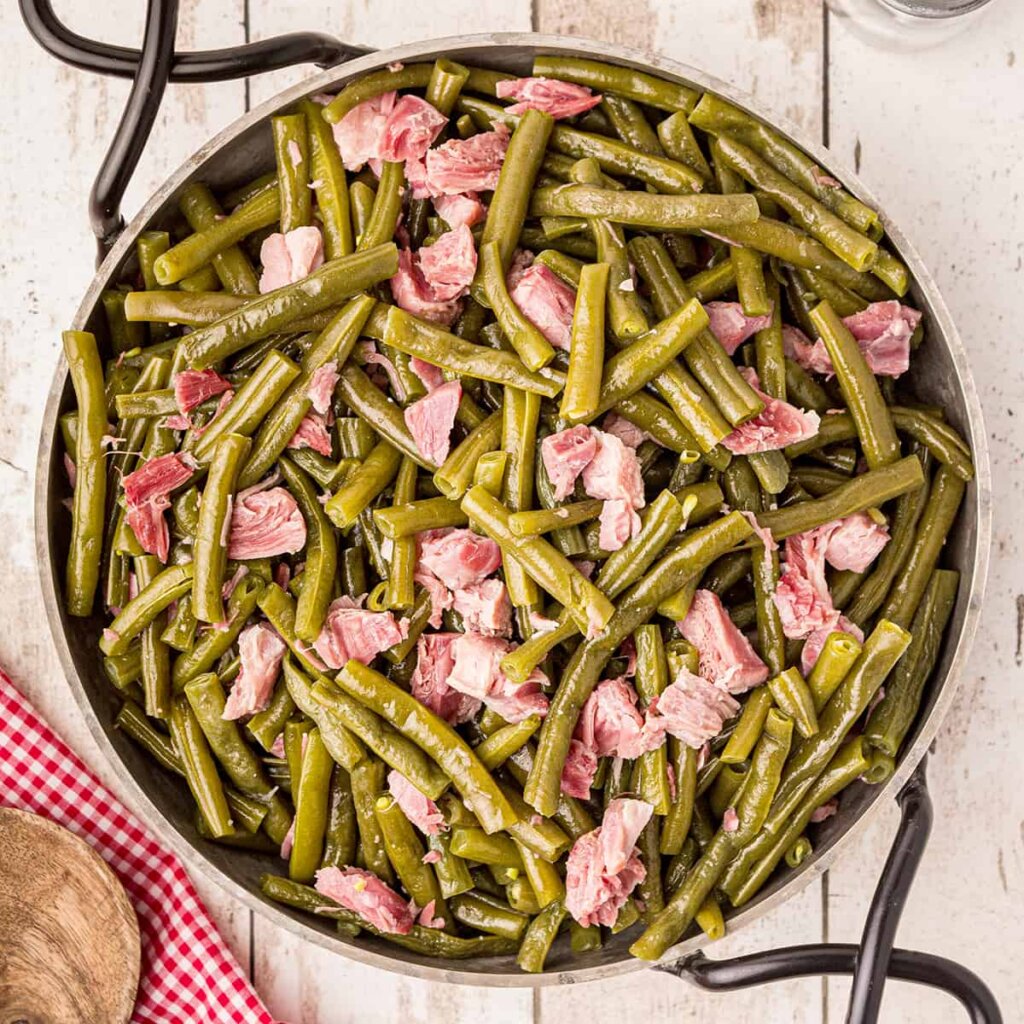 Green beans are very healthy and you can combine them with ham. Since they're full of nutrients, we recommend including them in a balanced and varied diet. Also, they're very versatile from a culinary point of view.
You should strive to increase the number of vegetables in your diet. Ideally, you should eat at least 5 servings a day. Also, you should try to eat more vegetables than fruits.
Recipe with green beans and ham
Let's take a look at the list of ingredients you'll need for this recipe with green beans and ham:
1 onion
1 clove of garlic
Sweet paprika
Extra virgin olive oil
35 oz of flat green beans
9 oz of serrano ham tacos
Directions for this recipe with green beans and ham
First, wash the green beans. To do this, remove the stalk and wash them under running water.
Also, it's important to remove any threads on the sides of the beans. These can ruin the taste of your dish. Then, cut the beans into uniform pieces. 
After, boil water in a pot. Once it starts to boil, add the beans and cook them for about 30 minutes.
Make sure you don't lower the heat or the beans could get hard. Then, drain the beans to remove any excess water.
At the same time, you should peel the onion and cut it into very small pieces. Then, do the same with the garlic clove. Put both vegetables in a pan with extra virgin olive oil and sautée them until the onion starts to darken. That will take about 10 minutes. 
After 1o minutes, add the ham cubes and sautée everything for a couple more minutes. Lastly, add the beans to the pan. Cook them with the rest of the ingredients for another 3 minutes. Then, add the sweet paprika at the very end.
Benefits of green beans
Now that you know how to make this dish, we're going to tell you about the main benefits of green beans.
Reduce constipation
Green beans contain a lot of fiber. This substance increases the volume of the fecal bolus, which helps to stimulate the digestive tract.
Then, the peristaltic contractions become more intense. According to a study in the British Journal of Nursing, this improves motility and transit.
Increase the feeling of satiety
According to research in the European Journal of Clinician Nutrition, another property of fiber is that it increases feelings of satiety. This substance reduces the speed of gastric emptying. Therefore, your food spends more time in your stomach, which decreases your feelings of hunger. 
Protect against the development of complex diseases
Like many other vegetables, green beans contain antioxidant phytonutrients. These substances neutralize the formation of free radicals which decreases their accumulation in the tissue. As a result, it helps protect you against cellular mutations and unwanted physiological alterations that can cause inflammation.
A study in the Journal of Complementary & Integrative Medicine shows that regular intake of these antioxidant substances can help reduce the risk of developing complex diseases. They can improve your overall health. 
In addition, you should note that antioxidants help prevent signs of premature aging. That's because they neutralize the free radicals that can alter the firmness and elasticity in your tissues.
Improve immune function
In terms of micronutrients, green beans stand out for their concentration of vitamin C. This element is key to ensuring proper immune function. 
Regular vitamin C consumption reduces your risk of respiratory infectious diseases, like colds and flu. Also, it reduces the severity of clinical signs.
Conclusion
As you can see, green beans are full of healthy nutrients. Therefore, we recommend including them in a varied diet. 
One of the best ways to prepare them is the recipe we just shared with you. This recipe with green beans and ham will also ensure you're getting high-quality proteins. 
Also, you should keep in mind that the key to this recipe with green beans and ham is ensuring that you cook the beans well. You don't want them to be too hard or too soft. They should have a consistent texture once you're done cooking them. That way, you'll be able to fully enjoy them!
It might interest you...