9 Foods to Eat at Night That Help You Get a Flat Belly
To get a flat belly we need to be patient and combine eating diuretic and natural foods with physical exercise in order to favor burning fat.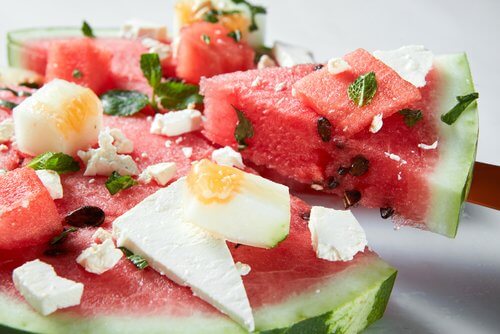 Would you like a flat belly? A goal like this, as you may already know, requires three key points: consistency, some exercise, and a balanced diet.
You will not accomplish this in just one day or even a month. It'll take a few weeks before seeing less weight, less flabbiness and smaller outfit sizes.
That said, apart from the physical aspect, it's important to pay attention to the size of your belly for a very important reason: your health.
You can't forget that a bulged belly is associated to an increased risk of cardiovascular disease.
Therefore, it's worth putting all of your effort into working to prevent it. And if you want a flat belly, there's nothing better than watching your diet.
Today, we would like to list foods to eat at night that will help you in your goal of getting a flat belly.
1. Say Yes to Leafy Green Vegetables for a Flat Belly
Read More: Five Green Smoothies for Detoxing Your Body and Losing Weight
The quickest way to get a flat belly is eating leafy green vegetables every day instead of other, more harmful foods.
However, you should opt for the ones that won't cause indigestion and will allow you to have an uninterrupted and relaxed sleep, especially for your last meal of the day.
The best greens are kale, spinach and romaine lettuce.
Nevertheless, remember: if they are too strong to eat uncooked, you can always eat them steamed.
This way, they will retain a good part of their nutritious properties and also make it easier to rest. 
Read more: 6 Signs of High Blood Sugar
2. Olive Oil
Believe it or not, olive oil is another great aid for a flat belly.
The fatty acids found in extra virgin olive oil, like oleic acid, can help favor the breakdown of the more resistant fats found in our bodies, especially those in the abdominal area.
Drizzle your salads with olive oil: your health will thank you.
3. Mint Infusion
Before going to bed, don't hesitate to enjoy a good mint infusion.
Besides acting like a muscle relaxant, mint helps detox your body. Plus, it's a potent anti-inflammatory and a fabulous ally to maintain your liver health.
You can drink up to two cups of mint infusion a day.
Remember that the best moment to favor your well-being and weight loss is at night.
4. Kelp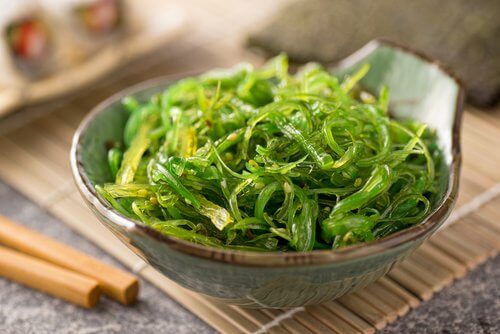 If you haven't heard of kelp, it's time you did. Kelp is valued for its high levels of iodine and ability to regulate the metabolic rate (the velocity with which our body burns fat).
Kelp is also very rich in multiple vitamins, all of which are ideal for favoring fat breakdown and relieving water retention.
Look for it in the specialty areas of your supermarkets. You will love it!
5. Asparagus
Whether it's wild asparagus or white asparagus, eat as much as you want because it's all good for your health.
Asparagus is full of vitamins (A, B complex, C and E), and minerals such as zinc and potassium. All of these are necessary in order to favor the elimination of excess liquid in our bodies.
Read More: Lose Weight with these Detox Drinks
6. Tomatoes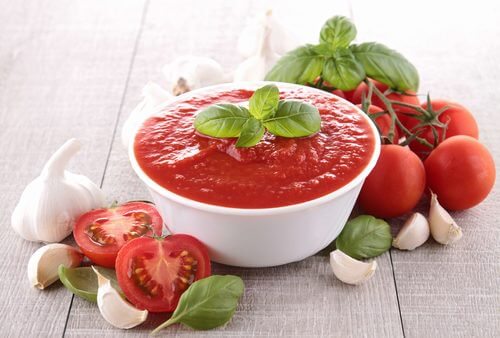 We love tomatoes, and they're a stupendous option for a healthy dinner if you combine it with some protein.
Tomatoes are filled with antioxidants. They help us lose weight for many reasons: they fight inflammation and liquid retention.
Also, thanks to leptin, a type of protein present in tomatoes, you can regulate your metabolism and feel satisfied.
7. Watermelon
Watermelons are rich in potassium (and water, of course). This is an essential mineral for adequate elimination of excess liquid in your body.
Besides, watermelons are rich in vitamin C, which takes care of your immune system and fights inflammation.
Get yourself encouraged to prepare delicious salads where you can add some watermelon. You will love it!
8. Cucumbers
Cucumbers are really another member of the watermelon and melon family. Therefore, they share the same weight loss properties.
They are satisfying, diuretic and full of vitamins. In your dinners, you can cut them in thin slices and serve them with a little drizzle of apple cider vinegar.
Read More: 6 Mistakes in Losing Weight
9. Artichokes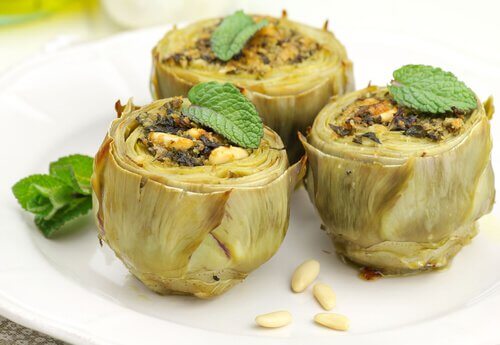 These are a  fabulous and more than perfect food choice for dinners.
They are rich in fiber, fight the belly bulge, have a few calories, are nutritious, are easy to digest and, of course, are delicious.
In addition, you can't forget that artichokes are vegetables that favor liver health.
Any food that takes care of liver health is perfect for dinner. After all, as you may know, this organ takes care of major detoxing in your body during the night.
Read more: 3 Healthy Smoothies for Weight Loss
In conclusion, if you want to lose belly weight, it's necessary to be consistent and combine a healthy balanced and varied diet with some exercise.
Don't hesitate in starting to take better care of yourself today!