8 Ways to Hide Cords at Home
Have cords become the enemy of your home decor? Don't worry! In this article, we'll give you some practical ideas to hide cords so that they're no longer a problem.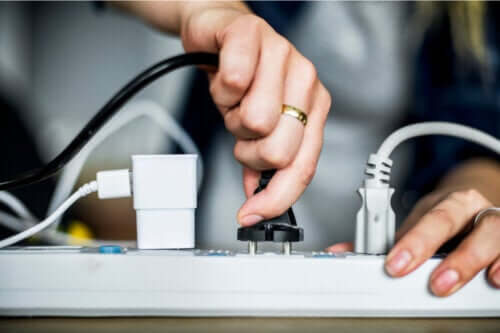 You don't need to have a degree in interior design to realize that visible cords and cables spoil the style of your home. However, solving this problem isn't as complicated as it seems. In this article, we'll share 8 ideas to hide electrical cords at home in an easy and aesthetic way.
In decoration, every element communicates something. That's why we need to be careful with accessories, furniture, colors, materials, styles, and textures. However, there are other small details that can make a big difference. This is the case of cords and cables, which come from appliances that make life easier but create a major hindrance to good design.
In art, architecture, and interior design there's a concept called composition, which is about organizing things in a logical way to convey an intention and cause a pleasing sensation. There are elements that are visual distractors and attract attention, but break the balance of the composition. Likewise, they make spaces look cluttered and untidy.
Cords are definitely one of these elements.
Ideas to hide cords at home
Although technology's advancing and electronic devices have increasingly smaller cords and even cordless systems, it's likely that, in your home, there are still several appliances with large wires, such as TVs, lamps, computers, and your modem.
However, there are also smaller cords such as cell phone, laptop, and tablet chargers that make a mess. Below, we'll show you some clever tricks to hide the different types of cords and cables in your home so that your spaces always look tidy and impeccable.
1. Use a cable concealer
This is one of the most practical and quickest solutions to implement. It's a kind of elongated plastic or metal tube or box that allows you to group the cables and hide them behind it.
However, a poorly installed cable duct can look worse than the cables themselves. For this reason, it's important that it be the same color as the wall so that its presence is concealed. It should also be placed near a corner.
2. Hide cords in a box
Having cords and cables in sight isn't a new problem. For this reason, there are already decorative elements on the market, especially in the form of a box, that allow you to group them inside so that they don't produce visual imbalance.
This way, you'll have a nice box that matches your decoration and works as a hiding place for the annoying cables. You can even design it yourself with a shoebox. Test your imagination and talent to adapt it as you see fit.
3. Have custom-made furniture
Custom-made furniture is the solution to many problems. It allows you to optimize the spaces in your home in a smart way and adapt them to your aesthetic and storage needs. If you're thinking of having a piece of furniture made to measure, take the opportunity to design it in such a way that it allows you to hide electrical cords.
This type of furniture is great for TVs, stereos, and video game consoles because you can determine where the electrical outlet is and design accordingly. They're also good for studies and libraries.
4. Cut a hole in your desk to hide cords
There are usually cords everywhere on your desk because of the number of electronic devices you use there. Many times, these get stuck in the desk and cause discomfort and clutter. They also make it difficult to have an ergonomic and harmonious workspace.
In this regard, you can make a hole in a corner of the table, through which the cables are put in an organized way to reach the socket. In addition, you can stick a power strip under the table to plug them in close by so that they're not spread out on the floor.
5. Install a panel
Chances are, some of your TVs are hanging on the wall. However, multiple cords running down from them look very untidy.
A very practical solution is to install a panel or board that sits between the wall and the TV. This hides the cords and cables behind the TV. The best thing about this idea is that it helps you decorate the space.
You can have it in wood and leave its natural tone, or use it in a color that matches the rest of your decoration. It's an excellent alternative for a space where you don't want to have an entire TV cabinet because of how much space it would take up.
6. Store cables in baskets
Wicker, reed, rag, or macramé baskets are very beautiful and give a rustic, bohemian, or romantic touch to any space. They're an excellent decorative element that you can take advantage of and ask your family to leave the cables of their appliances there while they're not using them.
In addition, you can leave the basket strategically located near an outlet. This way, it's within reach every time you need to charge an electronic device.
7. Hide cords with a cable hammock
This is a very ingenious and practical solution. If you hate cables hanging over your desk or nightstand, you can design a bag or hammock that allows you to put your cables there in an organized way. It should be a slightly stiff, sturdy fabric that you can fold in half.
The best idea is to buy a power strip to put in that space and plug the cords into it. You can hang it at one end of the desk and it will look much nicer and more organized.
8. Decorate cables in a handmade way
If you're a lover of DIY and crafts, this is certainly an ideal solution for you. You can take the cords that are in sight and cover them with another material. Fique or rope will look good and work if you have a bohemian or rustic style at home.
Be careful with manipulating the electrical system when hiding electrical cords at home
Now that you know ideas for hiding electrical cords at home, you can get to work to give your home an aesthetic touch. However, it's important to be careful when handling electrical appliances. Don't modify the structure of the cables or strip them.
Likewise, remember to use energy responsibly in your home. This way, you'll take care of the environment and save on your monthly bills.
In this regard, this guide to reduce your energy bills points out that it's advisable to disconnect the chargers of electronic devices when they're not being used. It also indicates that several cables can be grouped in a power strip so that it's easy to turn it off at night.
It might interest you...