Naturally Disinfect Your Room with These 8 Tips
To avoid accumulating microorganisms and developing undesirable allergies, a way to naturally disinfect your room is to dust daily and change your sheets, quilts, and covers often, which gets rid of mites.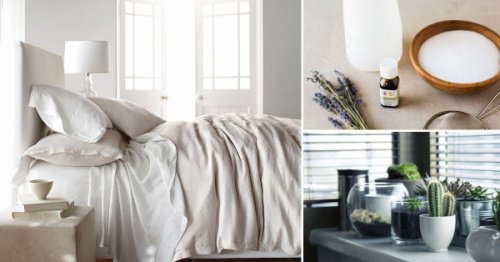 There are countless reasons why you should naturally disinfect your room. After all, your room is one of the most important parts of your home. It's where you choose to rest and relax your body after fulfilling all of the day's chores.
However, sometimes we don't take good care of it, and slowly, it becomes disorganized, making it look messy and dirty.
But worst of all, even though you can't always see it with the naked eye, mites and allergenic molecules tend to accumulate in these areas, which could cause various health problems.
Consequently, your quality of sleep will be diminished, and this could lead to other disorders that could make your days even harder.
Luckily, if you follow just a few homemade tricks, you can leave your room impeccable and free from any kind of microorganisms.
Below, we're going to give you 8 tips so you can naturally disinfect and bring harmony to your room. Give them a try!
1. Make your bed every morning
Although it's recommendable to air out your bed every once in a while to get rid of mites, it's best to make your bed every morning so that your room is tidier and cleaner.
Shake out your sheets, your covers and pillows, and then arrange them however you like.
2. Change your sheets and covers
In order to have a clean bed, change your sheets regularly. Do this along with your pillowcases and anything else that covers your bed.
Although you can't see it, you could have mites and bacteria in your sheets, which grow with sweat and filth.
Clean your blankets, take off your quilts and make sure to keep them clean to naturally disinfect your space and protect yourself from allergens.
3. Don't clutter your night stand
When you fill your nightstand with a lot of different objects, it's harder to remove dust and filth that accumulate day after day.
You can use it to hold a small lamp, a clock, some cream and even a book.  However, if you fill it will other things, it will be harder to keep it clean.
4. Do a bit of general cleaning every day
If, because of lack of time, it's impossible to clean every area of your room every day, then you can dedicate a few minutes a day to do a general cleaning.
Shaking out your sheets, making the bed, and cleaning the floor can be done quickly to reduce the presence of allergens and naturally disinfect things.
5. Disinfect your mattress
Your mattress is one of the most abandoned things in your room. However, you need to clean it at least once a month so that it doesn't become a habitat for microorganisms.
For this, you can make your own homemade cleaning product made with baking soda and tea tree oil to naturally disinfect.
Ingredients
1/2 c. baking soda (125 g)
10 drops essential tea tree oil
What to do
Moisten the baking soda with the essential tea tree oil and sprinkle the product over your mattress.
Rub in with a brush, allow to set for an hour, then run the vacuum cleaner over it.
6. Remove dust
Most things in your room get covered with dust as the days go by. The bed, the table, the dressers, and any other decorations need constant cleaning so they don't end up creating any allergies.
If you want to make sure you've gotten rid of bacteria and mites, dilute white vinegar in water and use this solution to naturally disinfect and dust.
7. Don't forget the curtains and blinds
Most rooms have one or two curtains in each window. They not only help keep out external light, but they also give the room a decorative touch.
The problem is that they absorb too much dust. That's why it is absolutely necessary that you wash them every two or three weeks.
Using silk is a good option, because they are easier to wash and dry quickly.
However, if you use blinds in your room, it's important to use a cleaning product to naturally disinfect and keep the dust off.
8. Wash your pillows
Most people ignore the fact that pillows need to continuously be disinfected to avoid accumulating sweat, dead cells and allergens.
Although you cover them with pillow cases, they still absorb filth and tend to create the perfect environment for microorganisms.
Try to wash them at least twice a year, and change the pillow cases every two weeks.
Are you sure your room is clean?  If you don't already use these recommendations, try to dedicate a little bit of your time to create the perfect environment for rest.
It might interest you...