8 Tips to Reduce Your Pore Size
Keeping a proper cleaning routine and exfoliating regularly will remove excess oil and dead skin cells to reduce the size of your pores.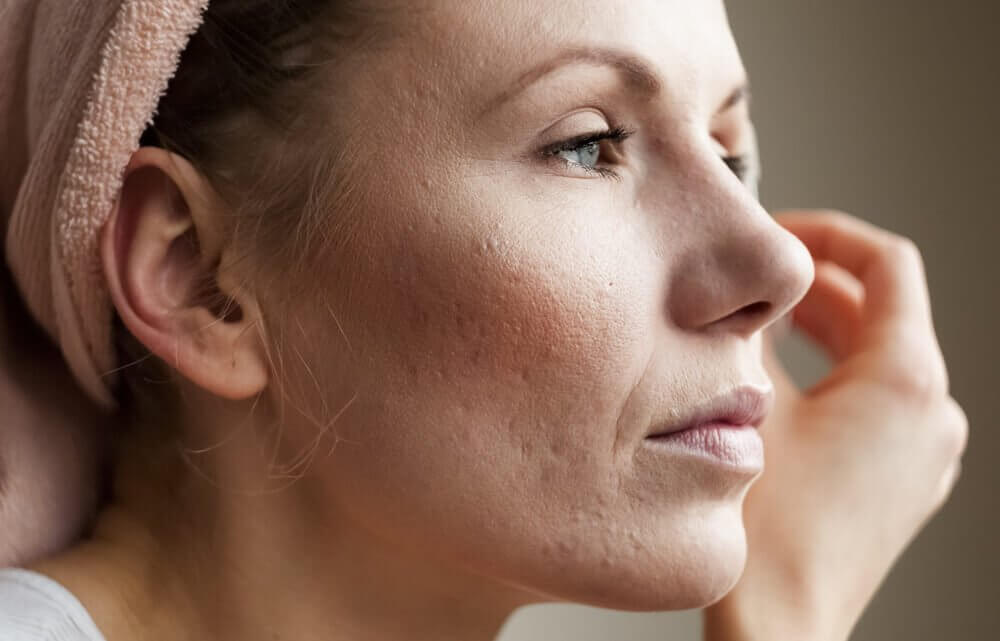 For both aesthetics and self-esteem, you may want to reduce your pore size. This is not a health problem per se, but it can indicate hormonal imbalances or problems with oil production in your skin.
The issues often originate in the "T" zone of the face, around the forehead, nose, and chin. However, they may also be noticeable around the cheeks and other areas of the face. The main consequences are acne and blackheads.
In addition, because there's an excess production of oil associated with open pores, your skin starts to look oily or dirty. Fortunately, there are several ways you can minimize the appearance of your pores to give your skin a fresh, new look. Let's take a look.
1-Use the right products
A deep cleaning, done by a professional, can help a lot when it comes to reducing skin imperfections. However, after this you'll still need to keep taking care of your skin with the right products.
By using the right products on a daily basis, you'll be able to clean your skin thoroughly. It's important to choose soaps and lotions for your skin type. If you're not sure what type of skin you have, talk to a dermatologist.
2-Exfoliate your skin regularly
Although you've probably heard that you should exfoliate your skin on a regular basis to avoid imperfections, the truth is that not all skin types should be exfoliated with the same frequency or with the same product. Some products may be too aggressive for certain skin types.
Some skin types need gentler exfoliations, and less often than other types.
Dr. Rocío Gil Redondo recommends talking to a dermatologist about your particular skincare requirements and, in addition, asking how often you should exfoliate and with which product.
3-Include a toner in your skin routine
There are various toners to cleanse and refresh the skin that are specially designed to help reduce pore size and thus minimize blackheads. So, instead of using regular soap to keep your skin from growing shiny through the day, it's best to apply a suitable toner.
4-Reduce your pore size with ice cubes
Some people think that after washing and drying their face, applying a compress with some ice cubes for a few minutes to "close" dilated pores can be a great idea. Afterwards you can go on to apply your creams and any other products (makeup, for example).
*Never apply ice directly to your skin. It should always be wrapped in gauze or a clean, dry and thin cloth.
5-Healthier diet
One of the main reasons certain facial treatments often fail is because the person doesn't have good dietary habits. If the goal is to reduce pore size and improve the appearance of your skin, you'll have to make some modifications to your diet.
Meanwhile, try eating more lean meat, whole grains, and fresh fruits and vegetables.
6-Drink more water
Dehydrated skin takes on a dry and opaque appearance, and actually worsens an oily complexion with enlarged pores. Drinking more water will help you regulate your oil production and eliminate dead cells.
7-Use honey treatments
According to popular belief, honey can help reduce impurities and, at the same time, moisturize the skin. This can be very helpful, because cleaning the skin tends to dry it out a little.
Some people apply homemade masks with honey and oatmeal to both cleanse and nourish their skin.
8-Use the right kind of mask
Homemade facial masks are excellent ways to remove excess oil and close pores. However, you should choose the right ones for you because those that contain oily compounds may be counterproductive.
If you're worried about open pores, pimples, or acne, it's best to choose masks made with astringent and cleansing ingredients.
Some of the best options include:
Oatmeal
Clay
Green tea
Chamomile
Hamamelis
Natural yogurt
Egg whites
If you want to reduce your pore size and improve skin blemishes, you need to use the right cleansing and skincare products for your skin type and follow the instructions of your dermatologist.
As you can see, they're easy to put into practice and will have a positive impact on your condition. If you want smoother and healthier skin, start practicing them today.
It might interest you...