8 Natural Skin Whitening Masks
How effective are natural skin whitening products? What options exist? This time, we want to address a little more about this topic and, in addition, we give you some popular recipes.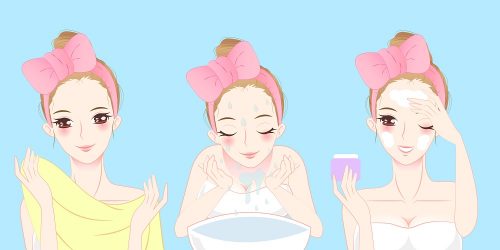 In recent years, a wide variety of skin whitening products have hit the market. From facial lotions and creams to scrubs, every day there are more of these products. But are natural products useful?
With so many dermatologically tested options, natural alternatives have been pushed aside. The big drawback is that no evidence supports their effectiveness and, in fact, in many cases, they may not be effective. However, they're usually safe and inexpensive preparations that you can use. Discover them below!
Natural skin whitening products
The appearance of skin spots and irregularities can result from the aging process and constant sun exposure, as a publication in Experimental Dermatology states. Similarly, a genetic component and a lack of care, among other factors, may play a role.
The need to fight this aesthetic problem has led to the development of many different cosmetic products and professional techniques that promise to reduce them.
In fact, a report from the American Academy of Dermatology showed that new topical natural ingredients seem to be effective in treating hyperpigmentation. These include:
Soy.
Licorice.
Arbutin.
Kojic acid.
Niacinimide.
Ellagic acid.
All these substances are still being studied. In fact, they've begun to be incorporated into new formulations with more natural ingredients. Can other natural products whiten the skin?
To solve this question, we delved into the catalog of home remedies that have been used in popular culture. These options lack scientific backing. However, many people recommend them.
The great advantage is that they're made from nourishing ingredients that are gentle on the skin. Therefore, you can apply them regularly without fearing risks. You simply have to consider that they may or may not be effective and their effects may take longer than a dermatological treatment.
Do you dare to try them? If you want to opt for them, below, we share some popular recipes. They're inexpensive, mix gentle ingredients, and seem to also brighten the skin when used consistently.
1. Oat, chamomile, and honey mask
All the ingredients used in this mask are gentle on the skin. However, we highlight oatmeal, as it's a very popular skin care option. A review published in the Indian Journal of Dermatology, Venereology, and Leprology highlights that it has antioxidant and anti-inflammatory properties. It's also suitable for healthy skin.
Ingredients
1 cup of chamomile tea (250 ml).
1 tablespoon of honey (25 g).
2 tablespoons of oats (20 g).
Preparation
Prepare the chamomile tea, whether with a tea bag or loose-leaf. Then, chill it.
Add the honey and oats to a container and pour in the tea.
Stir and apply to your face with a brush (be careful to avoid the eye area).
Finally, leave on for 20 minutes and rinse with warm water (or with any leftover tea).
2. Whitening honey yogurt mask
Yogurt contains probiotics that are beneficial for the skin. A document published in Critical Reviews in Food Science and Nutrition highlights that probiotics can help treat acne and skin damage induced by UV rays and for various cosmetic uses.
Ingredients
1/2 natural yogurt (62.5 g).
2 tablespoons of honey (50 g).
Preparation
Mix the yogurt and honey together.
Apply to your face and neck with circular movements.
Leave on for a few more minutes.
Rinse with warm water.
For best results, repeat every other day.
3. Potato mask
Another popular ingredient for whitening and refreshing the skin is potato. No evidence supports its properties, but anecdotal data attribute these benefits to it. You can simply place a few slices of the vegetable on your face or make a mask with the juice or grated potato.
4. Rice water mask
The Oriental culture says that rice water is a skin whitening ingredient. Although no evidence proves it, some studies indicate that rice can contribute to healthy and protected skin.
Ingredients
1/2 cup of rice water (125 ml)
1 tablespoon of honey.
Preparation
After cooking the rice, set the water aside and let cool. You can store it in the fridge.
Add the water and honey to a container.
Moisten a cotton ball with the mixture and smooth over your washed face.
Repeat every day before bed and don't rinse to let it work overnight.
5. Papaya lemon mask
This delicious tropical fruit is very good for your skin (that's why you see it in so many beauty products). Lemon is perfect for removing marks and clearing up your skin. It's a wonderful combination!
Ingredients
1 ripe papaya.
The juice of 2 lemons.
Preparation
Peel the papaya and remove the seeds.
Then, squeeze the lemons.
Mash the papaya along with the lemon juice.
Wash your face well and apply the mask to your face and neck.
Let sit for half an hour and remove with warm water.
Repeat three times a week, always at night.
6. Honey egg mask
One of the ingredients used in natural cosmetics to promote healthy skin is egg yolk. Although no research supports its benefits as a topical treatment, those who've tried it suggest that it contributes to clearer and smoother skin.
Ingredients
1 egg yolk
2 tablespoons of honey (50 g)
Preparation
Lightly beat the egg yolk and add the honey. Set aside.
Create steam in the shower to open up your pores.
Apply the mask and let sit for 15 minutes.
Remove with warm water and rinse again with cold water to finish.
7. Egg, tomato, and Brewer's yeast mask
The main ingredient in this natural skin whitening remedy is tomato. Due to its lycopene content, studies indicate that this food could help minimize the impact of UV rays on the skin.
Ingredients
1 cup of water (250 ml).
3 dried bay leaves.
1 egg white
1 tomato.
2 teaspoons of Brewer's yeast (10 g)
Preparation
Put the water and bay leaves into a pot. Cook for 10 minutes and set aside.
In the meantime, beat the egg white until peaks form, and add the peeled, mashed tomato.
Add the Brewer's yeast and continue stirring.
Pour in 2 or 3 tablespoons of the bay leaf tea.
Once well-mixed, apply to your face with a brush.
Let sit for 15 minutes and wash you face with the remaining tea.
8. Garbanzo tomato skin whitening mask
In addition to tomatoes, chickpea flour is another nutritious food that can benefit the skin. A publication in the journal Nutrients highlights that it's a source of vitamin C, vitamin E, potassium, calcium, and other nutrients that contribute to healthy skin.
Ingredients
5 tablespoons of chick pea flour (50 g)
3 tablespoons of tomato juice (or mashed tomato) (30 ml)
Preparation
Put the flour into a container and add the tomato little by little.
Mix until a paste is formed and apply to your face and neck.
Let sit for a maximum of 15 minutes and rinse.
Repeat twice a week.
Ultimately, some natural ingredients can whiten the skin, according to reports from the American Academy of Dermatology. On the other hand, we find common natural ingredients that, according to popular culture, could also have beneficial effects.
In any case, no evidence confirms that they whiten the skin and, therefore, in case of hyperpigmentation, it's better to follow your dermatologist's advice and the treatments they prescribe.
It might interest you...