8 Curative Flavored Water Recipes You Must Try
Not resorting to sugary or caffeinated drinks, a good option is to make vitamin waters. Have you ever heard of them?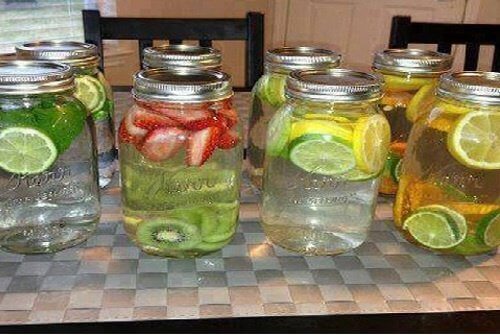 There is no doubt that the healthiest drink that you can have in your day-to-day is water. Drinking water daily is vital for staying hydrated and obtaining a large number of health benefits. However, sometimes we get tired of only drinking water and want to enjoy something with more flavor. Flavored water is a great option here.
Vitamin waters are homemade beverages that have tons of vitamins and flavor that you can enjoy every day. Additionally, they are an excellent option to vary your water's flavor while getting all of their benefits and giving your body additional benefits.
These delicious drinks are very easy to make, don't use colorants or flavoring and give you the benefits of fruit and herbs.
Green Tea, Mint, and Lime Flavored Water
This flavored water is great for stimulating fat burning, improving digestion, relieving headaches, fighting congestion, and freshening breath. Additionally, you can drink it very cold to refresh yourself and for better results. Thus, we recommend drinking a glass of this on an empty stomach and a few more glasses during the day.
Strawberry and Kiwi
You will really like this delicious vitamin flavored water for its refreshing flavor. It will give your body a lot of vitamins that will strengthen your immune system. Additionally, it helps improve digestion, cardiovascular health, and reduce blood sugar levels.
Cucumber, Lime, and Lemon Flavored Water
This drink is great for refreshing yourself on those sunny days and enjoying the benefits of citrus fruits and cucumber. Additionally, its properties help boost your immune system, relieve abdominal distension, control appetite, boost digestion.
Consequently, it's especially recommended for those people who want to lose weight.
Lemon, Lime, and Orange
This citrus vitamin water has properties that improve your immune response to a lot of viruses, bacteria, and fungus. It also prevents colds and flu, stimulates digestion, and helps fight stomach acidity. Thus, we recommend drinking this flavored water at room temperature.
Pineapple and Salvia
This mouth-watering flavored water is depurative, helps cleanse the body, and boosts toxin elimination to keep it protected. It is a very refreshing drink and you will love its delicious flavor on those hot days. Thy the pineapple and salvia drink and see for yourself.
Lemon, Grapefruit, and Mint
The flavor of citrus fruits and mint gives a very delicious flavor to this vitamin water. You can drink more than a liter a day, and as a result, you will have a stronger immune system, cleanse your body, and will better in general.
Melon and Watermelon
Melon and watermelon are known for their high contents of water, delicious flavor, and a large amount of vitamins that improve your health. And so, this vitamin water is great for fighting fluid retentions, stimulating fat burning, cleansing the body, and keeping your skin super hydrated.
We recommend it for those people who want to lose weight and suffer from dry skin.
We recommend you also read:
Blackberries, Lemon, and Mint
This vitamin water has a high antioxidant power that prevents chronic diseases and boosts cellular regeneration. Consequently, consuming it regularly will help keep you hydrated, stimulate toxin elimination, and is great for preventing premature aging.
How to Make Vitamin Flavored Water
Vitamin waters are very easy to make and you can vary the flavor daily to make drinking water more fun. And so, remember, water is essential for staying hydrated and you should drink a good amount every day according to your weight.
First, choose the fruit and herbs according to the kind of water you want to make and wash them thoroughly.
Then, dice or slice the fruit and put it in a pitcher with a liter of water and the herbs.
Let the water stand for five to six hours in the refrigerator so that it takes on the color, flavor, and aroma.
Now you can drink it to enjoy all of its benefits.
The servings of fruit and herbs you use can vary according to the intensity of flavor, color, and aroma you want. To begin, you can use one or two servings and sweeten it with honey as well.
It might interest you...