8 Care Tips for People with Orthodontics
When undergoing orthodontic treatment, it's important to take care of your oral hygiene. We'll share detailed care tips for people with orthodontics in this article.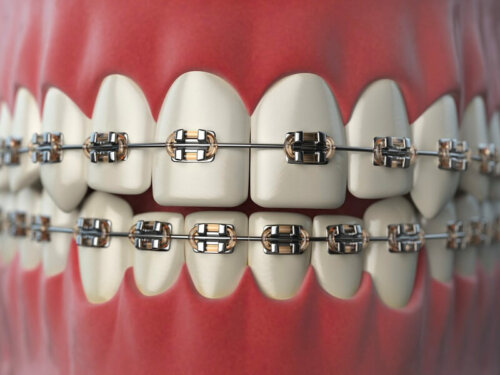 To help you take care of your teeth, here are 8 care tips for people with orthodontics.
Orthodontics is the branch of dentistry that's dedicated to studying, correcting, and preventing problems with the development, shape, and position of dental arches. However, it's not just up to the orthodontist. In fact, it's up to the patient themselves.
By moving the teeth and the jaw bones in a guided direction, the orthodontist is working to create a healthy smile. They work to find a functional and morphological balance between the mouth and face. In doing so, the patient will develop a correct bit. Plus, they'll also have an improved smile.
However, to achieve these results, the patient must use some type of equipment that will guide those necessary movements. It's essential to pay attention to your mouth during this process.
In today's article, we'll take a look at some tips for people with orthodontics.
Types of orthodontics
The type of orthodontics a person has depends on the type of problems they have that need to be treated. In addition, it's dependent on their age and individual needs. The orthodontist will be the one to evaluate each patient's case and decide which appliance will work best for their individual needs.
There are various devices and methodologies to correct and prevent issues inside of people's mouths. These are the most common appliances:
Functional appliances
These are removable appliances that change the position of the muscles in your jaw. By changing the muscle function, the appliance causes structural transformations, like teeth displacement and changes in the jawbones. 
Orthodontists will use these appliances in younger patients because children have temporary and permanent teeth in their mouths.
Removable appliances
These are devices that the patient can put in and take out by themselves. However, the longer they stay in their mouth, the better the results. In this category, you'll find interceptive orthodontic appliances that help guide bone growth in children.
Clear invisible orthodontic trays, like Invisalign, are also in this section. These are plastic trays that are made specifically for each patient's mouth. In addition, the orthodontist will change them periodically. These appliances apply force to the teeth and cause them to move.
Fixed appliances
This type of orthodontics, as the name implies, is fixed to the teeth and the patient isn't able to remove it. They consist of brackets that the orthodontist glues to the surface of the teeth. Then, the orthodontist will run a metal arch through the brackets.
Then, the braces will individually move every tooth in any direction. In general, it's best to get braces during adolescence because the child will have all of their adult teeth, and the bones in their mouth are still growing. However, adults can still get them and see great results.
8 care tips for people with orthodontics
Using braces, and any other type of orthodontics requires specific care for them to be successful. Here are some care tips for people with orthodontics.
1. People with orthodontics should maintain proper oral hygiene
These appliances can increase bacterial plaque accumulation. As a result, you're more likely to suffer from tooth decay and gingivitis. Therefore, it's very important to pay special attention to oral hygiene when undergoing orthodontic care. 
You should be brushing your teeth every day, after every meal, for 3 to 5 minutes. In addition, you should use a soft bristle brush and fluoride toothpaste.
Also, electric toothbrushes and special manual brushes for these specific appliances can be very useful. They can reach areas that may be difficult to access with a regular toothbrush. In addition, it's essential to floss once a day. You can also use oral irrigators in your hygiene routine, especially if you have braces.
Patients who use removable appliances should take them out of their mouths when doing their hygiene routine. Also, it's very important to clean the actual device. You can use effervescent tablets once a week to remove any buildup.
2. Avoid discomfort
When you first get an appliance, it's normal for your body to need time to adjust to it. You may feel some discomfort, and even pain, the first few days. However, that pain should be temporary.
In addition, braces can cause tooth sensitivity, but they should disappear over time. You can also use fluoride toothpaste to help with it. This type of device can injure the mucous membrane and cause sores. However, they should disappear on their own within a few days. 
if the sensitivity doesn't go away, or if the sores don't heal, it's always a good idea to talk to your orthodontist. They will be able to propose a type of treatment to help the issue. For example, it may be necessary to use wax on your wires, local medication, or anti-inflammatories.
3. Be careful with certain foods
This care tip for people with orthodontics is especially important for those with a fixed device. That's because these ones stay in your moth while removable appliances are taken out when you eat and aren't put back in until after you clean your mouth. 
You should avoid or reduce your consumption of hard and sticky foods, like sweets, nuts, whole apples, chocolates and nougat. In addition, your everyday foods should be cut into small pieces.
4. People with orthodontics should them as much as possible
This doesn't apply to those who have fixed appliances since the patient has to wear them at tall times. However, it's a critical success factor for those with removable devices.
You should use your appliance responsibly and keep it in your mouth for the amount of time your orthodontist tells you to. At first, it's usually necessary to wear it for 22 hours a day. Therefore, you should only remove it to eat and brush your teeth. 
5. People with orthodontics should use elastic bands
In some cases, you may need to use inter-maxillary elastic bands during your orthodontic treatment. The orthodontist will explain how to use them and where to place them. In addition, they will give you plenty of replacement bands so that you can change them when necessary.
Elastic band use will depend on the time and progression of your treatment. That's why it's important to follow your orthodontist's instructions.
6. Keep your appointments
When using orthodontics, you'll need to go to regular follow-up appointments. That will allow your orthodontist to review your progress and make any necessary adjustments. It's important to keep your appointments when you schedule them.
The frequency of your appointments will likely be every 1 to 2 months, depending on the type of orthodontics and the time of treatment. In the beginning, you'll likely need to make more frequent visits.
7. Talk to your orthodontist when necessary
When using these appliances, you may find yourself in situations that require intervention from your orthodontist. Sometimes it will be necessary to go into the office to have them resolve the issue, while other times you can do the consultation over the phone.
For those with braces, the wire may occasionally stick into the mucosa of the cheeks. In those cases, it's best to go to the orthodontist so they can cut the wire.
In addition, it's also possible for a bracket to detach. If that happens, the patient would wait for their next schedule appointment to replace it. However, you should call your orthodontist and tell them what happened in case he needs to repair it sooner. 
Patients who wear removable orthodontics and splints may lose them. If this happens, you'll need to make an appointment for the orthodontist to remake the device. Or, if it's an invisible appliance, they may just move you on to the next tray. 
8. People with orthodontic: Wear your retainer
When you get your braces off, you'll need to use a retainer. They're responsible for keeping your teeth in the same position and will prevent your teeth from going back to their original position. 
If you don't wear your retainer, you'll lose all of the changes your braces made. Because of that, to keep your healthy smile, you should wear your retainer for the amount of time your orthodontist tells you to do so.
Flossing tips for people with orthodontics
It's vital to remove plaque from your teeth when undergoing orthodontic treatment. You should use dental floss to clean the areas of your teeth that your toothbrush can't reach.
You should floss once a day, and it should take about 10 minutes. Also, it's a good idea to use an interdental brush.
Patients with removable appliances can floss normally, making sure to take their appliance out before flossing. However, those who wear fixed orthodontics may have some difficulty flossing at first because of the braces and wires. 
With practice and perseverance, you'll be able to master this technique. Here are some flossing tips for people with orthodontics:
Traditional dental floss: Thread the floss between the wire and the teeth. Then, press on the front of the teeth while you move the floss up and down. It should reach your gums; you should repeat this motion for all of your teeth.
Dental floss threader: This is a plastic instrument that holds traditional dental floss. It has a handle that makes it easier to maneuver. In addition, it makes it easier to reach behind the wire and clean between your teeth more easily.
Dental tape: This is an ultra-fine, fluffy, thin thread that glides easily. People who are in pain or who have swollen or bleeding gums use it. It works the same as traditional floss.
Oral irrigator: This tool uses a constant stream of water to clean the teeth. It has a conical tip that the water passes through in order to clean the teeth and gum line. It uses water pressure to sanitize the teeth. In addition, you can use it to clean food debris from your braces and teeth.
Summary
Orthodontics help to prevent and correct problems with your bite. As a result, you can achieve a radiant smile and an effective bite. However, this is only possible if your mouth stays healthy during treatment. 
Taking care of your oral health during orthodontic treatment is vital for success. You may need to spend more time on your hygiene routine and incorporate new practices into it. 
This will help you prevent health problems and complications when you're wearing these appliances. With orthodontics and the right care, you can have a healthy smile!
It might interest you...