7 Ways to Use Baking Soda for Healthy Hair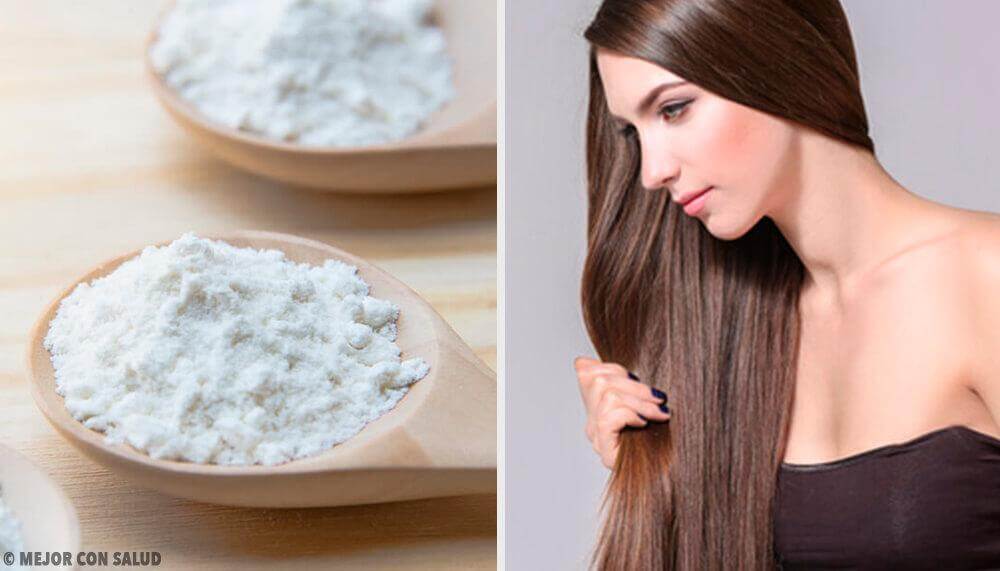 Baking soda has endless uses. It's also a key ingredient in homemade skin and hair cosmetic remedies. Another advantage of this ingredient is that it's inexpensive and really easy to find. In this article, you can learn 7 ways to use it in order to get healthy hair.
Baking Soda
It's a white crystalline solid compound with alkaline properties. It's cheap and easy to find, so it's a great choice for all kinds of natural remedies and homemade cosmetics. Many people also use it in the kitchen. You can benefit from baking soda by learning how to use it correctly. Otherwise, it may cause negative effects.
Take a look at this article: The 5 Best Cleaning Solutions Using Baking Soda and Vinegar
7 Ways to Use Baking Soda for Healthy Hair
It's a Great Ingredient to Add to Shampoo
If your hair gets dirty very easily or your roots produce excess sebum — which makes your hair really greasy — you can use baking soda to take care of these problems. Due to its exfoliant and alkaline properties that kill grease, baking soda is the perfect ingredient to add to shampoo.
Instructions
All you have to do is mix the shampoo you're going to use with the same amount of baking soda.
Then wash your hair like you always do. Doing this will make your hair cleaner and add more waviness.
A Remedy for Greasy Hair
If your hair is very greasy from roots to tips, it's a good idea to use this ingredient to regulate sebum secretion.
Ingredients
1 glass of water (200 ml)
2 tablespoons of baking soda (18 g)
Instructions
Mix both ingredients in a spray bottle.
Ten minutes before washing your hair, shake the bottle and spray the solution on your damp hair.
Massage your scalp with your fingertips to have the solution penetrate well and then wash your hair as usual.
Helps Boost Conditioners
Just by adding some baking soda will enhance your conditioner's effect. Therefore, the baking soda will neutralize excessive acids while your conditioner seals the cuticles for smooth and frizz-free hair.
Ingredients
1 part conditioner
1 part baking soda
Instructions
You can make as much as you want, just follow the proportions as instructed.
Use it after shampooing your hair and let it sit for 5 to 10 minutes.
Anti-Dandruff Treatment
Many people suffer from dandruff. Although they have tried all kinds of shampoos and products, they still haven't found a definitive solution because it can disappear for a few days and suddenly come back. Dandruff is a scaly inflammatory disease that may be related to different factors. This is why it's so difficult to treat.
However, you must differentiate the real dandruff that comes from scalp dryness. Try out any of the first three remedies of this list to fight dandruff.
Use It To Wash Your Hair Without Shampoo
Many people wash their hair without using shampoo. Instead, they mix baking soda and vinegar to wash and condition their hair. Each person's hair is different. Therefore, you should try this natural way to wash your hair and see how it reacts.
Check out this article too: Aluminum Foil Beauty Tips for Your Hair
Use It to Remove Product Residues
It's important to stress that you can also use it to clean your hair completely. In other words, it's a very effective remedy to remove residues of many hair products such as dyes, sprays, gels, mousses, waxes, etc.
Use To Cleanse From the Inside Out
In order to have healthy hair, you must also work from the inside out, since your physical appearance is the reflection of your health. If your body is full of toxins, your hair will weaken or fall out.
To rid the body of these toxins, you can drink the following mixture:
Ingredients
1 glass of water (200 ml)
2 tablespoons of vinegar (30 ml)
1 pinch of baking soda
Instructions
Mix the vinegar and baking soda in a glass of water and drink half an hour before each main meal.
It might interest you...