7 Tips for Hard to Clean Surfaces
Did you know that talcum powder can help you remove oil stains from upholstery? Just let it work for 30 minutes and the stain will disappear.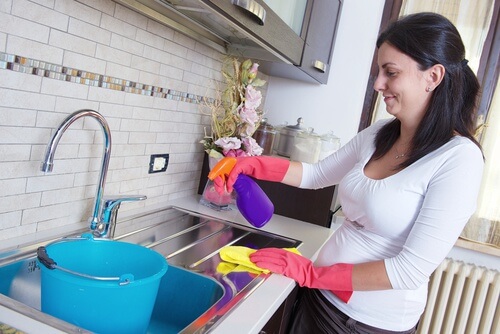 Cleaning your home can get really tedious when you don't know any good formulas for hard to clean surfaces.
There are many products on the market that can make this job easier as they're formulated with ingredients that remove any type of substance from almost any surface. However, the majority of them are really expensive and are manufactured with harsh chemicals that can be harmful to your health and the environment.
For this reason, ecological cleaning products have been recommended for some time now. They use natural ingredients with properties that remove almost any type of dirt and hard to clean material.
Today, we're going to share 7 tips and formulas that will leave your hard to clean surfaces spotless. Don't miss it!
Clean cooking utensils
Pots and other metal kitchen utensils often get dirty and oxidize with time and constant use.
To keep from having to throw them away, prepare a mixture of baking soda and hydrogen peroxide and scrub your dirty pots and utensils with a sponge. You'll be surprised by the results!
Clean the washing machine
Although its function is to wash clothes, the washing machine accumulates dirt with the passage of time which can prevent it from properly cleaning your clothing.
To keep this from becoming a problem, regularly add a mixture of baking soda and vinegar to the wash cycle.
See also: Make Your Own Homemade Stain Remover
Remove grease stains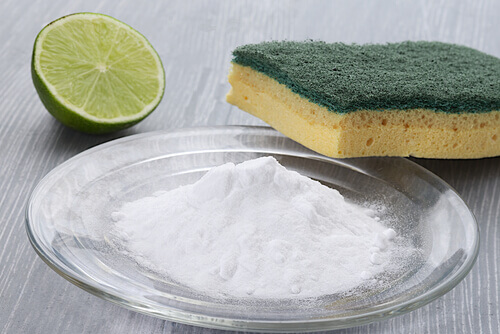 Grease often adheres to surfaces and requires a good cleaning formula to remove it.
To clean this type of stain on clothing prepare a mixture of baking soda and lemon and scrub with a brush.
If the stains are on upholstery, use a paper towel to absorb the grease, then sprinkle with talcum powder or cornstarch. Let work for half an hour and then suck up with the vacuum cleaner.
Window and door frames
These areas of the home tend to accumulate dust and grime that, if not eliminated, can cause allergies on top of staining surfaces.
To properly clean them, mix some baking soda with vinegar and use a brush or cloth to remove the grime.
Stains on wood surfaces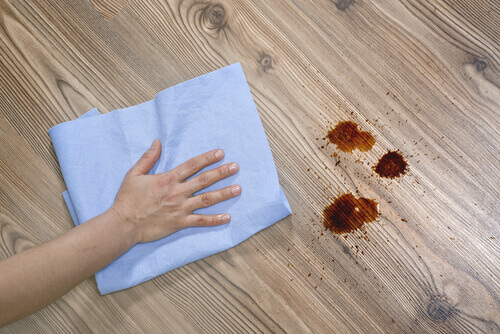 For stains on wood surfaces like doors, furniture and floors, nothing works better than toothpaste.
The only thing you need to do is rub a little toothpaste on the surface you want to clean. After 30 minutes, scrub with a brush or wet sponge.
Clean the microwave
You should clean this appliance regularly because it has a tendency to accumulate grease and food residue that can adversely affect your health.
To leave your microwave spotless, fill a container with two cups water and a tablespoon of vinegar. Microwave it on high for 3-4 minutes so the water can evaporate. Wait for about 10 minutes before opening the door so the steam can get to every corner of the oven.
Carefully remove the container, then clean the walls of the microwave using a sponge with a little baking soda.
To finish, wipe the walls clean with a clean, wet cloth.
We recommend reading: 12 Cleaning Tips for Difficult Areas
Disinfect kitchen counter tops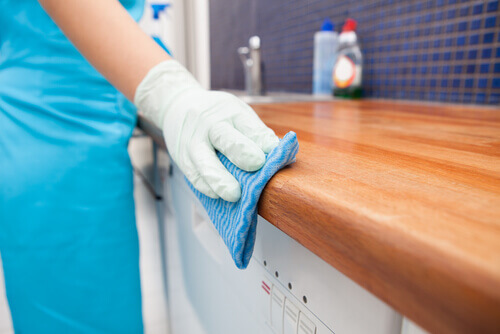 This surface requires cleaning and disinfecting every day, several times a day as it can accumulate a lot of bacteria, food residue and grease that can put your health at risk and attract pests.
To make this task easier and kill microorganisms, mix vinegar, water and lemon juice and apply with a wet cloth. Make sure to get every inch of this surface.
If the grime is stuck on or really difficult to remove, make a paste with baking soda and lemon juice. Then, scrub the surface until it's spotless.