7 Pictures that You Should Take of Your Baby
Pictures are an excellent way to immortalize unique moments, like the arrival of your child, their firsts and endless important moments in their lives. Find out which moments you should capture on camera in this article.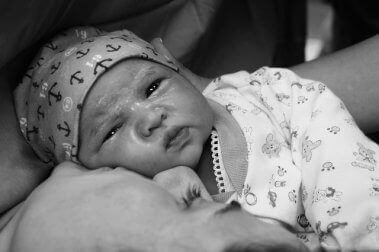 Pictures are a way to save precious moments. For example, the first months or years of your child, their birthdays, their baptism or just a normal day that you spent together. In this article, we will suggest 7 pictures that you should take of your picture.
Their first bath or the first time that you saw them and made skin to skin contact are unique moments in both of your lives. If you are expecting your first child and you don't know what kind of pictures to take of them, we will share some recommendations with you here.
What are the 7 pictures that you should take of your baby?
1. Pre-natal pictures
The first of the 7 pictures that you should take of your baby is before they are born. It is necessary to wait until they have been born to start taking pictures of them, or of the preparations you have done for their arrival. For example, the first pictures that you will have of your child will be the ultrasounds that you have done during your prenatal care, and when they tell you the sex of your child.
Then, you can take pictures of their future bedroom, the toys that are waiting for them and of their time in your belly.
2. Information from their birth
You could also save a nice memory from the time of their birth, stating what time it was, how much they weighed, their height, the first clothes they wore and their first encounter with you. These types of pictures are not common, but you can always innovate.
Also, for those who like more than just a picture, you could also record the birth. Someone who is good with videography can capture the moment in which their baby enters the world. If the birth takes place in your home, it will be easy to carry out this idea; however, if it is done in a medical center, you will have to ask if it is allowed.
3. Family pictures with the baby
Every member of your family will want a picture of the newest addition. You can take group pictures, separate ones or different sections of the family. Some moms often take pictures of the baby with their siblings, another with their cousins, another with their aunts and uncles, one with their grandparents and, of course the one you can't forget, the picture of mom and dad with the new baby.
Family is the most important thing! These could be the most precious memories that you have from when your baby first meets the family. You have to take these pictures that will show the happiness on everyone's face when they meet the baby.
4. The details: memories forever
What makes babies the most tender beings on the planet is how small they are. Every part of them is adorable, from their nose to their tiny feet. Immortalize these details with a picture. Keep those memories of the way they first looked, when they could barely open their eyes and of the first time they took your hand in their tiny fingers.
5. Capture pictures as they grow
This is one of the 7 pictures that you should take of your baby: show how they are changing and growing over time. You could decide to take a picture of them in the same position and place every 6 months or year. Can you imagine them at 6 years old?
What a difference you will see from when they were born to that day! And the best part is that you could have every part of this journey in pictures.
6. Gestures and expressions
Like all human beings, each baby has his own gestures and expressions. When they stick out their tongue in a weird way, when they frown, maybe when they laugh uncontrollably or they have an angry face. Capture these moments because they will definitely make them laugh when they are older, and they will fill you will warm your heart.
7. The first time!
Their first time! These are the baby pictures that you have to have in your photo album. That time when they took their first steps, when they got their first tooth, the first time they crawled, their first watermelon, their first trip to the park or their first ice cream.
Reflection
The most important part of all of the baby pictures isn't the place, the camera or knowing which angle to take them, but learning to capture magical moments and emotions. And, to never let your creativity die.
Take these pictures of your baby and enjoy it. Come on mom! Print them out, frame them or make an album. Whatever you want! The thing is, when your baby is born, without a doubt, a new personal picture is also born for him: you.
It might interest you...