7 Natural Treatments for Athlete's Foot
Do you suffer from Athlete's foot? Learn more about the treatments for Athlete's foot and hot to prevent it in the future in this article!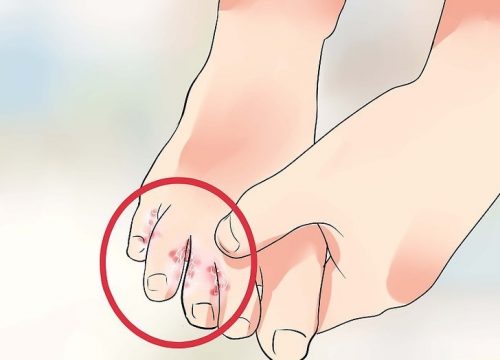 Athlete's foot is an infection that occurs due to a fungus. It thrives in somewhat opposing environments: either in hot or very humid places.
Having said that, it's worth asking:
How do you get athlete's foot?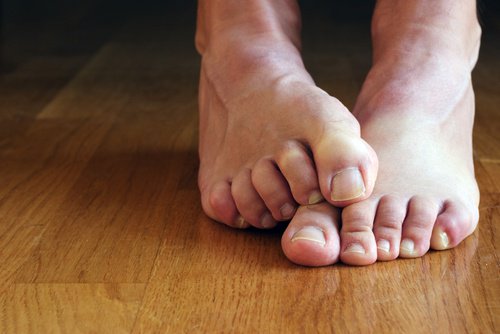 Among the most common causes of athlete's foot are the following:
Having moist feet for long periods of time
Excessive sweating
Not drying your feet well
Minor skin lesions
Wearing socks or tights that aren't made of cotton, or wearing closed shoes that don't allow the feet to ventilate properly
To make matters worse, athlete's foot is extremely contagious: contact from finger to finger, foot to foot, on the floors of showers, and sharing shoes are only a few of the ways you can get it.
Once it has been identified, you need to effectively treat it and stop it from spreading.
Visit this article: 9 remedies for blisters
What are the symptoms of athlete's foot?
Among the most common symptoms of athlete's foot are:
A bad odor
Pain when extending the toes
Blisters filled with fluid or pus
Dry skin
Unbearable burning or itching
To treat this infection, there are some natural treatments you can try. Nevertheless, it doesn't hurt to also talk with your doctor.
Natural treatments for athlete's foot
1. Vinegar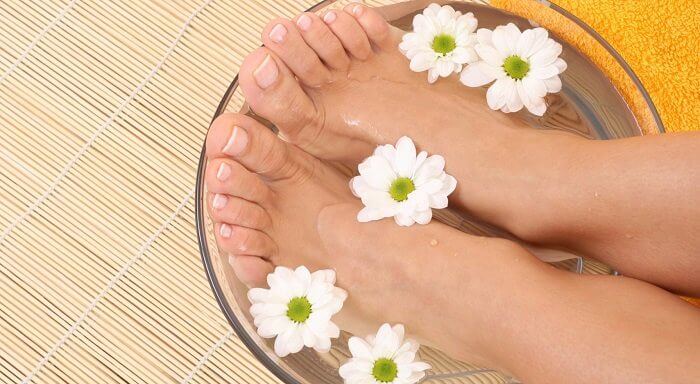 You can take advantage of the acids contained in
vinegar
to prevent the spread of fungi and eliminate moisture.
Ingredients
1 and 1/2 cup of vinegar (375 ml)
3 cups of water (750 ml)
Preparation
Add the vinegar and warm water to a large bowl or bucket.
Soak your feet for 15 minutes.
Afterwards, dry them well. Repeat this process two times a day.
See also: 5 unusual uses for apple cider vinegar
2. Salt
Salt absorbs moisture, so it's a natural way to fight fungus.
In this case, you'll soak the affected area in a solution of water and salt.
Ingredients
6 tablespoons of salt (60 g)
4 cups of water (1 liter)
Preparation
Add the salt to a bucket with water and then soak your feet.
After 15 or 20 minutes, dry them well.
Do this for at least 15 days in a row.
3. Baking soda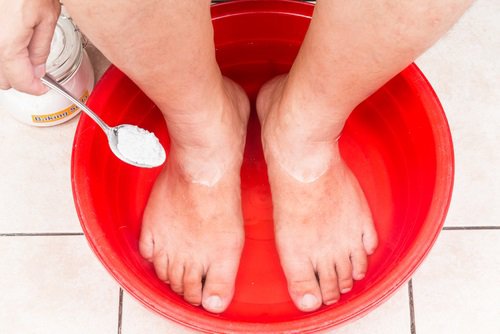 Baking soda is ideal for fighting fungi. In this case, you'll make a paste with it.
Ingredients
3 tablespoons of baking soda (30 g)
Water (as needed)
Preparation
You'll need to mix the baking soda with a little water. The idea is to make a thick paste. Depending on how much you need, you can add more water or more baking soda.
Rub the paste in around the affected areas and let it act. You can apply it at night and remove it in the morning.
4. Onion juice
Onions have antibiotic properties that help treat athlete's foot.
Ingredients
Preparation
Blend the onions until you get the juice.
Using a cotton ball or pad, apply the onion juice to the affected area (after first cleaning it using an antifungal product).
Rinse and protect the area with talcum powder, to avoid any residual moisture.
5. Tea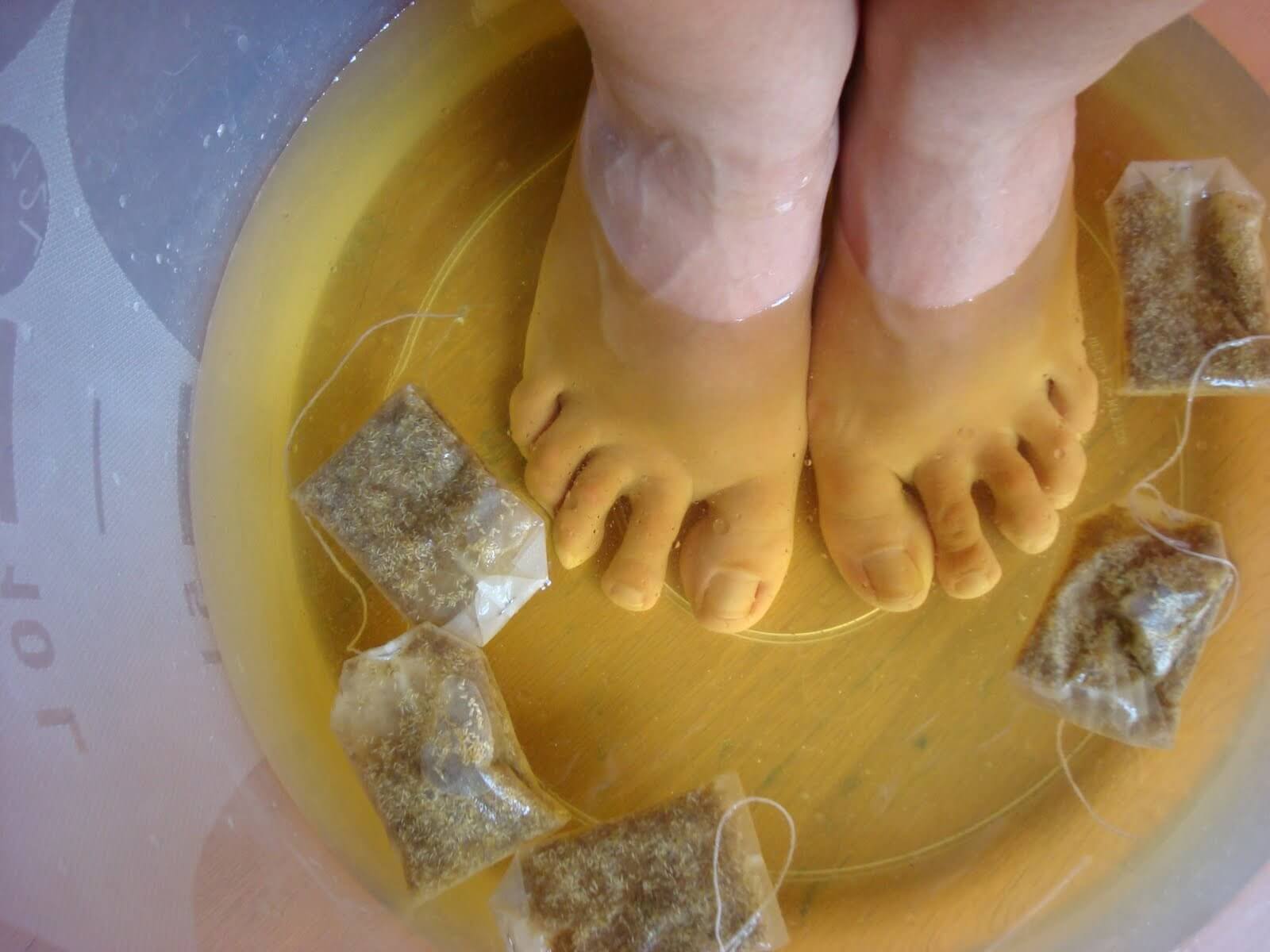 Tea contains something known as tonic acid that's very effective against fungi.
To take advantage of it, first make tea.
Ingredients
2 cups of water (500 ml)
6 teaspoons (60 g) or 6 tea bags
Preparation
Heat the water to a boil, then add the tea and allow it to steep for 15 minutes.
After this time, remove from heat and wait for the liquid to cool.
Once it has reached room temperature, strain the liquid and soak your feet in it.
Repeat this procedure for a month.
6. Plain yogurt
Yogurt has many benefits. In this case, the bacteria found in yogurt can prevent athlete's foot fungus from spreading around the body.
Preparation
Apply some plain yogurt to the affected areas and let it dry.
Afterwards, carefully remove it using a clean cloth and ensure that your feet are completely dry.
7. Hygiene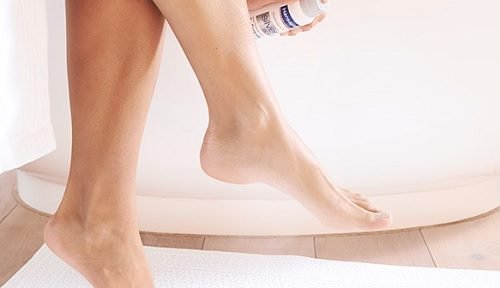 Last but not least, having good hygiene habits are the best way to prevent and eliminate the
fungi
that cause athlete's foot.
Try adding these recommendations to your daily routine:
Always wear clean and dry socks.
When you shower, wash your feet with soap and water and dry them thoroughly.
Wear sandals when using public showers or pools.
Apply antifungal powder (such as talcum powder) to your feet to prevent moisture build up.
Wear shoes that are made of natural materials, such as leather, and don't always wear the same pair of shoes.