7 Mistakes in Small Room Design
It's amazing how some small details can totally alter the function of an entire room. We'll give you some tips to maximize your space.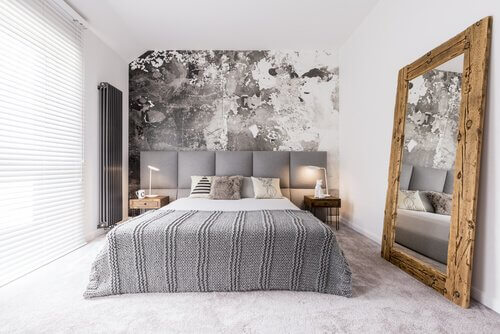 No one ever said that small rooms had nothing to offer. It's just a matter of avoiding some critical mistakes in small room design to help you take advantage of their potential. We'll describe some of them today so you'll know what not to do in the future when it comes to small room decor.
Small rooms, especially small bedrooms, are intimate spaces that are rarely used by people who don't own the house. This may be a very personal space, however, so it's worth considering how to best decorate it and keep it comfortable.
If you have a very small room, you might want to improve the appearance. However, many make certain mistakes in the process.
Do you want to know what the most common ones are?
Today, we'll tell you.
Common Small Room Design Mistakes to Avoid
If a room is already very small, the last thing you should do is take up unnecessary amounts of space in your design planning. Keep the following suggestions in mind, regarding what to do and what to avoid:
1-Not using shelving
Small rooms have very little floor space, so you need to take advantage of the walls instead. Wall-mounted shelving and organizers can be an excellent solution for you to store your books, decorations, and anything else you can't find a suitable place for.
Another good option is an attic. That's where you can store shoe boxes and clothes that you no longer use or need in the room.
2-Skipping the mirrors
Mirrors have the advantage of reflecting light. They can expand the space of a room, at least visually. Don't be afraid to pick a large standing mirror or to place several around the space.
It really helps.
3-Poor furniture choices
This is one of the most common mistakes people make in designing small rooms. Unfortunately, it can also be the most challenging problems to solve because it depends on the characteristics of the space and the needs and preferences of those who live in the house.
The first task should be to select the furniture you'll use most often and get rid of whatever you won't. Also, eliminate any decorations that you think are unnecessary. If you can order custom furniture, this will definitely be much easier.
A general rule is to place your furniture in a way that allows movement to flow within the space. Don't be afraid to put certain objects in the center of the room, either: they can help break up smaller spaces within the room itself.
4-Blocking natural light
A small room will look even smaller if it's also poorly lit. Make sure you can get some natural sunlight in these areas. Don't use heavy curtains or blinds – opt for lighter ones made of fine cloth or some minimalist designs, such as the Roman kind.
5-Being afraid of color
Some people think that bright colors won't blend well in small rooms.
In fact, however, it's the opposite.
You can use a combination of bright colors to highlight the atmosphere and attract more attention, which will look better. Design experts suggest using a maximum of three colors, preferably of the same tone.
6-Very small rugs
This is another idea that might sound counter-intuitive, but placing a large carpet in the center of a room can be an excellent choice. It's even better if you put a coffee table or a nice sofa on top.
Does it seem like it's too much for a small space?
That's probably not the case!
One of the biggest mistakes people make in small room design is not knowing what the right elements are for the interior.
A larger rug with appropriate furniture pieces can draw your attention to a certain part of the room. This will keep the perception away from the small space, and larger elements help you define smaller units within the room itself.
7-Putting a bed in the wrong place
If you have a small bedroom to decorate, remember that its main function is for rest. The central feature should therefore be the bed, and the first thing you should do is identify the best place for it.
Evaluate everything you can think of: lighting, ventilation, temperature, carpet, and bedside table placement. All of this matters. According to feng shui, the bed should be placed opposite the door with a broad headboard, and without a window behind it.
Mistakes in small room design can be very harmful for your space. Avoid falling into the traps we've described here and create a more intimate, restful, and pleasant place for your household.
It might interest you...