7 Green Apple Smoothies to Start Your Day Off Right
 To start your day off right and make sure you're getting the necessary nutrients, these smoothies are best for breakfast, though you can also drink them throughout the day.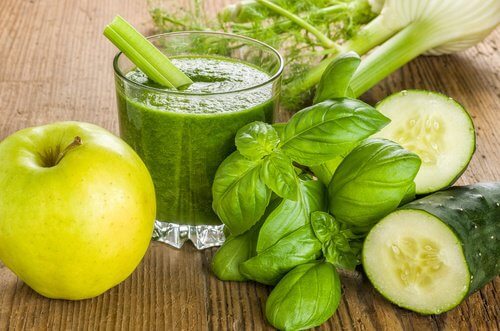 Green apples are one of the most flavorful fruits and are very high in fiber, which is great for digestion.
Since they're composed of 85% water, this also makes them perfect for hydrating your body. In general, apples are a natural laxative, according to a study from the Regina Crossing Centre in Canada.
Their versatility means you can enjoy them cooked or raw, with the peel and without. You can also use them in desserts, salads, drinks, or as an addition to any meal.
When combined with other ingredients in smoothies, they give you a boost of energy to get you through the day.
And so, today, we'll take a look at 7 delicious green apple smoothies with different options. Therefore, try them all and pick your favorite, or have a different one each day of the week!
1. Green apple and flaxseed smoothie
Ingredients
1 peeled green apple, seeded
1 tbs of flaxseed (10 g). This study from the Altiplano National University in Peru found that flaxseed has important anti-inflammatory properties.
1 1/2 cups of water (300 ml)
Honey to taste for sweetness
Preparation
Firstly, wash all ingredients well
Secondly, add them to the blender and process until you get it as thick or thin as you like.
You can drink it first thing in the morning, and you can also use it as a meal replacement for dinner. These green apple smoothies should be consumed soon after making them so that you can take advantage of the nutrients.
2. Green apple smoothies with celery
Ingredients
1 green apple
1 slice of fresh pineapple
2 stalks of celery
1 cup of water (250 ml)
Ice (optional)
Honey (optional)
Preparation
Firstly, place all washed ingredients into the blender, except the ice.
Secondly, process until well-mixed.
Then, strain and put the liquid back into the blender. Add ice and process again until you get your desired consistency.
You can also add honey to sweeten the green apple smoothies if needed.
3. Green apple smoothies with oat
Ingredients
4 heaping tablespoons of oats (40 g)
1/2 cup of orange juice (125 ml). Oranges are high in vitamin C. This study from the Nutrition and Health Research Center in Spain found that vitamin C has the ability to strengthen the immune system
1/2 cup of grapefruit juice (125 ml)
Stevia or honey to taste for sweetness
Preparation
Firstly, squeeze the orange and grapefruit to get their juice.
Next, put the juice along with the rest of the ingredients into the blender and blend until well-mixed.
Finally, give it a taste and sweeten the smoothie to your liking.
4. Green apple smoothies with cucumber
Ingredients
1/2 cucumber, peeled and without seeds
1 green apple
2 stalks of celery
A bit of parsley
1/2 teaspoon of freshly grated ginger (2 g)
The juice of two lemons
Preparation
Firstly, place all ingredients into the blender and process a few minutes until well-mixed.
Then, add ice and blend for a cool, refreshing drink.
This is a fairly easy recipe to carry out at home. And so, it's also an excellent choice for those who want to lose weight, start the day with more energy, and reduce certain health problems.
5. Green apple smoothies with kiwi
Ingredients
1/2 green apple
1 cup of coconut milk (200 ml)
1 peeled kiwi, cut into pieces. This high-fiber fruit is great for constipation.
Handful of spinach
Preparation
First of all, blend the apple along with the coconut milk and kiwi.
Secondly, when it looks well-mixed, add in the spinach.
Thirdly, add ice if you like it cold.
Finally, if you want to sweeten the smoothie, add some stevia or honey. Then enjoy!
6. Green apple smoothies with banana
Ingredients
1 green apple with the peel
A handful of spinach
2 peeled kiwis
1 ripe banana
1 cup of water or the milk of your choice (200 ml)
The juice of one orange
Preparation
To begin with, cut all the ingredients into chunks and put them into the blender.
Then, add the milk or water and blend well.
Finally, enjoy immediately to take advantage of its nutrients!
7. Energizing green apple smoothie
Ingredients
3 small pieces of broccoli
1 peeled green apple
2 tomatoes. This fruit contains lycopene. This study from the Autonomous University of Yucatan (Mexico) found that lycopene is high in antioxidants.
1 stalk of celery
1/2 cucumber, chopped
1 garlic clove, peeled
Preparation
First of all, place all ingredients into the blender and process until well-mixed. Then, add water as needed.
Next, if you wish, strain before serving for a smoother consistency.
This smoothie has the most benefits if eaten right after preparation. Even though it's different than normal sweet smoothies, we're sure you'll love this healthy twist on a Bloody Mary!
Reasons you should have green apple smoothies regularly
Thanks to its many nutrients, these smoothies will help you start your day full of energy. And so, most of them are full of vitamins, including B6, C, fiber, folic acid, antioxidants, and omega 3 fatty acids. Consequently, these will make your body work better and be healthier, and you'll feel much better too.
It's important to note that these should be part of a healthy, balanced diet, and not your main meal. Good habits, plenty of sleep, and regular exercise are key to staying healthy.
If you have diabetes, pre-diabetes, or gestational diabetes, make sure you don't eat too much sugar. Consequently, omit the sweetener in the recipes that call for sugar.
It might interest you...