7 Green Apple Smoothies to Start Your Day Off Right
 To start your day off right, try having a delicious and nutritious smoothie for breakfast. You're going to love it!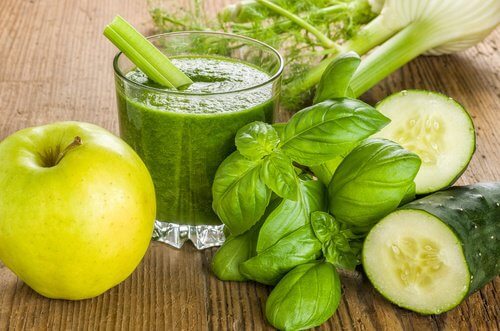 Green apples are one of the most flavorful fruits out there.
Since green apples are composed of 85% water, this also makes them perfect for hydrating your body. They also offer a great amount of fiber that helps improve intestinal movement. In general, a piece of this fruit acts as a natural laxative.
Their versatility means you can enjoy them cooked or raw, with the peel and without. You can use them in desserts, salads, drinks, or as an addition to any meal.
When combined with other ingredients in smoothies, they give you a boost of energy to get you through the day.
Today, we'll take a look at 7 delicious smoothie options. Try them all and pick your favorite, or have a different one each day of the week!
1. Green apple and linseed smoothie
Ingredients
1 peeled green apple, seeded
3 teaspoons of linseeds (10 g)
1 1/2 cups of water (300 ml)
Honey to taste for sweetness
Preparation
After washing all ingredients well, add them to the blender and process until you get it as thick or thin as you like.
You can drink it first thing in the morning, and you can also use it as a meal replacement for lunch or dinner.
It should be consumed soon after blending to take advantage of its nutrients.
See this, too: Linseed and Green Tea, Allies Against Cancer
2. Green apple and celery smoothie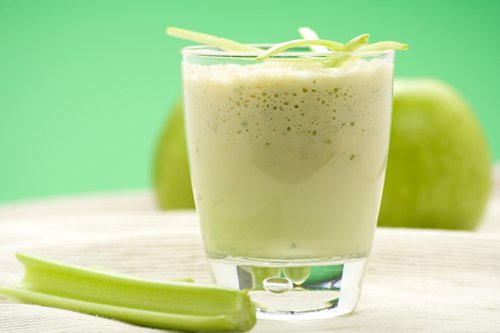 Ingredients
1 green apple
1 slice of fresh pineapple
2 stalks of celery
1 cup of water (250 ml)
Ice (optional)
Honey (optional)
Preparation
Place all washed ingredients into the blender, except the ice.
Process until well-mixed.
Strain and then put the liquid back into the blender. Add ice and process again until you get your desired consistency.
You can also add honey to sweeten the smoothie if needed.
3. Green apple oat smoothie
Ingredients
1 green apple
4 heaping tablespoons of oats (40 g)
1/2 cup of orange juice (125 ml)
1/2 cup of grapefruit juice (125 ml)
Stevia or honey to taste for sweetness
Preparation
First, squeeze the orange and grapefruit to get their juice.
Next, put the juice along with the rest of the ingredients into the blender and blend until well-mixed.
Give it a taste and then sweeten the smoothie to your liking.
4. Green apple cucumber smoothie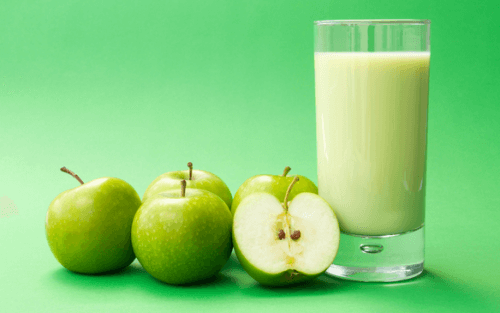 Ingredients
1/2 cucumber, peeled and without seeds
1 green apple
2 stalks of celery
A bit of parsley
1/2 teaspoon of freshly grated ginger (2 g)
The juice of two lemons
Preparation
Place all ingredients into the blender and process a few minutes until well-mixed.
Next, add ice and blend for cool, refreshing drink.
This is an excellent choice for those who want to lose weight, start the day with more energy, and detoxify the body.
5. Green apple kiwi smoothie
Ingredients
1/2 green apple
1 cup of coconut milk (200 ml)
1 peeled kiwi, cut into pieces
Handful of spinach
Ice
Preparation
Blend the apple along with the coconut milk and kiwi.
When it looks well-mixed, add in the spinach.
Add ice if you like it cold, and if you want to sweeten the smoothie, add some stevia or honey. Then enjoy!
6. Green apple banana smoothie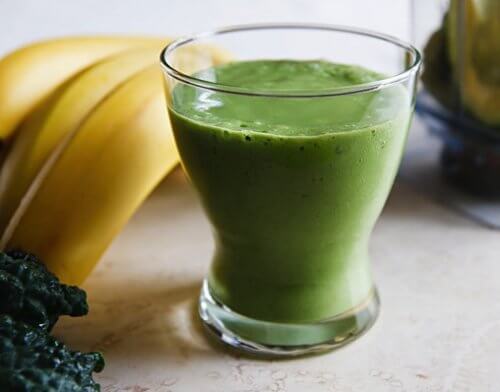 Ingredients
1 green apple with the peel
A handful of spinach
2 peeled kiwis
1 ripe banana
1 cup of water or the milk of your choice (200 ml)
The juice of one orange
Preparation
Cut all the ingredients into chunks and put them into the blender.
Add the milk or water and blend well.
Enjoy immediately.
7. Green apple Bloody Mary
Ingredients
3 small pieces of broccoli
1 peeled green apple
2 tomatoes
1 stalk of celery
1/2 cucumber, chopped
1 garlic clove, peeled
Preparation
Place all ingredients into the blender and process until well-mixed. Add water as needed.
If you wish, strain before serving for a smoother consistency.
This smoothie has the most benefits if eaten right after preparation. Even though it's different than normal sweet smoothies, we're sure you'll love this healthy twist on a Bloody Mary!
Read this, too: Discover the Amazing Benefits of Broccoli Soup
Reasons you should have green apple smoothies regularly
Because of how many nutrients they contain, these smoothies will help you start your day full of energy. The majority of them are chock full of vitamins, including B6, C, fiber, folic acid, antioxidants, and omega 3 fatty acids.
These will make your body work better and be healthier, and you'll feel much better too.
The best time of day to have these smoothies is first thing in the morning for maximum effectiveness.