Six Ways to Fix Dry And Cracked Heels
It's important to pay attention to cracked heels, as lack of treatment can lead to infection. If there are severe symptoms like bleeding and pain, it's best to see your doctor.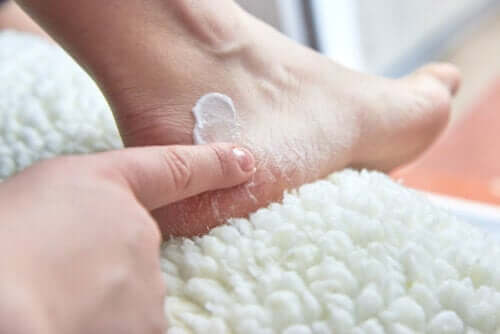 A lot of care is needed in order to get rid of cracked heels. The skin on your feet is delicate and tends to dry out as a result of some types of shoes and their contact with various surfaces. In fact, according to a report from the National Foot Health Assessment, 20% of American adults have experienced cracked skin on their feet.
Although it isn't usually serious, in many cases it can cause pain, swelling and other uncomfortable symptoms that can prevent you from performing daily tasks. Even without proper care, these cracks can bleed or get infected. So, how can you make it better?
The most severe cases should be seen by a doctor, since the application of antibiotics or other medication may be necessary. However, if it's mild, there are several easy-to-make treatments you can make yourself at home. Below we'll give you several options.
Remedies to fix cracked heels
Dry and cracked heels can initially be treated at home with some basic care. However, if neglected, an intervention from the podiatrist will likely be needed due to the complications they can cause. According to the Mayo Clinic, the first step to treat them is to moisturize them at least twice a day.
To do so, they advise using thick moisturizers or creams with skin-softening agents, such as urea, salicylic acid, or alpha hydroxy acid, which also help remove dead skin. Likewise, they can soak in warm water and be treated with oil-based creams or petroleum jelly.
Now, in popular culture, a number of alternative remedies have also been shared that could help alleviate this condition. Although its effects aren't supported by scientific evidence, anecdotal data suggests it may contribute to its treatment. Let's take a look!
1. Pumice stone foot bath
The American Academy of Dermatology recommends using a pumice stone to remove excess dead skin that makes up the calluses on the skin of the feet. Do it smoothly, after soaking your feet in water for several minutes.
What to do
At night an hour before going to bed, warm some water.
When ready, pour into a container, and put your feet in and soak for 15 or 20 minutes.
Remove your feet from the water and use the pumice stone to rub your heel, being careful on cracked areas since it could hurt if done roughly.
Then, put your feet back in the water to rinse them of dead skin.
Gently dry and apply a moisturizing cream.
Repeat 2 or 3 times a week.
2. Natural oat exfoliant
Studies haven't proven that oatmeal heals or removes cracked heels. However, there's evidence about its benefits for the skin. A review published by the Indian Journal of Dermatology, Venereology, and Leprology highlights that this ingredient has antioxidant and anti-inflammatory properties that help protect the skin.
This exfoliant doesn't just help with cracked heels. It also makes your feet smoother and reduces excess dead cells when applied on a regular basis.
Ingredients
Preparation
In an appropriately sized container, put the oats with the jojoba oil and mix until it forms a paste.
Apply the paste to your feet and gently massage for a few minutes.
Let the paste sit for 10 minutes, then rinse with warm water.
Any leftover paste can be kept in a plastic or glass container for you to use whenever you need it.
3. Fix cracked heels with lemon and glycerin
Direct application of lemon on the skin is discouraged, as it can be irritating to those with sensitive skin. However, in this case, we combine it with glycerin, rose water, and coarse salt in order to obtain an exfoliating product that'll help reduce dry and cracked heels.
Ingredients
Hot water
Coarse salt
1/2 c. of rose water
1/4 c. of lemon juice
1/2 c. of glycerin
Preparation
Heat the water and pour it into a large container.
Add the coarse salt, lemon juice, and glycerin.
Stir the ingredients a little to help them dissolve and soak your feet in the mixture for 15 minutes.
After this time, remove your feet and use the pumice stone to get rid of the dry skin.
In a small bowl, make the same mixture but without the water, and instead add the rose water.
Mix until a paste is formed and apply to any remaining tough spots on your heels.
After that, put on socks and let the mixture work one or two hours.
After this time, rinse your feet and repeat for at least 5 days.
4. Banana avocado cream
Both the banana and the avocado are used in natural cosmetics for their moisturizing qualities. Avocado, in particular, contains fatty acids, vitamin E, antioxidants, and other nutrients that appear to be helpful against cracked heels.
Ingredients
1 or 2 bananas
1/2 medium-sized avocado
Preparation
Combine the ingredients to form a uniform cream.
Apply to your feet and heels.
Let sit for 30 to 40 minutes and rinse the cream off well.
Repeat at least 3 times a week.
5. Restorative papaya cream
Another of the natural ingredients valued in cosmetics is nothing more and nothing less than papaya. Although there isn't enough evidence about its effects on the skin, it's generally considered to be safe. By providing antioxidants and water, it helps retain hydration in the feet.
Ingredients
Application
Smash the papaya to form a purée.
Apply it to affected areas and remove it after 30 to 40 minutes.
Repeat at least 3 times a week.
6. Overnight oil treatment
Vegetable oils, such as coconut or almond oil, have the ability to help repair the skin barrier, as detailed in research published in the International Journal of Molecular Sciences. Because of this, it's believed they can contribute to getting rid of cracked heels.
Ingredients
Application
Firstly, mix the two oils together and apply them to your feet.
Then, gently massage for about 7 minutes.
Put socks on top of the oil and leave them like that overnight.
The next morning, rinse your feet off.
Repeat for 6 days or until your heels feel softer and crack-free.
Can you get rid of cracked heels naturally?
In most cases, it's possible to get rid of cracked heels with basic care and the remedies mentioned. However, if the problem persists or if there's a risk of infection, it's better to see a doctor or podiatrist.
It might interest you...