6 Things You Should Do With Your Baby Before They're Born
You're anxiously waiting for the day when your baby arrives. But did you know that you can enjoy their company and do activities with them before they're born? In this article, we'll share tell you about some of them.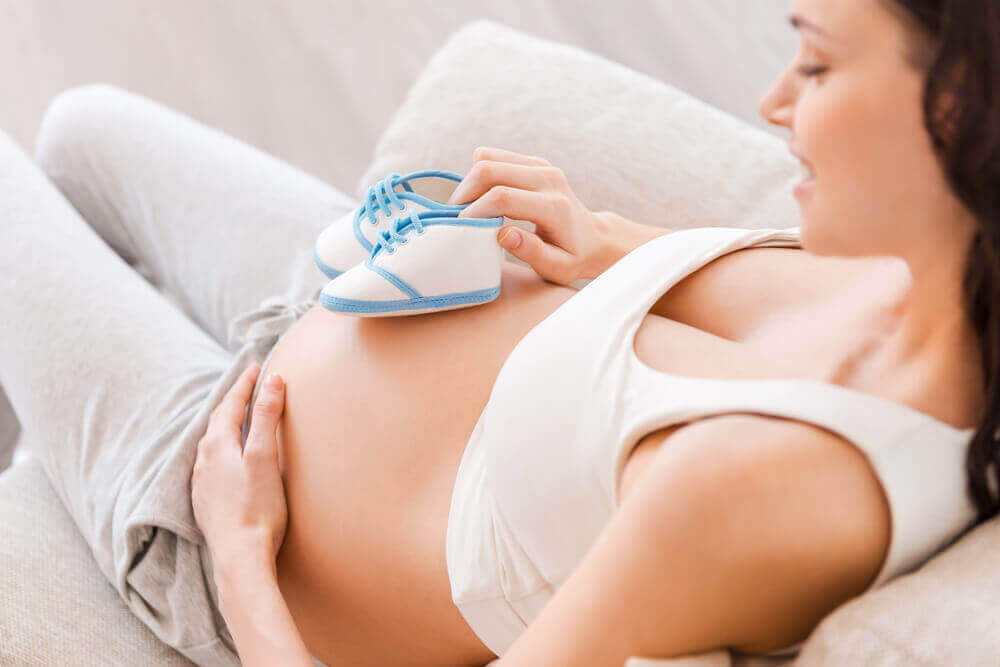 Parents to be long for the day to meet their baby and hold them in their arms after 9 long months. However, the period that the baby is inside the mother's belly is extremely important. During this time, the baby is continuously developing physically and sensorially. For this reason, it's very important for the parents to dedicate time to enjoy fun activities with their child, including before they're born. In this article, we'll present 6 things you should do with your baby before that long-awaited day.
1. Record a Video of Your Baby
If you're not already parents, this might sound a little strange. Feeling the movement of the life growing inside you is a unique experience which will only last for 9 months. Cuddling your baby in your arms is an incomparable experience.
However, recording that moment you were united and met each other is one of the things you should do with your baby before they're born.
2. Take Photos and Create an Album
The baby's growth and development has an obvious effect on the mother's body. Although it might not be the mother's most athletic time or the time when she has such a well-sculpted figure, it's one of the most charming and magical times of her life.
Why not record this fascinating journey in a photo album? It'll probably be an important snippet of your little one's life. This way you can show them how they grew, little by little, until they finally came into the world.
3. Celebrate with a Baby Shower
A baby shower is a joyful celebration during the final months of pregnancy. Guests shower the mother-to-be with gifts as well as playing games and themed activities.
This party is generally organised by the mother-to-be's close family or one of her best friends. However, they can also be organised by the mother herself.
One key feature of this celebration is seeing the happy faces and surprise when they open presents. However, the most important thing is that it's an opportunity for loved ones to share in the joy of the future parents. 
4. Listen to Music
According to a number of studies on pregnant women, there is evidence that there are multiple benefits to listening to music. For example, in the case of the mothers, it increases their feeling of security, calm, and relaxation.
Once born, babies who were exposed to music they showed positive reactions. The little ones could even recognize the songs that they had been previously exposed to.
Currently, music therapy has become a popular prenatal stimulation tool as it helps regulate moods. Although these sessions are run by professionals, there's no harm in sharing music with your little one.
If you want to try it, try to keep the music relaxed during the mornings and evenings, while during the rest of the day you can listen to something a little more energetic.
5. Talk to Your Baby Before They're Born
As we've just seen, music has positive effects on a baby before they're born. The mother's voice also provokes a reaction. This is because the sound of the voice, much like the heartbeat, travels through the body without any interference.
This effect was identified by a group of researchers at Queen's University in Canada. They found that for a period over four minutes, the unborn baby's heartbeat increased when hearing their mother's voice, but decreased when listening to a stranger's voice.
Furthermore, during the 27th week of pregnancy, the baby's auditory capacity has developed. For this reason, the baby can recognise sounds and identify them easier than during earlier weeks.
6. Relax
If you're pregnant and the final weeks are approaching, you should take the time to rest and relax. As well as a baby, stressful days and situations lie ahead of you.
There are many different ways for you both to relax. For example, you could go out for a walk and enjoy the fresh air, swim, dance at a gentle pace, as well as other activities recommended by experts. Each one stimulates different feelings for the baby, as well as making them feel more relaxed and peaceful.
Conclusion
As you can see, there are many different ways to enrich both your life and your baby's during the weeks approaching  birth. You don't need to make a huge effort or spend a lot of money to create beautiful moments. Remember, the most important thing is to enjoy the process and the moment.
And always remember, if you're well, your baby will be, too.
Can you think of other memorable activities to do with your baby before they're born?