6 Strawberry Drinks for Your Diet
Strawberries are one of the most delicious fruits you can find. Despite the fact that they're so sweet, they're also one of the best foods for diets.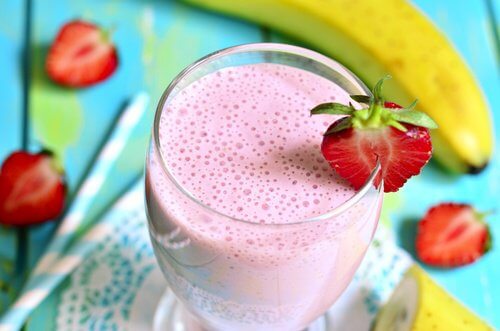 Strawberries are the most sought-after berries in the world.
They have a number of incredible benefits for your health. After all, they work as anti-inflammatory agents. In addition, they improve your bone health and eye health. They even prevent macular degeneration.
This small fruit also has fiber that helps your digestive process. This controls hunger.
Plus,strawberries have an acid called ellagic acid. This increases the elasticity in your skin and eliminates signs of premature aging.
This very special fruit can be eaten many ways. But today, we're going to give you 6 excellent drinks with strawberries. We're sure that you'll find one that you like.
1. Strawberry smoothie
The first drink with strawberries we recommend is great for sharing with your family.
We know that children won't complain about drinking it. Plus, you'll be happy to give them something that's super nutritious and delicious.
Ingredients
2 lbs. of strawberries
4 cups of natural yogurt
1/2 cup of:
Grenadine syrup (to taste)
1 quart of diet strawberry ice cream
Instructions
First, clean the strawberries and take off the stems.
Then, put the strawberries in your blender. Add the yogurt, water, evaporated milk, and lemon juice.
Blend everything until you get the texture you want.
Put the smoothie in the freezer for 30 minutes.
Get a small bowl of ice cream and cover it with the smoothie. (Or, simply drink it as it is!)
2. Natural strawberry smoothie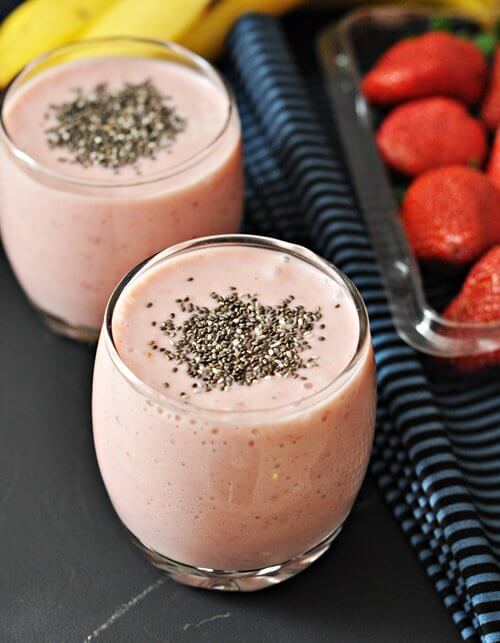 The second strawberry drink that we recommend is great for days when you have an intense physical workout.
You can drink it a half an hour before working out. You'll feel the benefits.
Ingredients
15 strawberries
1/2 cup natural yogurt
1/2 cup of coconut water or soy milk
2 tablespoons of honey
Instructions
If they're fresh, wash, peel, and cut the strawberries in pieces.
Add the natural yogurt and the coconut water or soy milk to the blender.
It's worth it to mention that if you use coconut water for this strawberry smoothie, it will have a slightly sweeter taste. In this case, coconut water is considered a natural sweetener.
Add the honey. Then, blend it until you get a smooth drink.
3. Strawberry, mango, and pineapple smoothie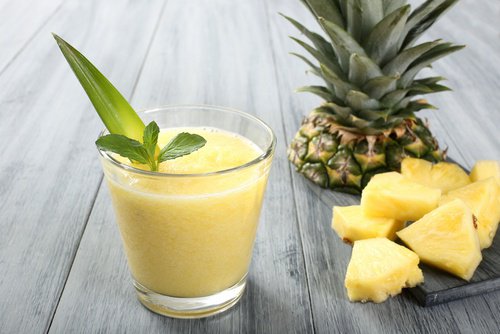 With this drink, the most important thing is that you can serve this with any food. Plus, this drink doesn't add many unnecessary calories.
You can drink this smoothie at any time of the day and it won't be harmful to your health.
Ingredients
5 strawberries
1/2 a ripe strawberry.
1/2 a pineapple round
5 tablespoons of water
1 teaspoon of honey
Instructions
Wash and chop the strawberries, mango, and the pineapple into pieces.
Add them to your blender together with water and honey. Blend it until you get a creamy texture.
4. Strawberry banana light smoothie
Since the ingredients are especially light, this smoothie will go with any diet you're following. This drink makes your breakfasts easier. Plus, it gives you energy for the rest of your day.
Consider the potassium from the banana and the strawberries' antioxidants. Overall, the result is a super vitamin smoothie that's great for your body.
Ingredients
2 cups of frozen strawberries
1 mature banana
2 tablespoons of honey
1 1/2 cup of skim milk
Instructions
Peel the banana and cut it into pieces. Wash the strawberries and cut them up, too.
Put everything into the blender together with the milk and honey.
Blend it until you get a smooth drink. You can drink it at any time.
5. Strawberry Lassi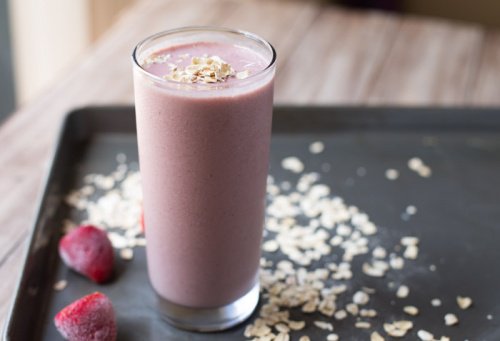 The texture of this strawberry drink makes you feel like you're drinking a vegetable cream. But don't be fooled: this drink has just as much flavor as all the rest.
Try it with some whole wheat toast with cream cheese or light margarine.
Ingredients
1 skim yogurt
1/2 a cup of oat milk or oat water
7 large, mature strawberries
A splash of vanilla
2 tablespoons of ground cinnamon
4 tablespoons of brown sugar
Ice cubes (according to your taste)
Instructions
Wash the strawberries and add them together with the rest of the ingredients in the blender.
Blend everything until you get a creamy texture.
Enjoy!
6. Energetic strawberry smoothie
This is a strawberry drink that will give your body more energy. After all, it has 13 times more potassium and double the sodium found in commercial energy drinks. Plus, you need potassium to keep your cells working correctly.
Keep in mind that the fresher the strawberries are, the more benefits they'll give you.
Ingredients
1 1/2 cup of coconut water
1 cup of water
9 or 10 strawberries, washed
2 tablespoons of honey
Ice cubes (according to your taste)
A pinch of salt to highlight the flavor.
Instructions
Put everything in your blender and blend on medium so that the ice isn't completely crushed.
Serve it and drink up.
Without a doubt, these strawberry drinks are delicious, easy to make and they work with any diet and lifestyle. Give them a try!