6 Rejuvenating Smoothies and Juices
Thanks to all the vitamins and other benefits these smoothies and juices contain, they're healthy options while also helping to prevent the signs of aging.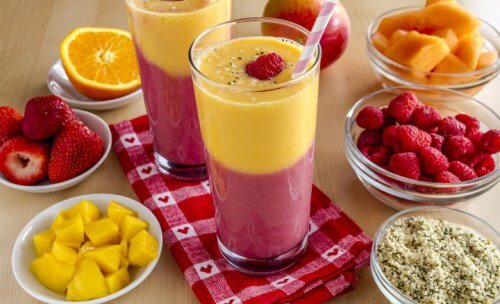 Smoothies and juices are becoming increasingly popular around the world as it's been shown that adding them to your diet can support various organ function and improve your body's overall health.
The combination of fruits and vegetables in the same beverage can pack a tremendous amount of vitamins, minerals, antioxidants, and other important nutrients that improve your body both internally and externally.
One of the main benefits of consuming these beverages on a regular basis is that they help fight the effects of free radicals, which adversely affect your body's cells and cause premature aging.
This is why regular consumption of smoothies and juices can support your body's vital functions, making this a good habit that will promote a better quality of life.
Today there are thousands of recipes for rejuvenating smoothies and juices to support bodily functions. In this article we're going to share six with you that will not only help your body, they'll improve your skin.
1. Tropical smoothie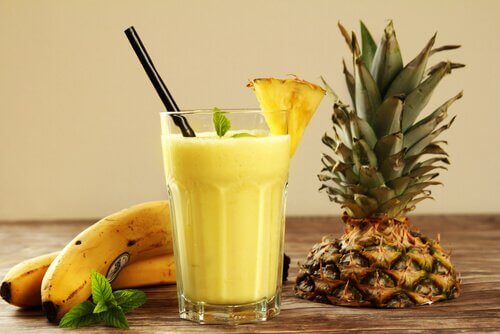 Tropical and
citrus
 fruits are always a good combination when it comes to both nutrition and flavor.
In this recipe, we find a good source of antioxidants to help prevent the early onset of the signs of aging.
Ingredients
1/4 cup of fresh pineapple (38 g)
1/2 an orange
1/2 a tangerine
1 slice of apple
1/2 a banana
Preparation
Wash, peel, and chop all the ingredients.
Add them to a blender and process at high speed for a minute.
If you need to, add a little water to facilitate blending.
Add some ice and serve immediately.
See also: What to do with citrus peels
2. Raspberry and cherry juice
Berries like raspberries and cherries provide a lot of vitamins A, B, C, D, beta carotene, minerals (potassium and magnesium), and antioxidants.
Thanks to this nutritional makeup this juice is ideal for fighting the effects of free radicals and preventing the retention of excess fluids.
Ingredients
20 raspberries
20 cherries, pitted
2 cups of water (400 ml)
The juice from 1 lemon
Preparation
Wash the berries and place them in a blender with the water and lemon juice.
Process all ingredients for a few seconds.
Add ice and serve immediately.
3. Rejuvenating smoothie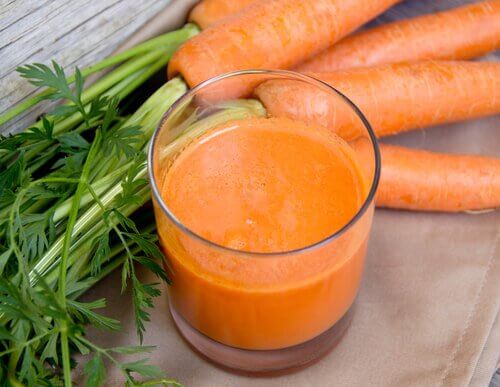 This smoothie combines fruits and vegetables to make a powerful detox agent, able to promote the elimination of the waste that builds up in your body.
By helping cleanse your body, drinking this on a regular basis enhances the appearance of your skin, prevents premature aging, and helps resolve skin problems.
Ingredients
1 orange
2 radishes
1 carrot
1/2 cucumber
1 stalk of celery
Preparation
Squeeze the juice from the orange and add it to a blender along with the radishes, carrot, cucumber, and celery.
Blend as long as you need to and drink immediately
4. Papaya and pineapple juice
This juice has an amazing ability to flight fluid retention and eliminate waste from your body.
The combination of these two fruits provides you with vitamins (B and C), minerals (calcium, potassium, and magnesium), and fiber to support weight loss and improve your digestion.
Ingredients
1/2 of a medium papaya
1/2 of a fresh pineapple
The juice of 1 orange
Preparation
Peel and chop the pineapple and papaya, and add them to a blender along with the orange juice.
Drink this slightly chilled, preferably on an empty stomach.
5. Yogurt and peach smoothie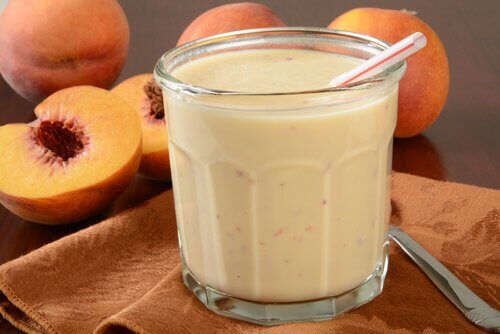 Plain yogurt is a very healthy option because it
helps restore the good bacteria to your intestines.
This smoothie combines fruits like peaches, strawberries, and oranges to make a potent antioxidant beverages that rejuvenates the skin and improves your overall health.
Ingredients
1/2 cup of plain yogurt (100 g)
1/2 of an orange
1/4 cup of peaches (37.5 g)
1/2 cup of frozen strawberries
Preparation
Wash, peel, and chop the orange and peaches.
Place all ingredients in a blender and process for a few seconds until you obtain a smooth and homogeneous texture.
Serve with ice and consume immediately.
Visit this article: The best fruits for digestion
6. Kiwi and orange juice
Last but not least…Citrus fruits are high in vitamin C, antioxidants, and minerals, which support the function of many of your vital organs and contribute to the regeneration of skin cells.
This kiwi and orange juice is a delicious way to reap their benefits and improve your overall health.
Ingredients
2 cups of orange juice (500 ml)
1 medium kiwi, peeled
2 cups of ice
Preparation
Squeeze the oranges until you obtain the required amount of juice.
Peel and slice the kiwi fruit and add all ingredients to a blender.
Process until smooth.
Serve this delicious juice while it's fresh.