6 Reasons to Drink Cucumber Water Every Day
In addition to keeping you hydrated, cucumber water provides vitamins and minerals that help improve the health of your liver and skin.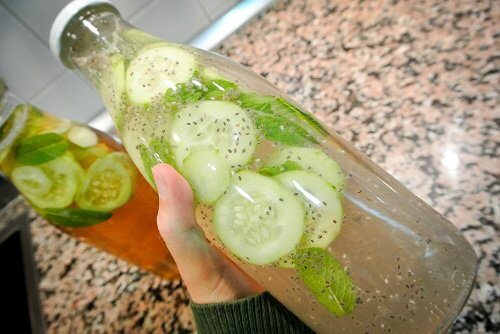 Cucumber water can become the perfect beverage choice for the whole family. It's a healthy and natural snack. If you're looking for an alternative to calories and sodas, don't hesitate to try this one.
Today we'll give you six reasons why you should be consuming this excellent beverage.
Of course, you can't forget that in order for cucumber water to be effective and provide the health benefits you need, you need to consume it at least two or three times a week.
1. It's a good source of vitamins
Something as simple as adding cucumber to your regular glass of water will provide a lot of vitamins A and C.
It's also rich in vitamin E, one of the best antioxidants you can consume and with effects that you'll notice in a short amount of time.
In this way, the simple act of drinking cucumber water can protect your cells and skin from external factors like pollution or tobacco.
In addition to that, cucumber provides a lot of minerals and nutrients that prevent the formation of blood clots.
When combined with water, cucumber can become the perfect tool to lower your blood pressure, something you might want to keep in mind.
Cucumber provides moisture and the recommended daily amount of potassium, which improve circulation and the function of your heart.
It can also help your muscles feel more relaxed.
As you can see, the benefits of consuming cucumber water are much greater than you might have imagined at first.
See also: The truth about cucumbers
3. It suppresses your appetite
Cucumber is a very satisfying food. It's best to drink cucumber water throughout the day to reduce feelings of hunger while also keeping your body hydrated.
This will help you stay satisfied through the morning and into lunch.
4. It's the best treatment for your skin
As we said earlier, cucumber water is a great way to keep your skin hydrated.
Its regular intake will lead to more supple, smooth, and youthful skin. In addition to that, cucumber water is an excellent way to combat poor circulation or fluid retention.
Thanks to its high silicon content, cucumber water can also help cleanse the body of toxins. This will fight other problems associated with toxins such as acne and inflammation.
With all these benefits you can be sure that you'll cleanse your body and keep your skin looking radiant.
5. It's great for your liver
Cucumber water is ideal for cleansing, decongesting, and improving the function of your liver.
This is due to the combination of vitamins A, B, and C, in addition to minerals like calcium, phosphorus, and potassium.
These nutrients are responsible for caring for the cells of your liver and improving their ability to regenerate.
Your liver will be much healthier if you drink cucumber water.
It's an excellent natural way to reduce inflammation and the fat content in your bloodstream.
Of course, you must combine it with a proper diet and some exercise. These three factors are more than enough to preserve the health of your liver.
6. It's excellent for protection against UV damage
Cucumber provides a lot of vitamin C, which protects you from the harmful effects of UV rays.
It increases your production of collagen, so you'll see how much younger your skin looks while helping to protect you against sun damage.
This beverage also improves the health of your bones and nails, while keeping your immune system functioning at optimal levels.
How to make cucumber water
Ingredients
1 cucumber
1 and 1/2 liter of water
The juice from 1/2 a lemon
1 tablespoon of chia seeds (10 g)
Preparation
Peel and slice the cucumber to facilitate blending.
Squeeze the juice from half a lemon and add it along with the remaining ingredients to a blender.
Process everything for a few minutes.
You'll get a light, refreshing beverage that helps stabilize your body's pH and lower your acidity levels.
This delicious cucumber water is light, refreshing, and has multiple benefits.
It might interest you...