6 Quick Tips for Interior Decorating
When interior decorating, you want to make sure that you don't overload the room. You want a chromatic balance with a pleasant and subtle contrast.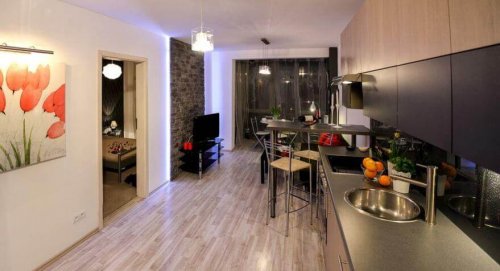 If you're thinking about giving one of the rooms in your home a new look, you should do a little research first. That way, you'll make a great decision based on all of the knowledge and options you have. To help you out a bit, we'll give you 6 quick tips for interior decorating.
Everyone gets bored of the way a room is decorated after a while. It might be a bedroom, the living room or the kitchen. We get tired of a painting we hung up, the wall color, the curtains don't look as great as we used to think…So it's time for a change.
However, it's not a matter of going to the store and buying the first thing we see. The best way to start this process is to know a few quick tips for interior decorating. So, grab a pencil and a piece of paper, take note of what you think is the most useful for you, and then it's time to start on your home!
6 Quick Tips for Interior Decorating
1. Colors, Lighting and Contrast
Colors are a very basic aspect that you have to take into account when decorating a space. If the space isn't very big, you should know that light tones, like pastels, reflect light. Therefore, they will make the space look larger than it actually is.
The same goes for mirrors. To take advantage of this, it's very important that the room has good lighting.
If it's a large room, however, you should try combining different tones. Remember, strong tones can contrast really well, but they might not be best for a room that is used for relaxing.
We know that colors can influence our moods. Tones like red or violet can cause overwhelming visual tension if we don't use them carefully.
2. Highlight an Item
If you have a nice coffee table or sofa that you want to emphasize over the other elements in the room, use colors to do so. To do that, choose a color of the wall or the element itself that marks a contrast.
Once you've decided which tones you want to highlight, try to use them in 20% of the room. Another idea is to use boxes or shelves that are also that same color.
3. Define a Style
This is one of the most important quick tips for interior decorating. To give the house or a space a certain look, you definitely need to have a defined style.
Then, you have to decide if you want to use wood for a rustic effect, if you're trying to give the space a minimalist look, or if you prefer something innovative that will require a combination of colors.
Once you've defined this, you'll be able to narrow down your choices in terms of colors and designs. This will help you concentrate on the small details that, in the long run, are the ones that make the difference.
4. White is Light's Best Friend
To create contrasts and highlight the bright colors in the room, you'll need the right lighting. An excellent way to get that lighting, aside from windows and doors is to paint the ceiling and one or two of the walls white.
Also, consider choosing light colored curtains and, if the floor is a dark color, add some carpets that will reflect the light better. Finally, in bedrooms and living rooms, white cushions will add a really nice warm touch.
5. Separating Rooms
If you have a space that's too big, you can use curtains, translucent walls or sliding doors to create a better ambiance. Plus, you'll be able to use the two sides for different things.
Additionally, you'll add to the room's decoration by doing this.
6. What About the Bathroom?
When it comes to this essential space in your house, we have a few more suggestions:
If you buy new furniture, remember that it should be useful and practical, not just beautiful. 
The current trend is to use mirrors as decorative elements and to put your medicine cabinet somewhere else.
Following these quick tips for interior decorating will definitely help you get the result you want. Remember that the important thing, in addition to making good use of the space, is that you feel comfortable and content will the choices you made. 
It might interest you...