6 Natural Creams to Treat Psoriasis
To start getting the best results when fighting psoriasis and relieving its symptoms, these natural creams should always be combined with a well-balanced diet and topical creams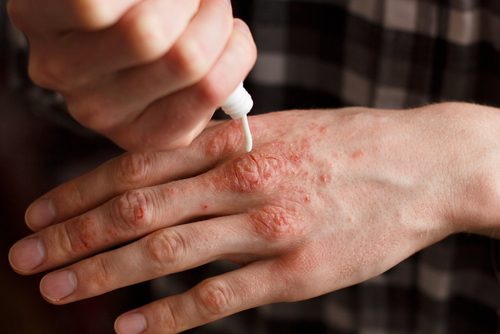 Today, we're going to talk about psoriasis, a chronic skin disease that develops when there is an accumulation of dead cells.
Among its symptoms are patches of thick skin, along with redness and scaly patches. In this article, we'll let you in on the secret of some of the best natural creams to treat psoriasis.
What is Psoriasis, and Why Does It Develop?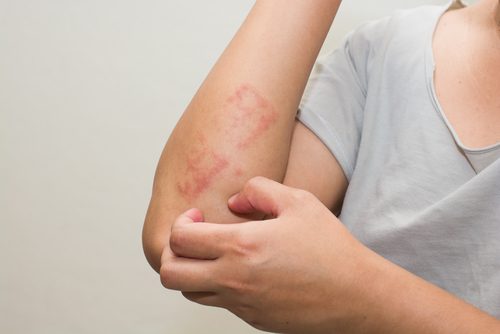 Psoriasis is an inflammatory and chronic skin disease that produces lesions in the dermis. It's not contagious, but it can be hereditary, and is more frequent in men than in women.
Psoriasis is found mainly on the back, abdomen, scalp, knees and elbows.
It can develop at any time, although it is more common in adults between 20 and 55 years. It starts with mild symptoms, and is of an autoimmune origin.
The possible triggers of psoriasis are very varied:
Infections
Diet
Alcohol consumption
Emotional disorders
Climatic factors
Believe ti or not, diet can play an essential role in improving the situation. Your daily food must be composed of:
Vegetables
Fruits
Oats
Beans
Salmon or mackerel (twice a week)
In the case that you don't eat fish, you can opt instead for oil or flax seeds.
It's also very important to drink at least a glass of water every two hours to help your body eliminate the toxins that cause inflammation.
Avoid foods such as chicken, red meat and dairy products, since they contain proteins that are difficult for your liver to digest.
Fast food, sugars and fried foods are also best avoided.
Natural Creams to Treat Psoriasis
Before starting out with any treatment, it's important to know that this condition has no specific cure. However, there's a lot you can do to reduce the symptoms, or to cure peeling skin more quickly.
If that's what you're looking to do, we have just the recipes for you! Check out the following homemade creams:
1. Aloe Vera
Of course, aloe vera tops this list. It gets first prize among natural treatments for psoriasis, as is also the case with many other skin conditions.
Aloe vera gel has many great natural properties for the treatment of psoriasis, such as being anti-inflammatory and refreshing when scaliness is causing a lot of itching.
To avoid injuring yourself by scratching too hard, it's a good idea to apply a little of this liquid several times a day.
It's even better to keep it in the refrigerator, so you also get some relief from the cold when you apply it to your skin.
So if you already have an aloe vera plant at home, don't hesitate to chop off a stem when you need it to treat the symptoms of psoriasis.
This vegetable has a wealth of health benefits, and can be consumed to strengthen your immune system (which is ideal for those suffering from psoriasis), as well as to reduce inflammation.
What's more, it can be made into a homemade cream that's well worth trying because of its effectiveness at treating the symptoms of psoriasis.
All you have to do is boil the peeled bitter melon, cut it into slices and then make it into a puree.
When it's warm or at room temperature, apply on to affected areas and leave it for 20 minutes before removing it with warm water.
3. Bananas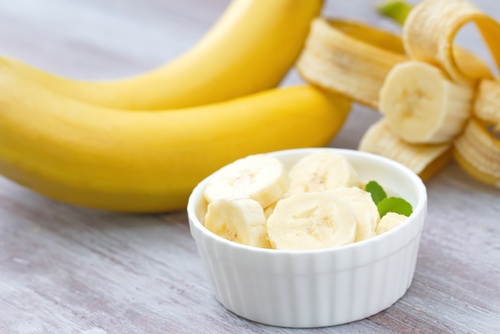 Banana is a great ally here, and it's very easy to take advantage of its benefits. You can take the banana peel and rub the inner side on the lesions caused by psoriasis – or, what could be more simple than making a "banana cream" simply by mashing up a ripe banana with a fork?
Take the paste and leave it on the affected areas for 15 minutes. After that, just rinse it off with warm water.
4. Baking Soda
Baking soda is great at relieving itching and exfoliating the skin. However, you should take care with this treatment and apply it gently, because otherwise it can cause irritation.
Ingredients
3 tablespoons of baking soda (30 g)
¼ cup of water (62 ml)
How to Prepare
Place the baking soda in a bowl, and slowly add the water (which should be at room temperature).
Mix together until it forms a smooth paste, which you then need to apply with care to any scaly patches.
Leave on for 30 minutes and rinse off with water. If you notice any burning sensation, though, wash it off earlier.
Dry gently with a cotton towel.
5. Chili
This ingredient, most commonly used to add spice to dishes, can also be very useful in treating psoriasis.
It contains a chemical active called capsaicin that reduces pain by inhibiting nerve endings. In this case, it also reduces inflammation, redness and peeling.
You can find chili extract in shops that stock natural or health food products. Make a paste of this chili extract and water, or just crush a red chili with a mortar and achieve the same consistency when mixed with water.
Then, apply the paste to the affected area, and leave it to act 10 minutes.
6. Flaxseeds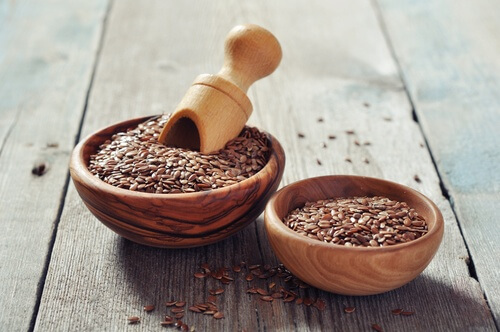 Flaxseed contains essential oils that have great anti-inflammatory power. You can use the seeds of the plant to prepare a very effective ointment or cream for psoriasis.
Ingredients
2 tablespoons of flax seeds (20 g)
¼ cup of water (62 ml)
How to Prepare
Place the seeds in a pestle and mortar and crush well until you get a powdery consistency. If you want to avoid this step, you can also find flaxseed powder available for purchase.
Add the water little by little until you have a smooth paste.
Apply to the areas affected by psoriasis and leave to act for 15 minutes.
Remove with warm water.