6 Natural Cleansing Foods For Your Detox
Cleansing foods help your body rid itself of toxins. These foods can be consumed as teas or used as ingredients in your meals.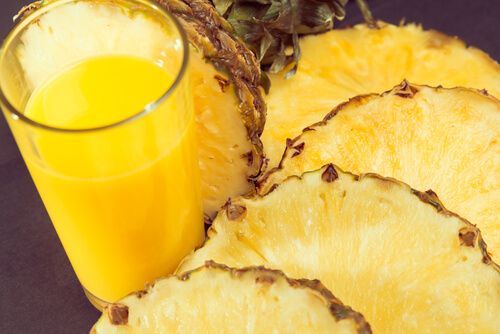 Here are six natural cleansing foods that can help us stay healthy by eliminating toxins and harmful elements from our bodies.  By consuming these natural cleansing foods, you will combat frequent problems like fluid retention, poor blood circulation, stretch marks, and swelling in the legs.
In order to cleanse your body, you should increase your daily physical exercise, drink more water, and eat fresh foods. There are six natural cleansing foods that have been proven to be the most effective.
Natural Cleansing Foods for Your Detox
1. Fennel
Besides having a truly delicious smell and flavor, fennel is one of the best options for cleansing. It also aids in digestion and facilitates the release of gases. Additionally, when its consumed as a tea or steeped in other teas, it promotes the elimination of excess fluid.
As a result, fennel is one of the favorites of people who suffer from fluid retention or arthritis. Fennel also reduces phlegm production and facilitates its expulsion from the lungs.
You can consume fennel as a tea or an ingredient in salads. However, you should also be cautious and avoid using it excessively. This is because it has very strong properties and can cause mild to severe discomfort.
A good option is to drink fennel tea for three days to cleanse and then stop. In the following days, drink a lot of water so that the process completes correctly.
2. Aloe Vera
This is one of the most popular ingredients in natural medicine and it is very effective for cleansing. Aloe vera facilitates liver function thanks to its high content of polysaccharides, which eliminate liver toxins.
It is important to eat aloe vera as naturally as possible because commercial products may contain properties that reduce its effectiveness.
You can eat a teaspoon of aloe vera every morning with a glass of water to facilitate proper function of the liver during the day. You can also make a cleansing infusion by mixing aloe vera, milk thistle, licorice, and dandelion.
3. Green Tea
Green tea benefits your health in many different ways. Its stimulates cleansing of the body thanks to its diuretic characteristics and the presence of chlorogenic acid. The latter facilitates digestion and cleansing of toxins that you consume.
You can consume green tea in different ways, although five cups of green tea a day is best. It is also important to be sure to drink enough water.
4. Pineapple
Pineapple is one of the fruits with the highest amount of water and fiber, and also has few calories. However, it also contains three enzymes that improve digestion and blood circulation: bromelain, extranase, and ananasa.
Pineapple also helps cleanse the areas with protein fibers and removes the fatty tissue responsible for causing cellulitis. Pineapple helps cleanse thanks to its high potassium content, which helps regulate the amount of water in your cells.
Due to of all of its benefits, we recommend that pineapple regularly be present in your diet. This should be simple since its flavor is easily combinable with other foods.
5. Horsetail
This wild herb has become very commonly used as a natural remedy. Among its properties, we find that it is an excellent ally because it can increase urine production by up to 30%. This is beneficial for eliminating toxins and facilitating kidney and prostate function.
Horsetail has also been shown to have the ability to reduce the size of kidney stones and increase the filtering ability of your kidneys.
6. Cherries
Cherries boast much more than delicious flavor. These small fruits also have a large amount of potassium salt and help cleanse by increasing urine production.
They also help eliminate metabolites, thus helping reduce the sensation of swollen legs. The benefits of cherries increase when combined with horsetail.
It might interest you...