6 Fun Homemade Tricks to Make Your Life Easier
"Where have I left my keys? Where have I put the electric bill? How do I open this bottle if I don't have a corkscrew?..." Our daily life is full of small difficulties, that at times make us feel frustrated and, although we know that they are not important things, they can rob of us much needed time.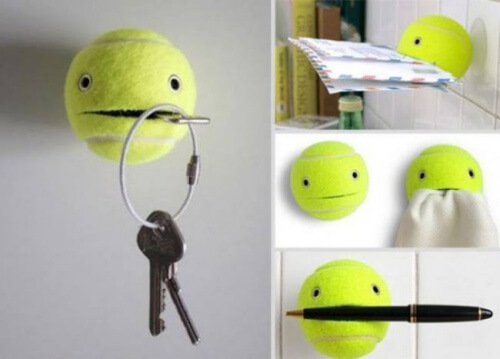 It is for this reason that today we want to show you some wonderful and fun homemade tricks that are going to make your life so much easier. They are so original that you will love to make them along with your kids. Are you ready? Grab some paper and a pencil and do not lose out on any of these suggestions!
1. Where are my keys? And which one is for the garage?
You probably have old tennis balls in your house that you no longer use. If so, you have two options: you can either offer them to your dog to play with or you can make an eye-catching hanger for those things which we always end up losing, from keys, pens, and cell phone charges to that receipt you need to keep. For nearly everything!
What do I need?
Two old tennis balls
Two nails
Scissors
How can I turn my tennis balls into "hangers"?
It is very easy. The first thing to do is make a small cut near the center of the ball. It is like a mouth but, at the same time, it will be the opening that will allow you to put things inside.
Now grab a nail and put it inside the ball and then nail it to the wall so that it is secure. And there you have it! If you want you can paint some friendly eyes on it. See the feature photo of this article.
How can I tell the difference between one key and another?
The key to the front door, the key to porch, the one for the garage… How can you tell the difference? It is very easy, all you need to do is paint a part of the key with fingernail polish. Each one should be a different color and in that way you can identify them immediately.
2. I don't have a corkscrew!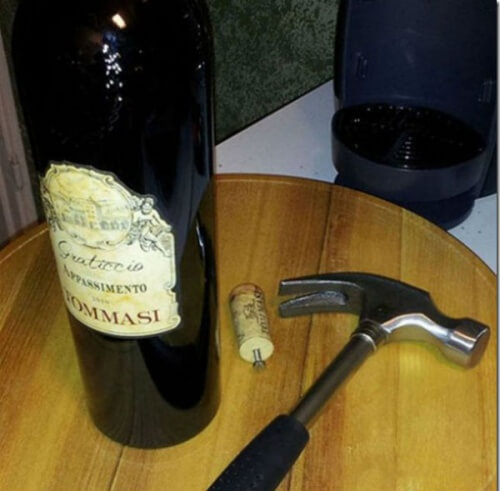 We have a very special dinner, everything is prepared ready, it is the moment to open the bottle of wine and… You realize that you do not have a corkscrew! Don't panic, you can still save your dinner. Perhaps this homemade trick is something startling, but we assure you it is quite effective.
You simply need to insert a large nail into the cork of the bottle and then remove it with a pair of pliers or with a small hammer as shown in the photo. You will have it out in two seconds!
3. Those inconvenient liquids in our garbage can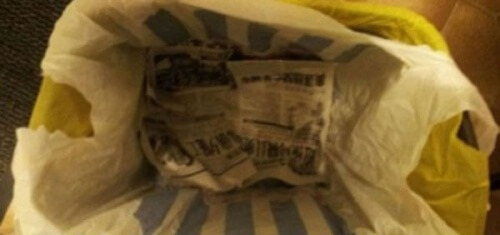 Surely this has happened to you more than once. You go to empty the garbage bag and, upon pulling it out, it begins to leak smelly liquids from foods and other elements inside. The solution? Very simple. Each time that you put a new bag in the garbage can, remember to put a few newspapers at the bottom. It never fails!
4. When painting…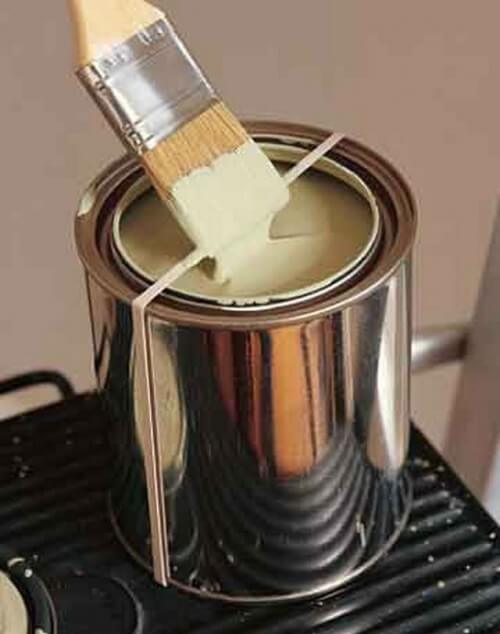 At home we always have something that needs to be painted: those boxes, this chair, the dog house, the window panes… There is always something to be done! And painting is a task that is often very dirty and quite uncomfortable.
A very useful homemade trick is to place an elastic band around the paint can, so that you can use it to eliminate the excess paint from the paintbrush without letting it drip where it shouldn't. It is really practical!
5. Have I locked the house? Should I go back to check it?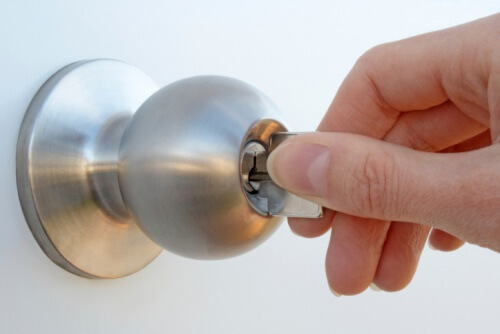 This has happened to each of us at one time or another. We leave the house, go to work or, even worse, we have left on vacation and have driven the car for several hours when, suddenly, we ask ourselves this terrible question: Have I locked the house up?
Few things can cause us to feel more desperate than this type of sudden panic related to our short memory. However, you should know that it is not really a problem of having a "short memory," but of doing things automatically without paying enough attention.
One effective technique to help avoid this type of situation is to be more aware of what we are doing and, also, to do something unusual that will help us to remember it. An example? While you are closing the front door and locking it, sing a song in a low voice. Later if you are bothered by the doubt as to whether you have locked the door or not, your memory will remind you that you were silly enough to "sing while locking the door." It never fails!
6. I have lost an earring!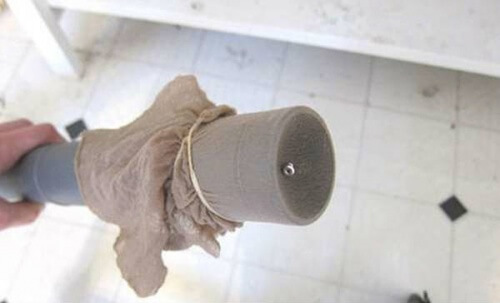 Has this happened to you sometime? You are in the bathroom getting ready, you put on your favorite earrings and, suddenly, you realize that the back of one of them has fallen or any other small object has fallen. What can you do? You begin to look all over the floor in desperation without being able to find the lost object.
Don't worry, there is a very effective homemade trick that will save you from this predicament. Just put a nylon or sock over the tube of your vacuum cleaner. Then turn it on and move it over the area where you dropped the object and at the same time keep an eye on what sticks to the nylon. In a few seconds you will have your small lost object.
Do these fun homemade tricks seem practical to you? We encourage you to try them.