6 Facial Masks for Dry Skin
Thanks to the firming effects of these natural masks, they will tighten your skin to prevent the early formation of wrinkles while adding moisture and fighting dryness.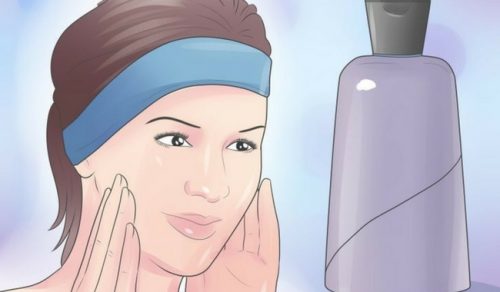 Your skin is your body's first line of defense against the microorganisms present in the environment, so it's important to take care of it and protect it. One of the most common conditions is dry skin.
Although there are a variety of cosmetic treatments that you can use to heal dry skin, in the long run, some of them can have serious complications.
That's why it's better to choose all natural treatments. Today we want to highlight some facial masks to reduce dry skin.
Try them out and pick your favorite.
1. Mask for dry skin with avocado, almond oil, and vitamin E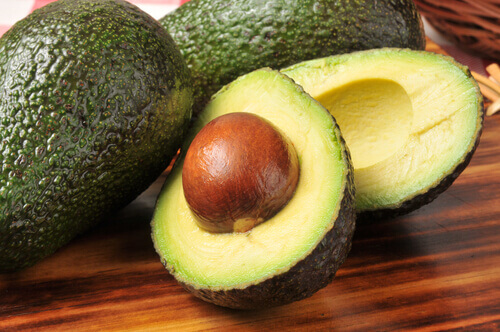 Avocado is the perfect ingredient for stimulating hydration and moisture production. Thanks to its natural oils, folic acid, and vitamins,
it increases elasticity and decreases wrinkles.
These benefits are enhanced by the addition of vitamin E and almond oil.
Ingredients
1/2 of an avocado
5 drops of almond oil
1 capsule of vitamin E
Preparation
Mash the avocado in a bowl until you obtain a smooth paste.
Add 5 drops of almond oil and the contents of the vitamin E capsule.
Mix all ingredients until they're well incorporated.
Apply this paste all over your face and let it act for 20 minutes.
Rinse with warm water and repeat its application every week.
See also: 6 cosmetic uses for avocado
2. Strawberry, banana, and avocado moisturizing mask
Strawberries naturally lighten the skin due to their content of acetylsalicylic acid. This ingredient is also important for deep cleansing the skin.
In addition to the moisturizing properties of avocados and bananas, this mask is an easy and inexpensive way to give your skin softer and smoother texture.
Ingredients
2 large strawberries
1 banana
1/2 of an avocado
1 tablespoon of olive oil (16 g)
Preparation
Add the strawberries, the banana, and the avocado to your blender.
Process until you get a homogeneous paste and add the olive oil.
Apply this to your face and neck, leave it on for 15 minutes, and rinse with warm water.
Use this mask three to four times a month to fight dry skin.
3. Softening honey and egg mask
Are you looking for a mask that resolves aesthetic problems in addition to fighting dry skin? If that's the case, this recipe contains everything you need.
Egg helps eliminate impurities in the skin and diminish bags under the eyes. Honey is rich in antioxidants and makes an exceptional astringent.
Together, these two ingredients are perfect for beautifying your skin without any harmful effects.
Ingredients
1 egg yolk
1 teaspoon of honey
Preparation
Mix the two ingredients until you get a smooth paste.
Spread it over the skin of your face and neck.
Leave it on for 20 minutes, then rinse with plenty of water.
Repeat this application twice a month.
4. Chocolate mask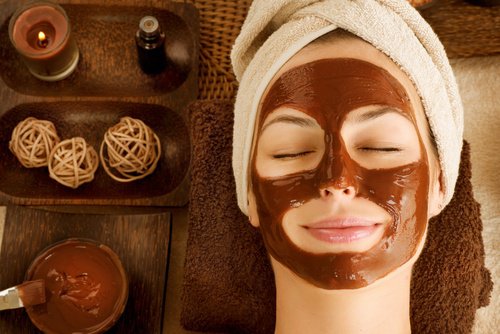 Chocolate is a natural moisturizer that softens the skin and is
rich in antioxidants that help fight premature aging.
It can also work as a home remedy against skin irritation.
If you want to take advantage of all the benefits of chocolate for fighting dry skin without spending money on expensive spa treatments, give this mask a try.
Ingredients
1 bar of sugar-free, pure chocolate
3 drops of almond oil
Preparation
Heat the chocolate bar in a double broiler until it melts.
Add the almond oil and stir well.
While the paste is still warm, apply it to clean skin and leave it on for 15 minutes.
Use a damp cloth to facilitate removal of this mask.
5. Oatmeal and egg mask
Dry skin increases the likelihood of developing premature wrinkles.
Fortunately, there are ingredients that can minimize this and the many other problems that are associated with it.
Ingredients
2 tablespoons of oat flour (20 g)
1 egg white
Preparation
Add the oat flour to a bowl.
In another bowl, beat the egg white until soft peaks form.
Gradually mix in the oat flour until you obtain a uniform paste.
Use a brush to apply this mask to your face.
We recommend reading: Reduce wrinkles with these oils
6. Oats, honey, geranium oil, and chamomile mask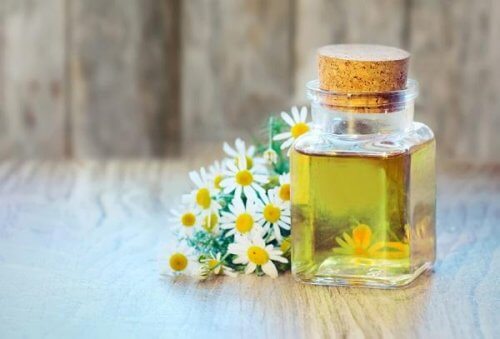 This is an exceptionally gentle exfoliating mask to fight dry skin.
When you use it regularly you'll notice immediate and long-term results.
Ingredients
1/2 cup of oats (30 g)
1 teaspoon of honey (7.5 g)
2 tablespoons of milk (20 g)
3 drops of geranium oil
2 drops of chamomile oil
Preparation
Mix all ingredients and apply this paste using your fingers and circular massage.
Leave it on for 15 minutes and rinse with warm water.
Recommendations for using masks for dry skin
After you apply your treatment, rinse your face with plenty of warm water and dry it with a soft towel.
Always apply a moisturizer to maximize the desired effects.
Protect your skin from harmful environmental agents such as the sun's rays and extreme cold or hot temperatures.
Never go to bed without completely removing all your make-up.
Avoid the use of tobacco products, as this can speed up the appearance of wrinkles.