6 Easy Ways to a Beautiful, Firm, Youthful Neck
To keep the skin of the neck firm and beautiful, it's a good idea to combine localized exercises with the use of creams and treatments. Read more here.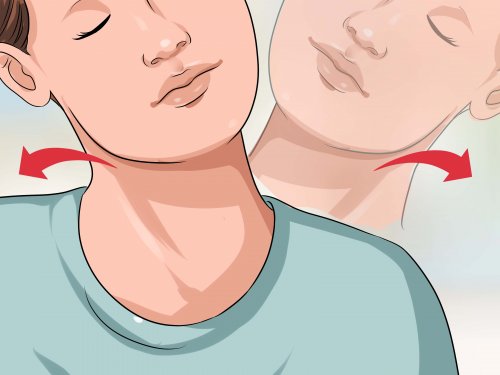 The passage of time also inevitably leaves its mark on the neck.
Sagging, wrinkles, or even a slight jowl can gradually detract from your neck's beauty. And who doesn't want a beautiful, firm neck?
Unfortunately, there are no aesthetic miracles you can perform outside of an operating room. However, there are some simple things you can do in your day to day life to slow the passage of time and recover some of you skin's original firmness.
In fact, it's easier than you might think. All you need is the willpower and the ability to be consistent in following these tips every day. Plus, in addition to firming your neck, these routines will even improve your overall health and wellness.
So, are you ready to take notes? Here are 6 easy ways to have a beautiful, firm, youthful neck.
1. A daily massage
You already do exercises to get a flat stomach and firm, toned thighs. So, why shouldn't you add another exercise to your routine that helps tone the skin and muscles of your neck?
Start this today:
Every night before you go to bed, stand in front of the mirror and apply a moisturizing cream to your neck.
Then give yourself an upward massage from the collarbone to your chin.
It's important that you always massage in this direction, from the bottom up to facilitate better circulation.
2. Oils to rejuvenate the neck
In addition, there are quite a few essential oils that are very useful when it comes to improving the skin's firmness and elasticity.
As time goes by, you'll notice that the skin on your neck has become thinner and less firm. Sometimes, all it takes is a pinch of the skin to notice how it takes a little longer to return to its original smoothness and elasticity.
A loss of collagen and elastin are major reasons for this change.
Here's what we recommend:
In addition to improving your diet and improving your body's inner wellness, you can also use certain essential oils for your daily beauty routine.
First, lemon essential oil is a power antioxidant for your skin because it's rich in vitamin C.
It's also good idea to shop for carrot seed oil in any specialized beauty store.
Remember to apply a drop or two of these oils to your neck and follow it up with a massage, as we mentioned in the previous step.
3. Ripe banana and olive oil mask
This is one of the best homemade masks to get a firm, toned, and beautiful neck. All you need to do is apply it once a week.
Here's how to prepare it:
Ingredients
1 ripe banana
One egg white
1 teaspoon of honey (7.5 g)
Preparation
This is very easy: the key is getting as smooth and homogeneous a mask as possible using the ripe banana, egg white, and honey.
When you're done, apply this to your neck after washing it, and leave it on for 15 minutes.
Later, rinse with plenty of water.
The results are sensational!
4. The importance of exfoliation
It's not just your face that needs periodic exfoliation to remove dead skin cells.
In addition, your neck can benefit from deep cleansing and repair to activate better circulation, remove any impurities, and improve oxygen delivery to the epidermis of this delicate area.
Here's how to make an excellent scrub at home:
Ingredients
5 tablespoons of oats (50 g)
1 tomato
Preparation
First, you need to squeeze the lemon juice out.
Then, slice the tomato and mash it to obtain a puree.
In a bowl, add the oats, lemon juice, and tomato puree.
Then, mix these three ingredients well until you have a homogeneous paste that you can apply to the neck for 15 minutes.
After, rinse well.
5. The importance of vitamin E
Vitamin E is without a doubt the best ingredient when it comes to caring for your skin's beauty. Overall, this vitamin helps fight aging, protects you from the effects of free radicals, and cares for the elasticity of your skin's epidermis.
That's why it's a good idea to look for vitamin E tablets at the pharmacy or buy creams that include this fantastic ingredient.
6. Ice
Have you ever heard of ice cube therapy? When we talk about beauty treatments, it never hurts to try out some natural options. Ice cubes are one of these great options.
To do this, we suggest you add three ice cubes to a cloth and rub them along the skin of your neck for 10 minutes, three times a week.
First, this will improve circulation.
It will reduce inflammation.
Start adding these simple routines to your daily regimen. A beautiful, firmer and more youthful neck is in your hands.
After all, it's worth making some changes in your life.
It might interest you...