6 Brilliant Ways to Decorate a Small Kitchen
Are you trying to decorate a small kitchen and finding that it's harder than you thought? Try these tricks!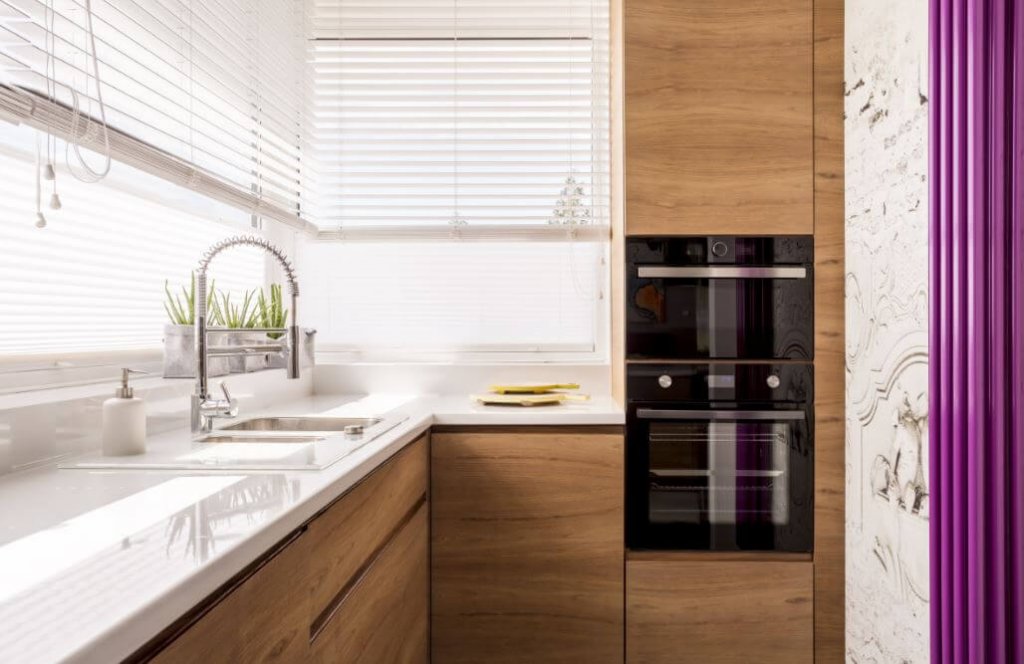 Small kitchens are very common these days, but don't worry! In this article, we'll share 6 brilliant ways to decorate a small kitchen. You'll also enjoy doing it and giving a little personal touch to the room. Your kitchen will turn into a functional yet welcoming space to prepare all your delicious meals.
The kitchen isn't just for cooking or cleaning. More and more, it's being used for eating, hanging out with your friends, and even spending your free time. In fact, it's one of the places where we spend most of our time.
Therefore, when you decorate a small kitchen, you should think about both functionality and beauty. Organization and order are really important if you want to make the most of the whole room.
How to Decorate a Small Kitchen
1. Use Light Tones
Light colors are perfect for making a room look bigger and brighter. Dark colors, on the other hand, tend to make rooms look smaller and feel more cluttered.
Therefore, using light tones will provide a feeling of space, but also let in some light. A few things you might want to think about are:
Using light colors, but not just white.
Adding colors, but try out some subtle touches of soothing colors.
Trying tiles about halfway up the wall and then a light color for the upper half.
2. Keep Your Kitchen Organized
It's not only about how you decorate a small kitchen, but also about how you organize it. When space is limited for so many different tasks, like in a kitchen, organization and order are crucial.
Additionally, you need to think carefully about each and every detail so that you can comfortably move around and open cupboards and drawers.
Remember, it's really important that you're able to do everything you need to do without difficulty. Having a place for everything and keeping everything in its place will make things much easier and more efficient.
A few tips:
Use high cupboards to store plates, glasses, and utensils.
Try to leave one wall free to provide a feeling of space.
Use drawer organizers.
Cupboards that reach the ceiling will obviously provide more space to store things.
Kitchen islands are the perfect place to store spices or utensils.
3. Install a Kitchen Island
You can choose a fixed island or one with wheels. You'll be able to use it for many different tasks and it'll help you make the most of the space you have.
There are already many different types, styles, and materials for various functions. Choose whichever is best for you and adjust it to suit your needs.
Keep in mind:
You could have a fixed island in the center of your kitchen.
Otherwise, you could have one on wheels so you can move it to wherever you need.
Use the top of the island as a breakfast table.
You could even add a stove.
In the lower part of the island, you can even have a large cupboard for more storage.
You could even use it to divide the room if you want a separate dining area.
4. Use All the Space Available
You should try to find a use for all the different nooks and crannies in your kitchen, and keep them organized to make the most of the space you have.
We recommend:
Utilizing the entire wall. By this, we mean floor to ceiling. Use the tallest cupboards or shelves that you can and you'll gain a lot more storage space.
 boxes or baskets to keep your surfaces tidy. Keep your worktops clear.
 the ceiling, too! You could even hang a rack from the ceiling. This is a great way to store pans and large utensils like ladles and serving spoons.
5. Stainless Steels Appliances
We recommend using stainless steel appliances in a small kitchen because the steel acts a kind of mirror. As you can imagine, this makes the room look much bigger and brighter.
You'll be able to find fridges, dishwashers, washing machines, and small appliances made out of this material on the market.
6. Lighting in a Small Kitchen
You need to make the most of the natural light from the window, so don't obstruct it with furniture or thick curtains. Instead, opt for translucent, light-colored curtains (like white or beige).
You can also add artificial lighting for when natural lighting isn't enough. It's best to use energy-saving bulbs and consider the following:
Put lights over the places where you're going to be working in the kitchen.
If you have a dining area, put lights over the table.
Include lights in the cupboards if they're made of dark materials or are very deep or poorly lit.
Keep these 6 tips in mind when you decorate a small kitchen. Additionally, these tips can be interpreted for use in other rooms in the house!